Tips for Covid-19 Patients Treated at Home
Covid patients with mild symptoms will be instructed to treat the illness at home. In such situations, it is important that we learn to treat mild infections at home.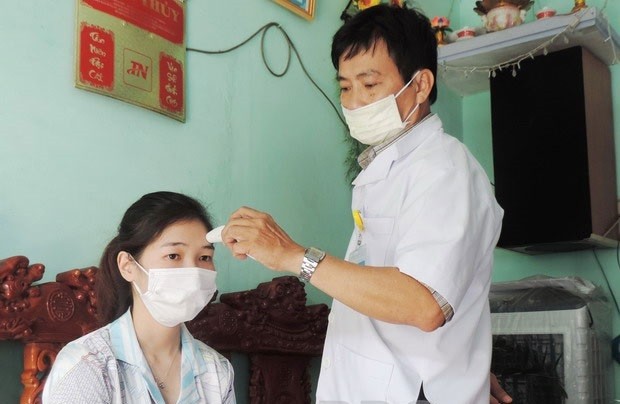 Doctors support patients at home. Illustrative photo
Vietnam is grappling with the fresh outbreak that has spread 62 out of 63 cities and provinces, caused more than 435,000 infections, including 10,749 deaths. With the recent surge in the coronavirus cases, many hospitals and medical facilities are struggling to provide beds and necessary resources to the patients. Here're some tips for Covid-19 patients who are quarantined and being treated at home.
Most common symptoms of Covid-19
While new symptoms of Covid-19 continue to be identified, some of the most common ones are fever, dry cough and fatigue, according to the World Health Organization. Some of those infected with Covid-19 also experience body aches and pains, nasal congestion, sore throat and diarrhea.
More than 85% cases are asymptomatic, 15% turn to critical and around 3% of them died of the virus.
Once you notice signs of coronavirus infections, you must isolate yourself for at least one week until you have recovered and continue monitoring your symptoms. People at a higher risk of severe or critical infections include older people and those with underlying health conditions.
At-home treatments for Covid-19
Thousand of doctors in Vietnam are now offering Covid-19 diagnoses and online support for Covid-19 patients and their close contacts at home at https://tracuuf0.medinet.org.vn and through hotline.
According to the VnExpress, local Centers for Disease Control and Covid-19 hotlines would feed all information about Covid-19 cases and their close contacts to a common database.
This would then be shared among the network doctors while maintaining patient anonymity.
Doctors would then assess each case via a phone call and based on the information received, they would classify each individual on a scale from 0 to 4.
Zero and one would comprise asymptomatic and mild cases, while four would indicate those at highest risks of severe symptoms or even death.
The mildest cases could be monitored through the phone, while the most severe cases would be referred to local medical centres to be brought to hospital.
It's important to take a good care of confirmed cases (F0) in the first days of being infected to prevent them from turning to critical condition.
Note when self-monitors health at home from Health Ministry:
- Create a comfortable mentality when living at home
- Take measures to avoid infecting people around: a private, closed, ventilated room and absolutely no close contact with family members.
- Self-monitor and detect factors that can assess vital signs, severe progression including pulse, temperature, blood pressure, breathing rate and blood oxygen level.
- The severity of the disease is proportional to age and underlying disease (diabetes, kidney disease, lung disease, cancer.)
- Speak to a doctor or pharmacist if you have any questions or concerns.
Photo: Popsugar
When to use medicines?
Medicine bags including various medicines to treat their symptoms, anti-inflammatory drugs and anticoagulants medicines along with detailed instruction on how to use the drugs, have given to Covid-19 patients undergoing treatment at home.
Painkillers such as acetaminophen and ibuprofen both reduce fever and can help treat some of the symptoms that come along with it, including headaches, aching muscles and chills.
Children and adults require different doses of the same medication, so it is important to read the label or speaking to a doctor or pharmacist if you have any questions or concerns beforehand. The same goes for those with pre-existing medical conditions such as high blood pressure, heart and lung complications, and diabetes.
However, neither painkillers nor cough and cold medications help treat Covid-19 itself, they can certainly be helpful in managing its symptoms.
Experts also stresses the importance of staying hydrated for those suffering from Covid. Those who develop fevers often require extra hydration, due to increased body heat as well as loss of appetite. He recommends drinking not only water, but other liquids to help replenish lost electrolytes.
Fever is a common symptom of Covid-19, so it is important to monitor body temperature using a thermometer.
Avoid using a thermometer immediately after drinking something hot or cold, or coming in from outside.
A pilot programme of controlled treatment of Covid patients at home using Molnupiravir are being piloted in HCM City. After agreeing to participate, the patients will be given a bag of medicine with detailed guidelines for their home-based care.
A detailed instruction document from the health ministry and the city's Department of Health on self-care, health monitoring, contacting the doctor in charge and medical facilities in case of severe symptoms will be provided.
All patients will be evaluated for the rate of negative SARS-CoV-2 and the rate of the disease progressing to a more severe level after five days.
During the 14-day period, the patient will be monitored for any symptoms and any side effects of the medicine.
Watch out for these emergency symptoms
Get advice from doctors if:
- Trouble breathing
- Persistent chest pain
- Mental confusion
- Bluish lips
- Inability to stay awake
How to protect others if you're sick?
Isolate yourself immediately in a well ventilated room and sanitize your surroundings.
Avoid coming in contact with others and do not share any common space or household items. Wear a mask at all times and frequently wash your hands with soap and water for at least 20 seconds.
Aside from getting enough food, rest and exercise, experts also stressed the importance of maintaining good air quality at home through the use of air purifiers and other filtering devices if air pollution is an issue in your area.
As the virus spread widely in an enclosed room, keeping the space open is very important to prevent infection.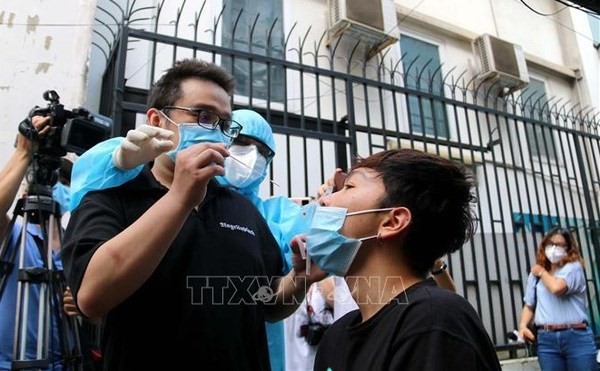 A man who lives in Ho Chi Minh city's District 3, practise collecting swab samples from one of his relatives for COVID-19 testing. Photo: VNA
Self-test for Covid-19 at home
As HCM City focused on testing to quickly find positive cases, the city is running steps up efforts by sending Covid-19 self-test at home - rapid antigen testing (RAT) to residents.
The model will detect suspected Covid-19 cases, then take further testing to confirm, localise and stamp out the outbreak. It also reduces the overload of the health sector in the face of widespread testing pressure.
To perform the rapid test, you need to prepare tools and other items included in a quick test kit, including test trays, filter caps, test tubes containing extracts, and sterile cotton swabs.
The hardest job is putting the sterile cotton swab into the nostril deep enough for the tip to absorb the most of the new specimen for accurate results.
Once you start inserting the swab into your nostrils, you'd be able to feel the resistance and know that you're on the right track.
Antigen rapid tests used in self-swabs produce results in 15 to 20 minutes, more quickly than a polymerase chain reaction (PCR) test, which is considered the gold standard for Covid detection. But the accuracy rate is lower, about 80 and 90%.
Grassroots Assistance Program in the Covid-19 pandemic in HCM City
Organizer: Vietnam Youth Federation of Ho Chi Minh City
Intended Aid Recipients:
+ Foreign students and workers settling in Ho Chi Minh City and affected by the Covid-19 pandemic;
+ Foreign visitors stuck in the city because of social distancing measures.
Area of support:
a. For individuals experiencing hardship during the COVID-19 lockdown, after their information is gathered via the hotline and verified by the inspection team, each will be given an essential goods package priced at 300.000 VND (including rice, instant noodles, soy sauce, and canned food);
- Cash: 1.500.000 VND/individual (equivalent to the Government's support for freelance workers, poor or near poor households) sent to them via their bank account. The money will be sent on 02 separate date and 750.000 VND for each (first: right after qualifying; second: 15 days after).
- Essential goods and medical supplies (after exchanging information, each case will be supported according to needs).
- Help buying essential goods at local supermarkets.
- Health consultation.
- Help in finding jobs, depending on each individual's ability and need.
b. F1 and F0 patients, after their information is gathered via the hotline and verified by the inspection team, will be given an essential goods package priced at 300.000 VND (including rice, instant noodles, soy sauce, and canned food); and a 7-day medicine portion as prescribed by the Ho Chi Minh City Department of Health.
Pilot: Thu Duc City, District 1, 3, 7, 10, and Phu Nhuan District,
Timeline: 28/08 – 15/9/2021.
Hotline: 0866.699.473
Form to register: https://bit.ly/SupportForeigner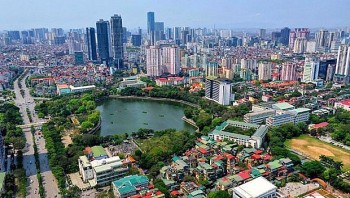 National
Vietnam News Today (Jan. 29): Quang Ninh: Cross-border trading with China resumed after Tet; Hanoi in the world's top three culinary destinations: Tripadvisor; Intertwined opportunities, challenges for Vietnam's economy in 2023; Supermarkets, traditonal markets gradually resume normal operations amid abundant supply.