Makeshift Covid-19 hospitals about to build in province near border with Cambodia
Two field hospitals used for Covid-19 treatment are planned to build in Ha Tien City and Rach Gia City along Vietnam - Cambodia border, according to Dr. Nguyen Tri Thuc, director of Cho Ray Hospital in Ho Chi Minh City
The two makeshift hospitals would be constructed in Ha Tien City and Rach Gia City, both located in Kien Giang Province in southern Vietnam, said Dr. Nguyen Tri Thuc, director of Cho Ray Hospital in Ho Chi Minh City, after a field trip to the province on Sunday.
Cho Ray Hospital doctors will work with authorities in Kien Giang on the construction of a 500-bed hospital in Ha Tien and another 500-bed hospital in Rach Gia, Dr. Thuc elaborated, according to Tuoi Tre News.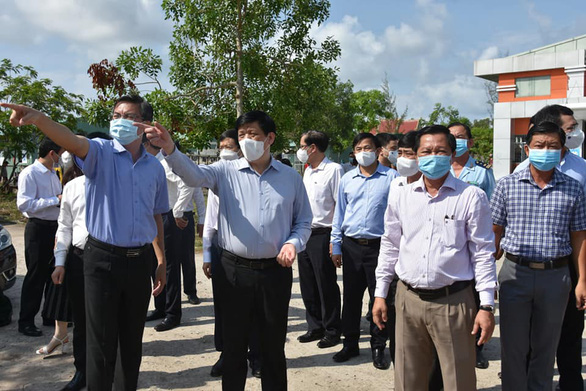 Ministry of Health Nguyen Thanh Long (second left) during a field trip to Kien Giang Province, April 18, 2021. (Photo: Tuoi Tre News)
Kien Giang has a 56km border with Cambodia, which has recorded more than 7,700 COVID-19 cases so far, including over 300 new infections recorded on Wednesday, the Vietnamese Ministry of Health said, adding that Vietnam is at risk of transmission from border jumpers from the neighbording country.
Thirteen seasoned medical professionals from Cho Ray, a top general hospital in southern Vietnam, have been seconded to Kien Giang to help local health workers cope with contagion threats from Cambodia.
The health ministry, Cho Ray Hospital, and the Pasteur Insitute in Ho Chi Minh City will provide assistance in testing, medical equipment, and treatment to Kien Giang, Minister of Health Nguyen Thanh Long said on Sunday.
The Kien Giang administration has suggested that the health ministry prioritize COVID-19 vaccination for residents on the province's Phu Quoc Island as a precautionary measure, for border jumpers have been found entering mainland Vietnam from Cambodia via this island.
Vietnam has registered 2,801 COVID-19 cases as of Wednesday afternoon, with 2,490 recoveries and 35 virus-related deaths, according to the health ministry's data.
Health workers had administered the first shot of AstraZeneca vaccine to 106,929 people in 27 provinces and cities by 4:00 pm on Tuesday, the government said in a report on Wednesday morning.
For almost a month now Vietnam has not had any community transmission, but the number of imported cases has been increasing gradually, including many people coming from Cambodia.
So far 1,242 of the total of 2,812 cases have been imported.
3 sneak into Vietnam from Cambodia, but test negative for coronavirus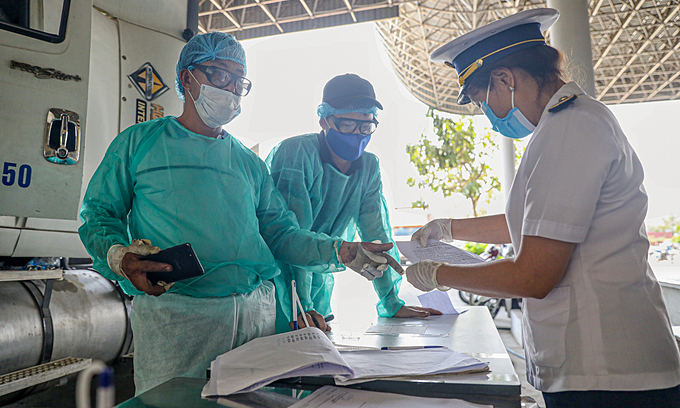 Arrivals from Cambodia complete health declaration procedures at Moc Bai border gate in Tay Ninh Province, March 2020. Photo by VnExpress/Huu Khoa.
Three people illegally entered Vietnam Wednesday from Cambodia, where Covid-19 is raging, and traveled to various places around the country, but have tested negative for the novel coronavirus.
According to the Ho Chi Minh City Center for Disease Control, they entered Tay Ninh Province through unmanned trails at 1 a.m. on Wednesday. The trio, a man and two women, took a taxi from Tan Bien Town to HCMC and stayed at a hotel near Tan Son Nhat International Airport, according to VnExpress.
Health authorities were still trying to identify the hotel as of Thursday morning.
The taxi driver, learning from them they had come from a pandemic-hit area, returned immediately to Tan Bien and contacted health authorities for testing.
The trio then took another taxi to the airport and boarded Vietjet flight VJ134 to Hanoi at 9:10 a.m. on Wednesday.
From Noi Bai airport in Hanoi, the women took a taxi to their hometown in Dinh Hoa, a rural district in the northern province of Thai Nguyen.
At 2 p.m. authorities went to their houses and ordered them to go to a quarantine facility where both tested negative for the new coronavirus.
The man was found in Que Vo District in Bac Ninh Province that evening, also quarantined and again tested negative.
Cambodia has been suffering a spike in infections following its latest wave in late February. Its caseload had jumped to 7,747 with 54 deaths as of Wednesday.
There had been just around 400 infections until last year, but 618 last Sunday alone, 431 on Monday and 303 on Tuesday.
The country's capital, Phnom Penh, and a satellite district went into lockdown on April 15 and declared some districts as "red zones," banning people from leaving their homes except for medical reasons.
Since last week Vietnam has intensified vigilance along the border.
It has a 1,137-kilometer border with Cambodia running through provinces of An Giang, Dong Thap, Kien Giang, and Long An in the Mekong Delta, Binh Phuoc and Tay Ninh near HCMC and Kon Tum, Gia Lai, Dak Lak, and Dak Nong in the Central Highlands.
In Kien Giang, which shares a land border of 56 kilometers (34.8 miles) and a maritime border with Cambodia, pandemic prevention and control activities have been raised to the highest level.
Everyone entering Vietnam from abroad is quarantined for 14 days and tested at least twice.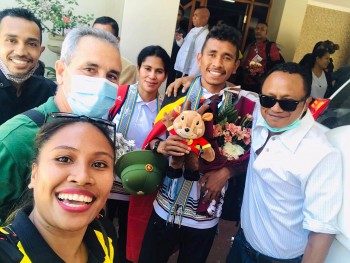 Viet's Home
Along with a Vietnamese flag, the foreign athlete also brought many souvenirs representing the love from his Vietnamese fans, like the signature Vietnam pith helmet.