Vietnam COVID-19 Updates (April 21): 10 new imported cases
Vietnam recorded 10 new cases of COVID-19 from 6 am to 6 pm April 20, bringing the national tally to 2,801, according to the Health Ministry.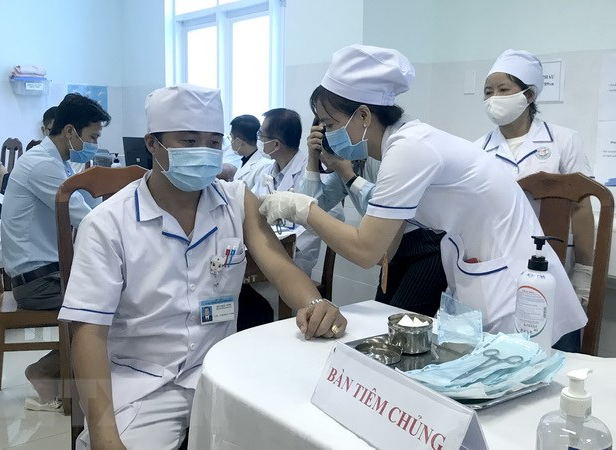 Photo: VNA
10 new imported cases
Vietnam recorded 10 new cases of COVID-19 between 6 am and 6 pm April 20. All the 10 new patients, one Indian and nine Vietnamese arrived from abroad and were immediately put into quarantine after arrival.
From 6 pm on April 20 to 6 am on April 21, Vietnam did not report any new cases, while an additional 14,386 people were vaccinated against COVID-19 on April 20.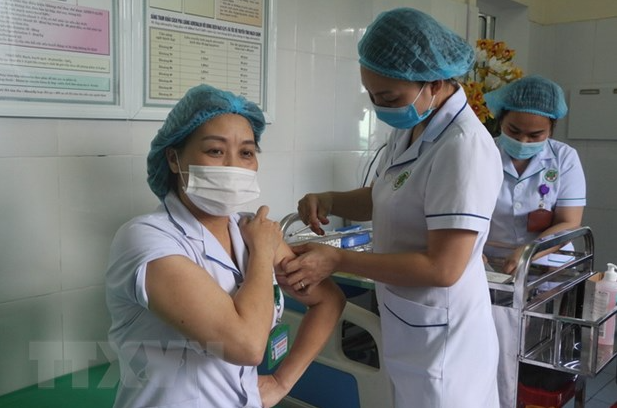 Photo: VNA
Vinh Long, Nghe An deploy first vaccination phrase
On April 20, Vinh Long and Nghe An Department of Health deployed the first COVID-19 vaccination phase for target subjects. At Vinh Long General Hospital, the preparation is done thoughtfully, the vaccinated people are given medical reports, measured body temperature, pre-injection screened, and post-injection response monitored. In the first session, 25 people who are doctors treating COVID-19 patients, members of the COVID-19 rapid response groups, people working in isolated areas were examined, screened, and vaccinated. After the vaccination, there have been no cases of unusual symptoms.
Mr. Tran Minh Tue, Deputy Director of Nghe An Department of Health, said that with 18,500 vaccine doses allocated, Nghe An would inject 2 priority groups, including medical staff working in medical examination and treatment facilities, and front-line forces participating in pandemic prevention and control. In order to ensure the safety of vaccination procedures, the Nghe An Department of Health requires all immunization sites to strictly follow regulations; assign sufficient human resources, equipment, and medical supplies; set up an emergency team to promptly handle emergencies and post-injection reactions.
Previously, Nghe An Department of Health held a training course on safety procedures in immunization. The Department's leaders directed "every injected person must be safe". Vaccinated people will have to stay at the hospitals for 30 minutes after injection for health monitoring and has to keep in touch with medical staff during the first 24 hours after receiving the vaccine.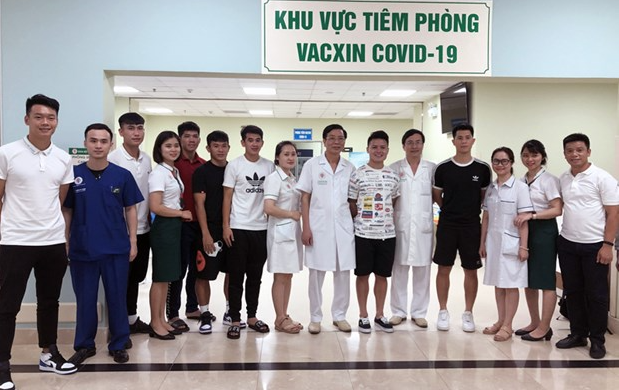 Photo: VNA
Entire Vietnam football team vaccinated against the COVID-19 pandemic
On April 19-20, all 45 players on the Vietnam National Team's preliminary list have completed the 1st COVID-19 vaccination, ready for the expected game in May 2021. According to the Vietnam Football Federation (VFF), the COVID-19 vaccination plan has been adjusted by the Federation to suit the players' 2021 schedule for professional tournaments.
Players on the payroll of Saigon, Binh Dinh, Ha Tinh, Hai Phong, SHB Da Nang, Becamex Binh Duong, Song Lam Nghe An, Thanh Hoa, Ho Chi Minh City, Than Quang Ninh, Long An, Viettel clubs was vaccinated on April 19. Players from Hanoi and Hoang Anh Gia Lai clubs completed their first COVID-19 vaccination doses on the morning of April 20. The second shot is scheduled for mid-May.
Previously, on April 5, the first members of the team including team leader, head coach Park Hang-Seo, assistant, doctors, and professional staff, service personnel have also been vaccinated against COVID-19. This is the priority given by Vietnam's government for members of the national sports teams preparing to join international tournaments this year. The Vietnam football team will join the remaining matches in the second qualifying round of the 2022 World Cup in Asia, held in the UAE next June.
New cases have brought the national tally to 2,801. The Health Ministry also make known that 15 more patients were given the all-clear, raising the number of recoveries to 2,490. The death toll remained at 35. Among patients still under treatment, 11 have tested negative for the novel coronavirus, 12 twice and 17 thrice.

Meanwhile, 40,150 people are under medical monitoring nationwide, including 531 at hospitals, 24,361 at concentrated quarantine facilities, and 15,258 at their accommodations