Making Land Safe For Generations To Come
NPA/RENEW just handed over nearly four million square meters of land cleared of explosives to the people of Quang Tri province.
The Norwegian People's Aid/Project RENEW (NPA/RENEW) clearance teams found and destroyed 2,700 items of dangerous explosive ordnance and cleared nearly four million square meters of contaminated land.
Nguyen Van The and his wife Nguyen Thi Thuong tend the seedlings which were planted two weeks ago on their land.
Like many other families in Thai Lai Village of Vinh Thai Commune, Vinh District, the family of Nguyen Van The and Nguyen Thi Thuong are entitled to have a hectare of land for agricultural production. The coastal village of Thai Lai has over 200 families who make their living on fishing and acacia plantation.
Located only 30 km from Con Co Island, Thai Lai Village was subject to heavy aerial bombings, especially cluster munitions, and naval attacks from the U.S. military from 1967-1972 because of its role as a logistical hub for the provision of supplies to the northern Vietnamese forces on the island. Unexploded ordnance left from the war that ended in 1975 has killed six and injured 11 people in Thai Lai Village.
"Knowing that our land has been cleared of unexploded ordnance, we made a bold decision to expand our acacia plantation with the hope of earning more income for the family," said 46-year-old The, a father of two. While his wife runs a small food shop near the beach, The tends their acacia plantation.
Today, the couple feels happy and confident in tending seedlings that they just planted two weeks ago on land that has been made safe from explosive hazards.
Their last crop of acacia earned The over USD 1.500, a substantial income for their family since his wife's food shop only operates in summer. Thanks to the safe land released by the teams managed by NPA/RENEW, The has planted more seedlings this year and hopes to earn even more money.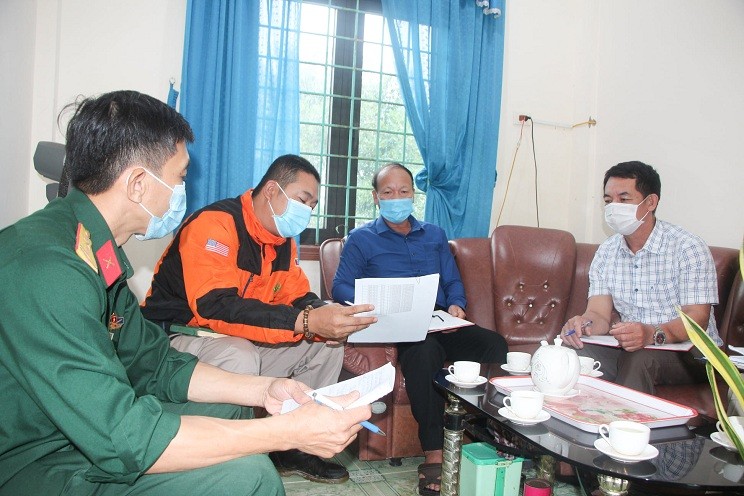 NPA/RENEW management team met with Vinh Tu Commune People's Committee leaders to hand over the cleared land in Thai Lai Village.
The and his wife are among 1,735 people of Thai Lai village of Vinh Thai commune and Huynh Cong Tay village of Vinh Tu commune who are directly benefiting from the safe land released by NPA/RENEW.
Earlier in November 2021, the NPA/RENEW operations management team met with the local authorities of Vinh Thai and Vinh Tu communes to officially hand over cleared areas for safe use and further development.
Thanks to the efforts of NPA/RENEW clearance teams, nearly four million square meters of contaminated land have been cleared of explosive ordnance hazards. Over 2,700 items of dangerous explosive ordnance have been safely destroyed during the process.
Starting from June 2020, NPA/RENEW conducted clearance activities for the first time on the northern side of the former Demilitarized Zone (DMZ) in Quang Tri Province. A total of six clearance teams were deployed to clear confirmed hazardous areas that had been previously identified in Vinh Linh District.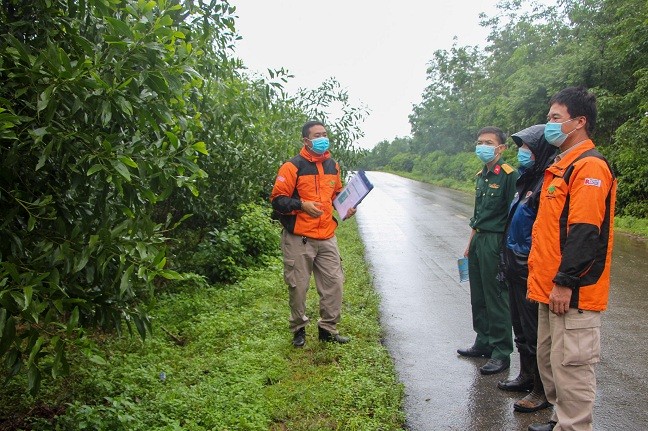 NPA/RENEW ops management team with a representative of Vinh Tu Commune People's Committee on the cleared area.
A NPA/RENEW clearance team on April 9 uncovered a cache of nearly 500 explosive munitions in an acacia plantation in Huynh Cong Tay Village of Vinh Tu Commune. The finding marks the highest number of explosives that RENEW/NPA teams have ever found in a single working day.
The NPA, founded in 1939, is one of Norway's largest non-governmental organizations and has been involved in mine clearance activities in Vietnam since 2008.
NPA implements survey and clearance activities in Quang Tri Province in close cooperation with Project RENEW, under a partnership with the Quang Tri Provincial Department of Foreign Affairs. This work is funded by the U.S. Department of State and the UK Foreign, Commonwealth, and Development Office.
The wars in Vietnam have ended for a long time, but the amount of post-war unexploded ordnance (UXO) has been extremely large, contaminating about 6.13 million hectares of land, accounting for 18.71% of national land area, posing a threat to local people's life, and directly impacting social security and the country's development.
More than 83% of Quang Tri Province was contaminated with bombs, mines and explosives left from wars, according to a recent survey.
In 1996, Quang Tri was the first locality in the country to coordinate with international organizations to tackle UXOs.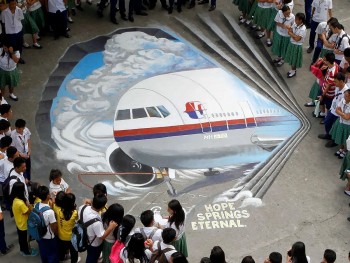 World
The world might never know what really happend when these planes went off the radar. Let's take a look at some of the unsolved mysteries of aircraft disappearances.