Malaysian son-in-law's pure love for Vietnamese culture
Saif Al din, from Malaysia, has fallen in love with Vietnamese culture and cuisine along with the love for his wife, Ngoc Mai, ready to integrate and discover the country's traditional values.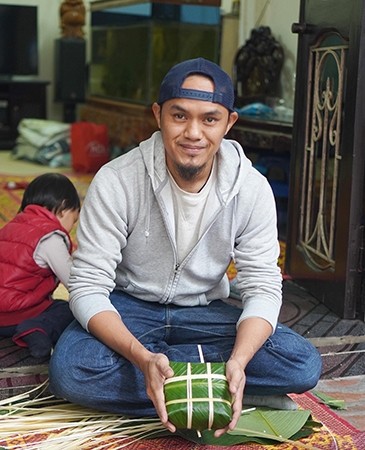 Saif Al din and the Chung cake he made himself (Photo: NVCC)
The journey to conquer girlfriend's family
Saif and Mai first met on a mutual trip to Cambodia back in 2010. Mai, the Vietnamese girl who was all alone in a new country felt "a real spark" with the Malaysian man she just befriended, who accompanied and took care of her throughout the trip.
Fell in love with Mai, Saif soon flew from Malaysia to Hanoi during the Lunar New Year 2011 to see Mai's family for the first time. Saif determined to show his sincerity and how much he wanted to marry Mai. After being refused by Mai's parents twice. They didn't want their daughter to marry a foreign guys.
"Back then, I didn't speak Vietnamese while Mai's parents didn't speak English. Plus they didn't support our relationship. I dare not to say a word, just washed and washed "dong" leaves to prepare for the traditional Chung cake", Saif recalled.
The following year and a half, Saif and Mai resorted to "taking the detour", trying to win the heart of Mai's relatives, then ask them to convince Mai's parents. In 2012, the couple was officially allowed to get married by the two families.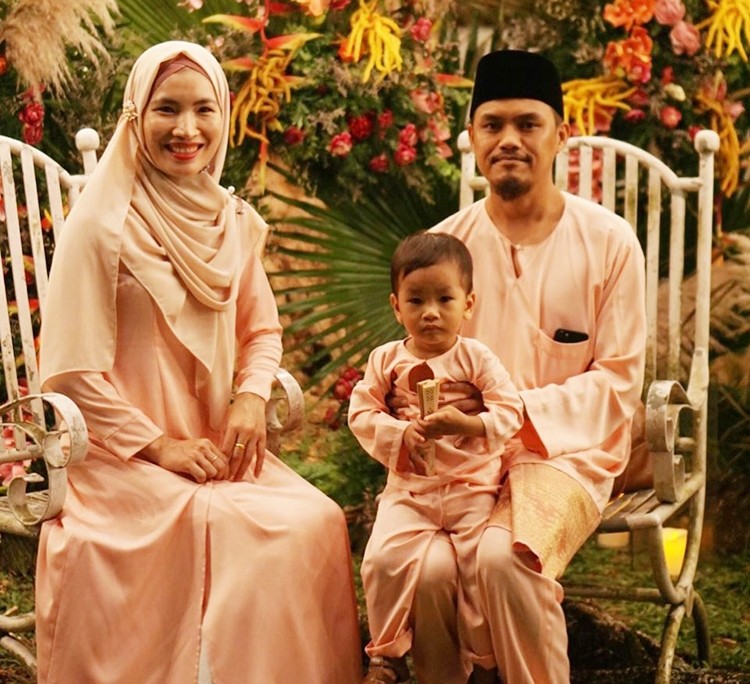 Saif with Mai and their son (Photo: NVCC)
Becoming a son-in-law in Vietnam
Saif follows Muslim though, he always loves and respects the cultural traditions of his wife's country.
Over the last 7 years, Saif took his wife back to Vietnam every Lunar New Year, except for the year when Mai was pregnant. He helped wash "dong" leaves, making Chung cake (sticky rice cake), reminded Mai to give lucky money to kids, taking photos for other people.
In order to communicate with his wife's family, Saif learned Vietnamese. He speaks to his wife in Vietnamese on a daily basis, trying to get acquainted with the language and memorize new words, even though there are times he can't understand what's his wife is saying.
"I got the hang of basic Vietnamese now. I can greet my parent-in-law, asking for prices, or bargaining when shopping. I no longer afraid to get lost", Saif said.
Mai's making Vietnamese "bun dau mam tom" with her Malaysian parents in law (Photo: NVCC)
Tying the knot with a Vietnamese girl, the Malaysian guy also fell in love with Vietnamese cuisine. When asked which dish he likes the most, he immediately mentioned "bun dau mam tom" (noodle with fried tofu & shrimp paste).
"Cooking has been my forte since small, therefore I often prepare Vietnamese food for Saif and his family, both to enjoy delicious food and to promote Vietnamese cuisine in Malaysia", Mai said.
"Vietnam has become my second home country after 7 years. I wish I could learn about Vietnamese traditions, cultures as much as possible and for sure, I'll pass the love for Vietnam to my son", the husband shared.