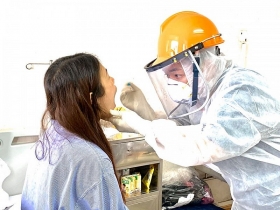 The Covid-19 patient is treated in No 2 Hospital in Quang Ninh province (Photo: BVCC).
Vietnam has recorded 94 Covid-19 infectious cases updated to 21 March afternoon. Among 17 patients completedly recovered, 16 of them discharged form hospitals and the remain tested thrice negative for coronavirus without cough, fever, he is in healthy condition now and moved from Ninh Binh general hospital to Thai BInh general hospital for being monitered.
The Ministry of Health has announced 94 Covid-19 infectious patients nationwide until 22 March who are being treated isolatedly in 11 medical centers around the country.
Their health is assessed normal without fever, cough or only less cough by MOH. Some of them showed the signs of pneumonia and were treated following a strict regimen.
Gladly, many of them have tested negative for SARS-CoV-2. In particular, the patients Case 17, 25, 59, 72 treated in National Hospital of Tropical Diseases confirmed first negative for coronavirus.
The patients Case 24, 27 testes second negative for Covid-19.
In the other hospitals, some patients also test first negative for SARS-CoV-2, including 2 foreigners treated in Da Nang hospital and the another is being treated in National hospital in Hue, the case 32 is being treated in National hospital of Tropical diseases in Hochiminh city.
Tarah Nguyen
vietnamtimes.org.vn