Mekong Delta province of Tien Giang faces worsening river, canal erosion
The Cuu Long (Mekong) Delta province of Tien Giang is facing increasing erosion along rivers and canals, according to its Department of Agriculture and Rural Development.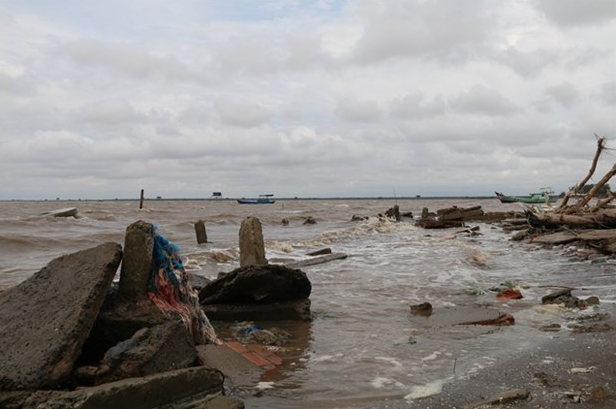 Erosion is one of the factors that has led to a loss of protection forests in a coastal area in Go Cong Dong district in Tien Giang province (Photo: VNA)
There have been 92 cases of erosion this year, nearly equal to the number in the whole of last year, involving a total length of 3,600 metres. Most rivers and canals have been affected, with the scale growing larger, causing damage to houses, roads and other infrastructure, Vietnam Plus cited.
Nguyen Van Man, director of the Department of Agriculture and Rural Development, said both human and natural factors are to blame. To prevent erosion, the department has undertaken construction and other works appropriate for each locality.
The non-construction works include providing financial support to localities to enhance public awareness of erosion and take proactive measures like planting trees and grass along rivers and canals and water hyacinths near their banks.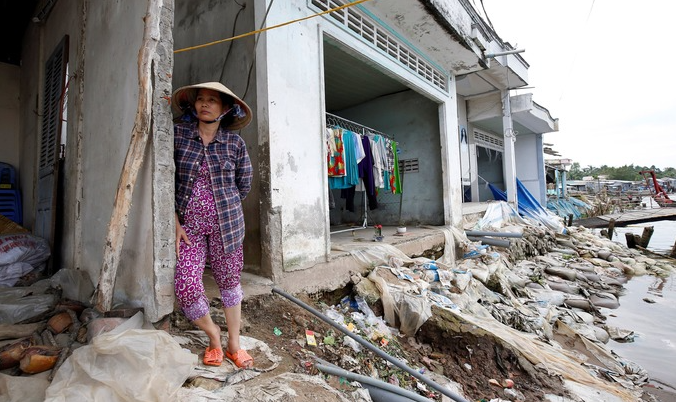 A woman stands at her house damaged by landslides along the Mekong River in Can Tho City, Vietnam, December 17, 2018. (Photo: Reuters)
Earlier in September, the Department of Agriculture and Rural Development announced the intension of planting 250ha of new protection forests in coastal areas from 2021 to 2025, twice the amount of the 2015-20 period, according to VNA.
About 1,300ha coastal protection forests, mostly mangrove trees, help protect sea dykes and prevent erosion along the province's coast. Mangrove forests are planted along the 32 kilometer provincial coastline and along the mouths of the Vam Co and the Tien River in Go Cong Dong and Tan Phu Dong districts. However, the mangrove forests have declined in both areas and quality in recent years because of coastal erosion, strong waves, and other factors.
The province is also giving more responsibility for managing, protecting and developing forests to local authorities. New forests must be planted to make up for the losses of the areas that have been re-purposed for other uses.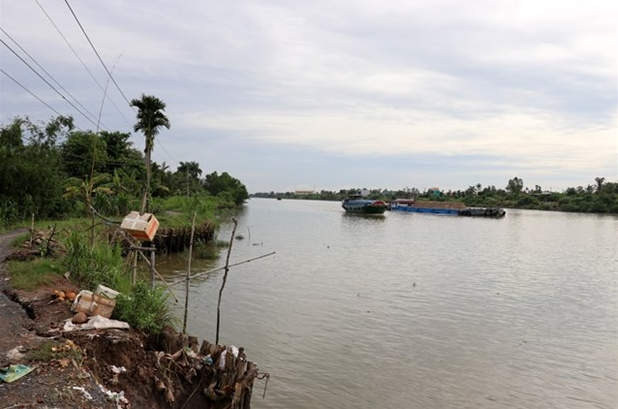 Mekong Delta province faces worsening river, canal erosion (Photo: VNA)
In the province, roads are often built along banks, and so any erosion also damages them, affecting transport, reported by Vietnamnet. The province has set up a board to manage irrigation and transport infrastructure and also take measures to prevent erosion. It has banned individuals and organizations from encroaching on safe corridors along river and canal banks and carrying out activities that could cause erosion. It has reinforced eroded river and canal banks with rock and cement embankments, and in other places used tree trunks and soil to prevent erosion.
The province has given localities nearly 69 billion VND (3 million USD) to repair 83 spots severely eroded so far this year. District funds are also used for the task. In case of the severe erosion that could be expensive to fix, localities should ask it for funds, the provincial People's Committee has said. In 2016 - 2019, nearly 232 billion VND (10 million USD) was spent to repair 415 sites, according to the department.
According to VN Express, Vietnam's Mekong Delta faces many climate change problems, but these have exacerbated at a much faster pace than predicted. Subsidence, erosion, and rising sea levels are among the problems that the delta has to deal with currently. The erosion is not only happening during the rainy season, but also the dry season, both at major river branches and canal systems, with a much higher frequency than in the past. The areas that have suffered most from erosion are the provinces of Ca Mau, Soc Trang, Tra Vinh, Ben Tre, and Tien Giang.
The delta, which spans 3.94 million hectares (9.7 acres), is home to 17.5 million people or a fifth of the country's population.