Memories of India 30 Years Ago
Receiving help from food, accommodation and textbooks to extracurricular activities, classes are the memories of the first overseas Vietnamese students to study in India.
Leaders of the Vietnam-India Friendship Association in Hanoi came to congratulate Pham Trong Dat (2nd from the right) on the War Invalids and Martyrs Day 2019.
"Because you are Vietnamese"
We visited Pham Trong Dat's house on Nha Chung street (Hanoi) on a rainy day. He was one of the first 16 Vietnamese students studying in India more than 30 years ago.
Dat said: "1979 was the period when Vietnam was embargoed. At that time, India was one of the countries that recognized the Vietnamese government, and helped the Vietnamese people."
"Me and 15 other friends were the first Vietnamese students to come to India to take a training course for young cadres. We attended training classes in English, agriculture, irrigation and art.
"The study of the Vietnamese students was carefully arranged by the Indians. This is an international school. In dormitories, usually two people live in a room. However, Vietnamese people are allowed to stay as one person in each room.
"We also received priority in dining. At first, like many international friends, we ate with others in the Indian canteen.
"When summer came, many Vietnamese could not adapt and felt tired. We told the principal about the Vietnamese custom of eating rice, which is different from that of India.
"Indians eat with their hands and don't have soup while Vietnamese eat a lot of soup. Immediately, the school agreed to let us cook separately.
"Not only that, knowing we did not have enough books, the school donated textbooks for us as study materials. They even let us take part in textbook editing course.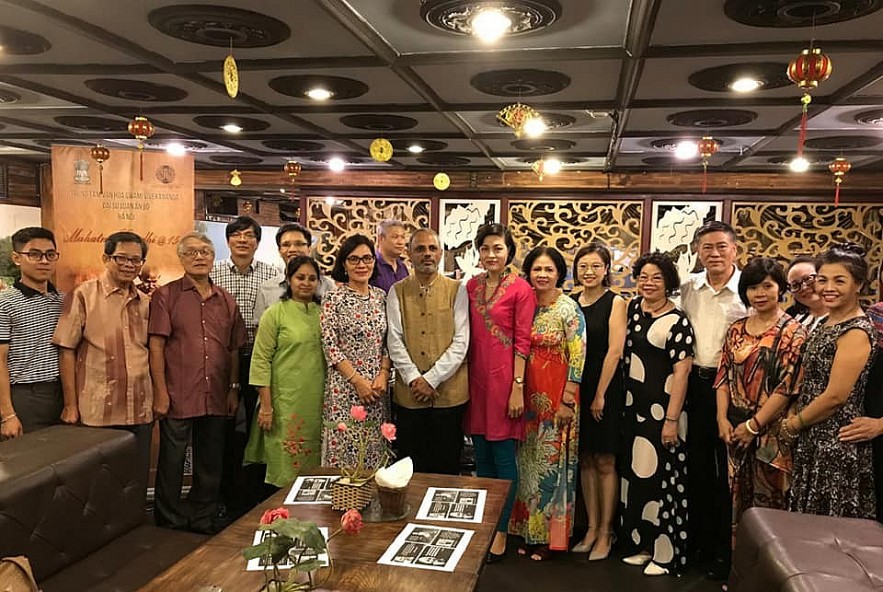 Pham Trong Dat (3rd from left) at the exchange program on the 150th birthday of Mathatma Gandhi (introducing vegetarian dishes in response to M.Gandhi's healthy lifestyle) held in Hanoi on September 7, 2019.
"On the 30th of Tet, it was exactly 12 o'clock at night in Vietnam. At that time, it was 10 p.m. in India, people gathered in the hall to prepare for New Year's Eve.
"We played the tape to hear Ton Duc Thang's Tet greetings. As the national anthem began to play, we solemnly saluted the flag. Many in the group burst into tears. It was the first Tet away from home, not gathering with family and relatives.
"However, at that time, the Indians comforted us. Teacher Aruda went to each student to encourage them: 'Don't cry, you should be happy today. You come here with your feelings for the homeland and the country. We are also your hometown, your family, so please don't cry. You see, you celebrate Tet, we also come to share the joy.'"
Bring Vietnam to India
At first, the meeting determined that the purpose of going to India was to study and bring back knowledge about nation building.
However, when teachers and friends wanted to learn more about Vietnam, the Vietnamese Ambassador to India at that time, Nguyen Trong Tao, created conditions for Vietnamese students to travel around India to introduce Vietnam. Many TV and radio programs had been broadcast to communicate with the Indian people.
Pham Trong Dat said: "We coordinated with the Vietnam Film Studio and the Vietnamese Embassy to screen 3 films about Vietnam."
"After that, we collaborated with a television unit in Kerala state to make a film introducing Vietnamese specialties. Do Thi Thanh knew that the state of Kerala has many similarities with Ben Tre in the South of Vietnam, one of which is rich in coconuts.
"People here did not know how to process coconut. Therefore, she introduced Vietnamese coconut jam to them. She also guided people to make coconut soup, desiccated coconut. After the film was broadcast on television, many people went to the embassy to talk to Thanh."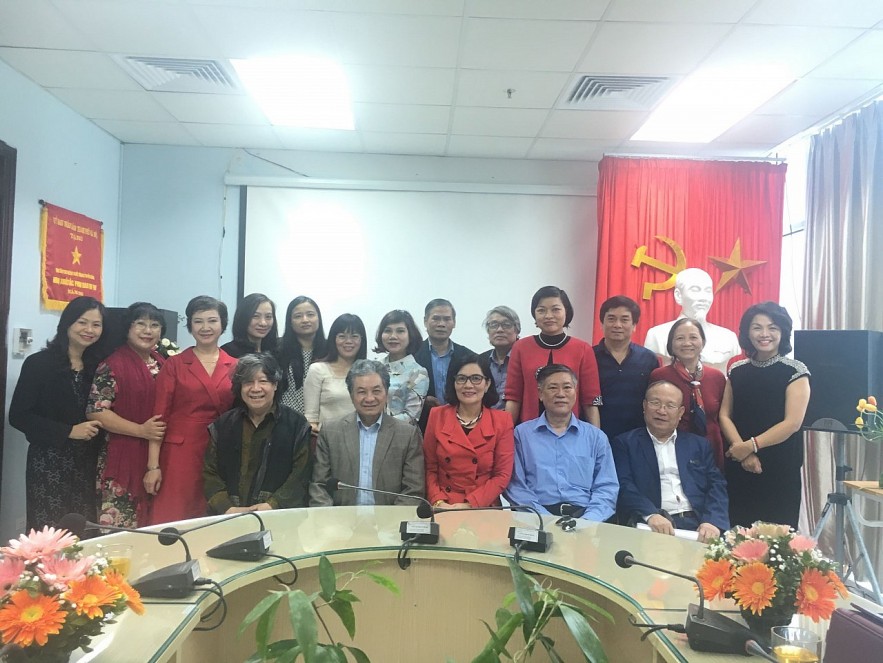 Pham Trong Dat is an active member of the Vietnam-India Friendship Association in Hanoi. Pham Trong Dat (5th, from left) attended the 2018 meeting of the Association in Hanoi.
Indians do not eat beef and pork. Pham Thanh Tam taught them how to make spring rolls with chicken.
A lot of people were interested, asking where to buy rice paper because they do not have that in India. To introduce more about Vietnam, 16 students gathered together to organize a cultural program to introduce Vietnamese songs.
Some of the songs were widely known to the Indian people, when this program was broadcast on Indian national television. Vietnamese Ao Dai and Uncle Ho's poetry to Prime Minister Nehro were also introduced.
When the first group of Vietnamese students completed the course, the Vietnam Alumni Club in India was established and put into operation.
The India-Vietnam People's Friendship Festival 2009 was organized by the All India Peace and Solidarity Organization (AIPSO) and the India-Vietnam Friendship Association, and the Vietnam Union of Friendship Organizations.
AIPSO General Secretary Pallalo Sengupta said: "Everybody wants to meet you, because you are Vietnamese."
According to the Indian Embassy, since 1964, the Government of India has implemented the India Technical and Economic Cooperation Program (ITEC), providing technical and economic training scholarships in India to thousands of people from more than 160 countries.
Vietnam is one of the countries receiving the most ITEC scholarships from India.
Every year, India grants Vietnam more than 100 scholarships under the ITEC program, both long-term and short-term.
After thirty years running the ITEC program, India has trained more than 3,000 Vietnamese officials, civil servants, experts and lecturers in various fields including economics, politics, science and technology.
The program has contributed to improving the quality of human resources in Vietnam's economic, political and social activities.
It also strengthens extensive cooperation between Vietnam and India in education, training particularly and international relations.
In 2020 and the first half of 2021, due to the impact of the pandemic, the ITEC program is carried out with online training, using digital learning forms to maintain courses for Vietnamese students.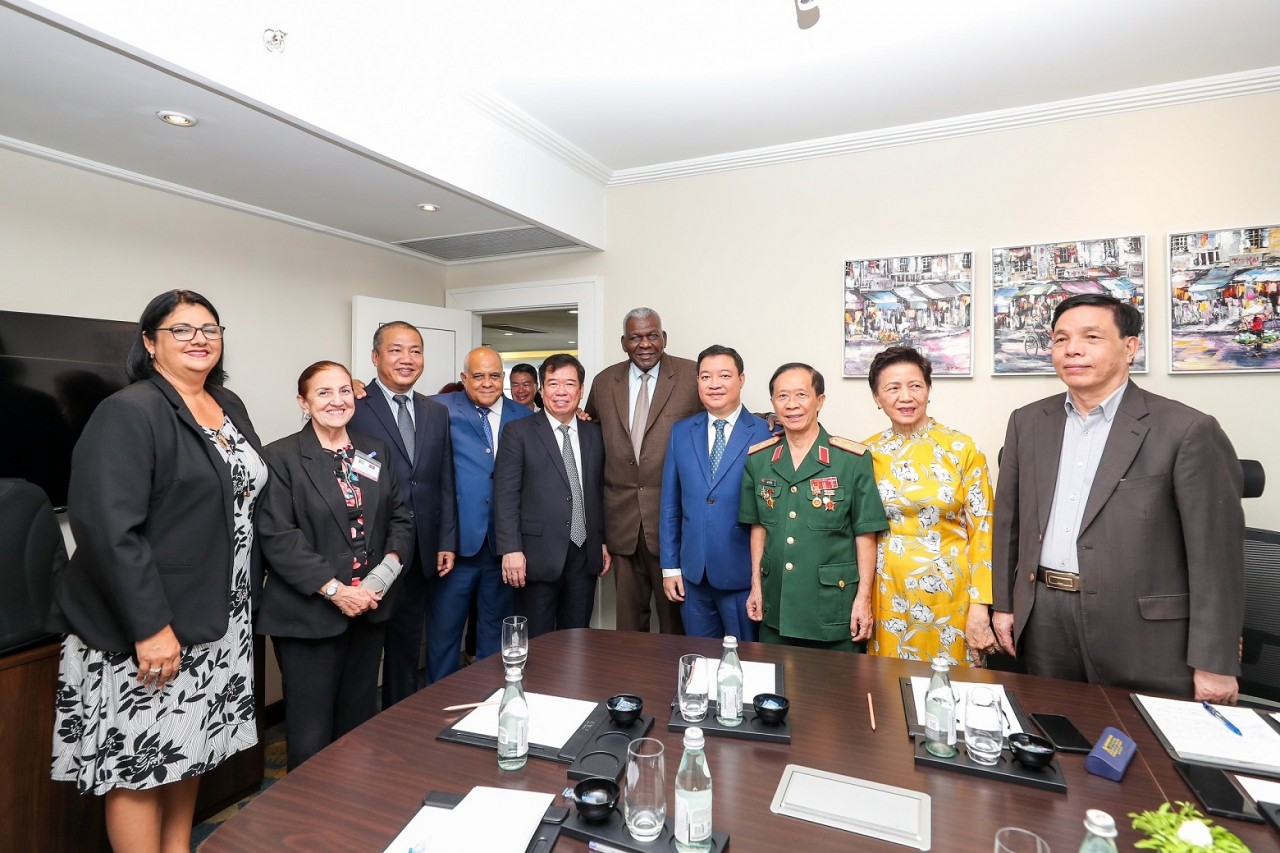 Friendship
President of the National Assembly of People's Power of Cuba Esteban Lazo Hernandez emphasized that Vietnam - Cuba is always united and faithful because they are one family.
September 27, 2023 | 15:11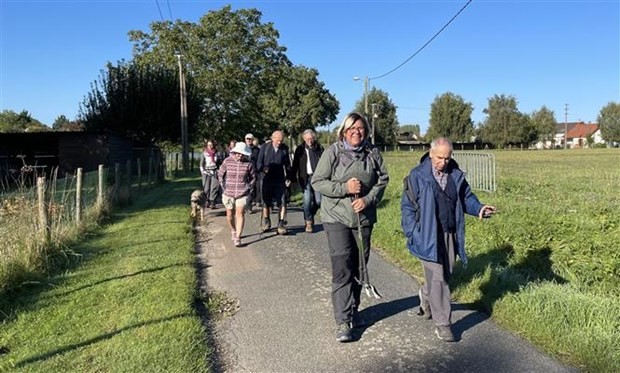 Friendship
The Children's Walk For Hope is a virtual event that will be held globally recently.
September 27, 2023 | 14:54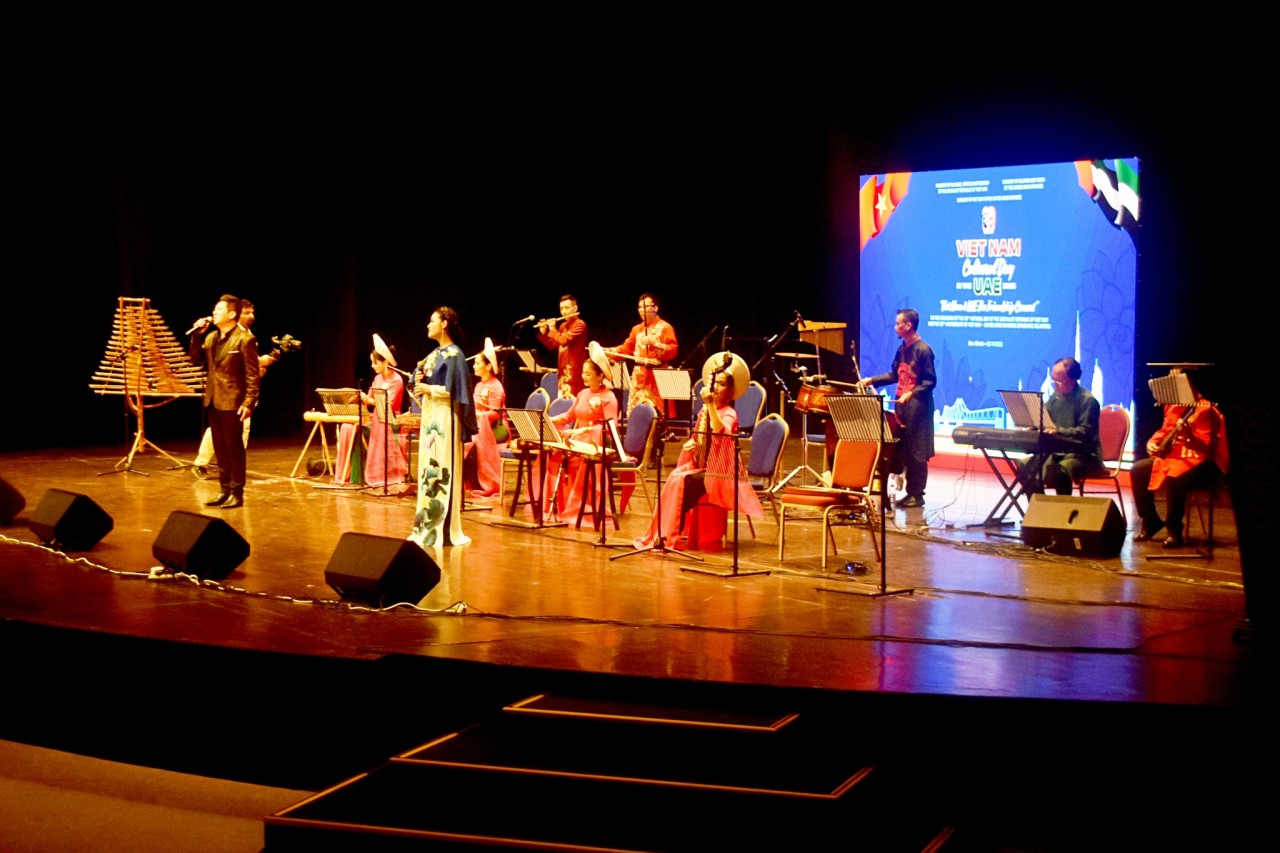 Friendship
A special art performance was held in the capital Abu Dhabi, gathering leading artists from Vietnam and the United Arab Emirates (UAE).
September 27, 2023 | 14:01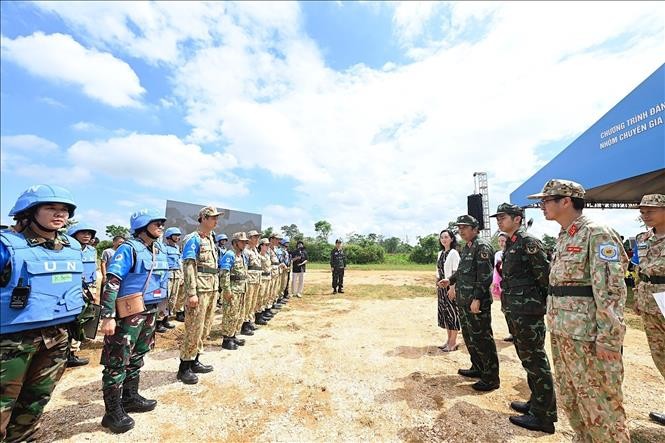 Friendship
Japan and representatives of State members of ASEAN Defence Ministers' Meeting Plus (ADMM-Plus) valued the preparations of Vietnam in hosting the Competency Evaluation Program for Prospective UN Peacekeepers (CEPPP) as well as outcomes of the program.
September 27, 2023 | 07:53