Message In A Bottle Found in Hawaii Beach After 37 Years, and Interesting Stories Of Messaged Bottles
When we were young, we used to think about putting a small note or letter in a bottle then toss it into the sea, and hope one day someone might find it. Even though most of them got lost in the waves, but some succesfully made it to the shore after many years. Here are some of the interesting stories about messages in the bottles.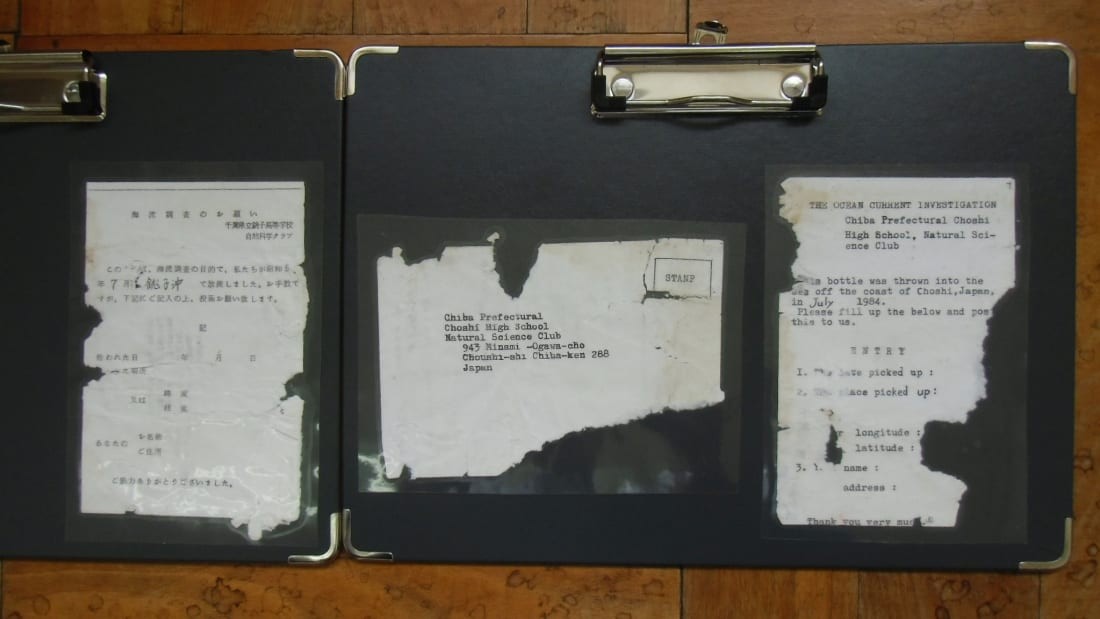 Photo: CNN
A glass bottle containing a message from 1984 has washed up in Hawaii and been discovered by a 9-year-old girl -- 37 years after high school students in Japan dropped it into the ocean as part of an experiment.
The message in a bottle, titled "Ocean current investigation," was written by the students and placed in the Kuroshio Current near Miyakejima Island, western Japan, as part of a school project into ocean currents.
The letter sealed inside, dated July 1984, asked whoever found the bottle to return it to the school, Choshi High School.
The bottle's finder, named in local media in Hawaii as 9-year-old Abbie Graham, was on a family visit to a beach near the city of Hilo, Hawaii, when she discovered it. It had traveled some 4,350 miles.
The school said in a press statement that it released 450 bottles in 1984 and a further 300 in 1985 as part of its ocean currents survey.
So far, 51 have been found and returned. However, the school added, this is the only bottle to have been found since 2002.
"We never imagined another would be found"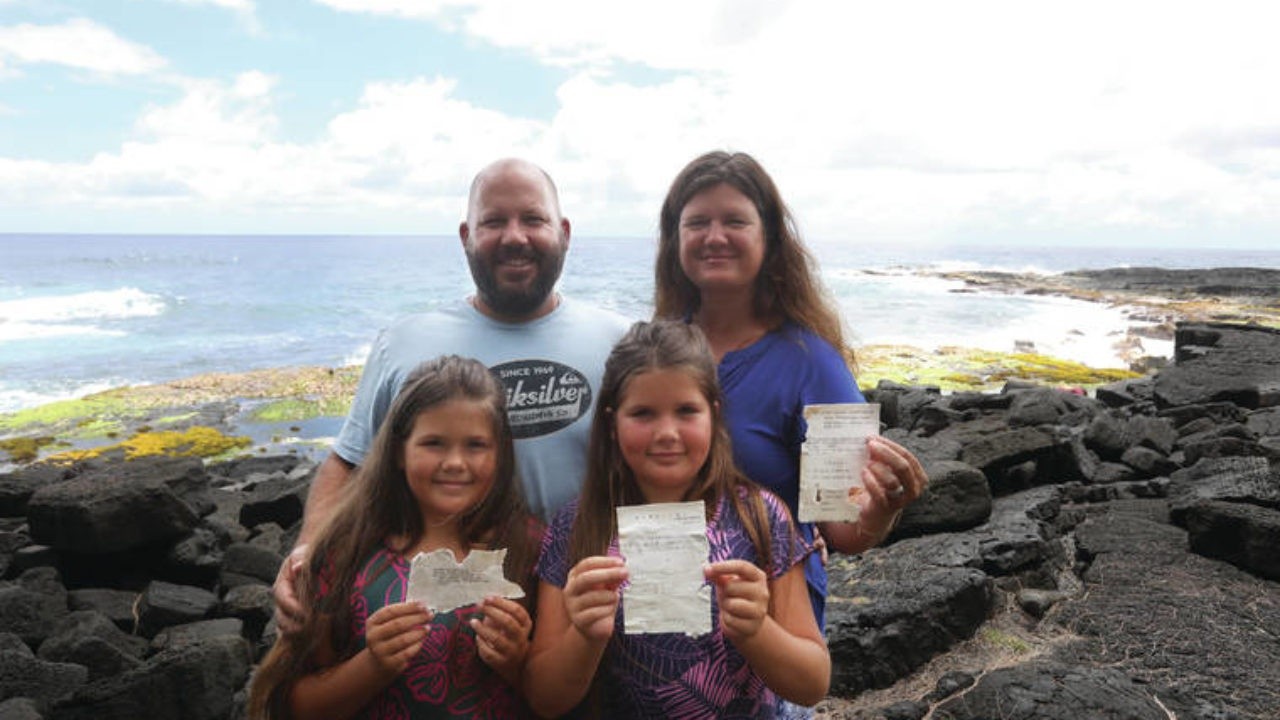 Abbie Graham (Right) and her family found the botter in Paradise Beach, Hawaii. Photo: Hawaii Today
Abbie sent a message back to the school, along with a drawing of her and her sister eating sushi in September.
Jun Hayashi - the Vice Principal of Choshi High School said: "We thought the last one was found in Kikaijima. We never imagined another would be found 37 years on."
Mayumi Kanda who was part of the 1984 science club said: "I was surprised, it revived nostalgic memories of my high school days. I thank those involved."
Two students at the school wrote a letters of appreciation to Abbie for sending the note back, and one of them said: "I want to cherish the connection the bottle brought us across borders and spacetime."
Meanwhile, Abbie has said the experience has inspired her to go hunting for more messages in bottles.
The story of message in bottles: Famous floating note discoveries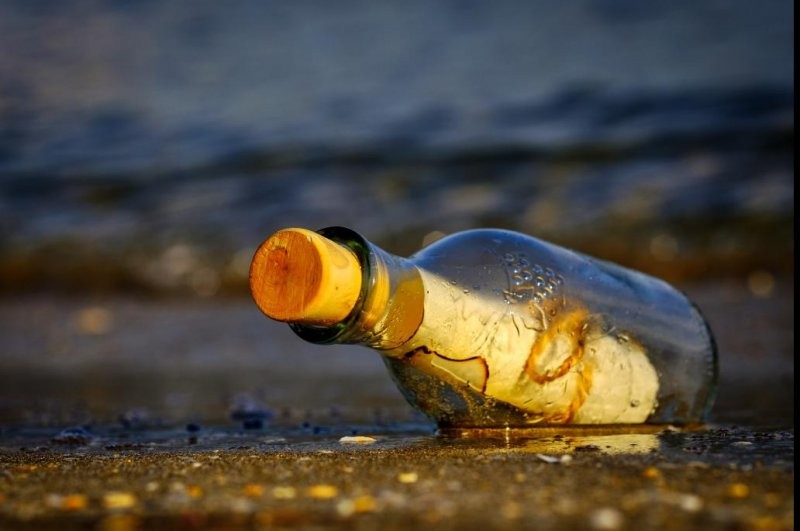 Photo: Getty Images
What is believed to be the world's oldest discovered message in a bottle has been presented to the sender's granddaughter, 101 years after it was first tossed into the sea in Germany.
People have been putting messages in bottles for much longer than a century: in 310 BC, Greek philosopher Theophrastus put sealed bottles into the sea as part of an experiment to prove the Mediterranean Sea was formed by the inflowing Atlantic Ocean.
Oceanography is a common reason drift bottles are thrown overboard, but there are also some romantic and surprising stories of sending messages across the sea throughout history.
A new world record?
FOUND BY: Konrad Fischer in the Baltic Sea, 2014SENT FROM: Richard Platz in the Baltic Sea, 1913TIME AT SEA: 101 years
A message in a bottle tossed in the sea in Germany 101 years ago, believed to be the world's oldest, was presented to the sender's granddaughter, a Hamburg museum has said.
A fisherman pulled the beer bottle with the scribbled message out of the Baltic Sea off the northern city of Kiel in March, Holger von Neuhoff of the International Maritime Museum in the northern port city of Hamburg said.
Mr Von Neuhoff said researchers were able to determine, based on the address, that it was 20-year-old baker's son Richard Platz who threw the bottle in the Baltic while on a hike with a nature appreciation group in 1913.
Floating on North Sea currents
FOUND BY: Scottish skipper Andrew Leaper near the Shetland Isles, 2012SENT FROM: Captain C. Hunter Brown near the Shetland Isles, 1914TIME AT SEA: 97 years and 309 days
A drift bottle released out to sea on June 10, 1914 by Captain C. Hunter Brown was recovered by UK fisherman Andrew Leaper almost 98 years later, on April 12, 2012.
Brown was a scientist at the Glasgow School of Navigation studying the currents of the North Sea, and the bottle was one of 1,890 released on June 10, 1914.
It is the current Guinness World Record holder for oldest message in a bottle.
The message inside read: "Please state where and when this card was found, and then put it in the nearest Post Office. You will be informed in reply where and when it was set adrift. Our object is to find out the direction of the deep currents of the North Sea."
The bottle was discovered 9.38 nautical miles from the position it was originally deployed.
Jonathan to Mary
FOUND BY: Matea Medak Rezic in Croatia, 2013SENT BY: Jonathon (identity unknown) from Nova Scotia, Canada, 1985TIME AT SEA: 28 years
A 23-year-old kite surfer, Matea Medak Rezic, stumbled across a half-broken bottle while clearing debris from a Croatian beach at the mouth of the Neretva river in the southern Adriatic.
Inside the bottle was a message from Jonathan, from the Canadian province of Nova Scotia, who had written it 28 years earlier, honouring his promise to write to a woman named Mary.
The message reads: "Mary, you really are a great person. I hope we can keep in correspondence. I said I would write. Your friend always, Jonathon, Nova Scotia, 1985."
The bottle would have had to have travelled approximately 6,000 kilometres across the Atlantic Ocean, entered the Mediterranean Sea, and then drifted into the Adriatic Sea.
Jonathan and Mary's identity, and how the two knew each other, is unknown.
Writing to Zoe
FOUND BY: A Dutch couple in Oosterschelde, Netherlands, 2013SENT BY: Zoe Averianov, from a ferry travelling from Hull to Belgium, 1990TIME AT SEA: 23 years
Zoe Averianov, from Hebden Bridge, was 10 years old when she threw her message in a bottle overboard as she went on holiday, travelling by ferry from Hull in England to Belgium on September 12, 1990.
Her message read: "Dear finder, my name is Zoe Lemon. Please would you write to me, I would like it a lot. I am 10 years old and I like ballet, playing the flute and the piano. I have a hamster called Sparkle and fish called Speckle."
Twenty-three years later at Christmas in 2013, a letter arrived to Zoe's parents' address from a Dutch couple: "Dear Zoe, yesterday on one of my many walks with my wife along the dikes of Oosterschelde looking among the debris thrown by the sea of embankment I found a little plastic bottle containing your message."
A mother to her son
FOUND BY: Karen Liebreich and Sioux Peto on a beach in Kent, 2002SENT BY: An unnamed French mother from a ferry crossing the English Channel, 2002TIME AT SEA: A few weeks
In 2002, while on a ferry crossing the English Channel, a French mother threw a teardrop-shaped bottle, some clothes and lilies overboard.
Inside the bottle was a note from the mother to her child, Maurice, who had died at age 13: "Forgive me for being so angry at your disappearance," the letter went. "I still think there's been some mistake, and I keep waiting for God to fix it … Forgive me for not having known how to protect you from death. Forgive me for not having been able to find the words at that terrible moment when you slipped through my fingers".
A few weeks later, Sioux Peto found the bottle washed up on a beach in Kent when she was walking her dogs.
Peto found a lock of hair and a letter written in French inside. She gave the letter to her friend, UK-based author Karen Liebreich, to translate.
Over the following few years, Liebreich tried to discover who the French mother was, but without success.
Then in 2006, Liebreich authored the book The Letter In The Bottle about the discovery, and a few years after the book's release, the mother who wrote the letter contacted Liebreich and the two women finally met a month later in northern France.
From five-year-old Frank
FOUND BY: Daniil Korotkikh on the Curonian Spit in Lithuania and Russia, 2011SENT BY: Frank Uesbeck from a ship travelling to Denmark, 1987TIME AT SEA: 24 years
Daniil Korotkikh, a 13-year-old Russian, was walking with his parents along a beach on the Curonian Spit when he saw what he said looked like a German beer bottle with a ceramic plug lying in the sand.
Inside he find a message written in German. Korotkikh's father knew some German and translated the letter. It said: "My name is Frank, and I'm five years old. My dad and I are travelling on a ship to Denmark. If you find this letter, please write back to me, and I will write back to you."
The five-year-old boy who wrote the letter is, Frank Uesbeck, who was 29 when the message was discovered.
Korotkikh and Uesbeck met each other via an internet video link in March, 2011.
History and uses of message in a bottle
Oldest bottle and message found by Baltic fishermen. Photo: Historyblog
Bottled messages may date to about 310 B.C., in water current studies reputed to have been carried out by Greek philosopher Theophrastus. The Japanese medieval epic The Tale of the Heike records the story of an exiled poet who, in about 1177 A.D., launched wooden planks on which he had inscribed poems describing his plight. In the sixteenth century, Queen Elizabeth I reputedly created an official position of "Uncorker of Ocean Bottles", and—thinking some bottles might contain secrets from British spies or fleets—decreed that anyone else opening the bottles could face the death penalty. (However, it has been argued that this is a myth.) In the nineteenth century, literary works such as Edgar Allan Poe's 1833 "MS. Found in a Bottle" and Charles Dickens' 1860 "A Message from the Sea" inspired an enduring popular passion for sending bottled messages.
Scientific experiments involving drift objects—more generally called determinate drifters—provide information about currents and help researchers develop ocean circulation maps. For example, experiments conducted in the mid-1700s by Benjamin Franklin and others indicated the existence and approximate location of the Gulf Stream, with scientific confirmation following in the mid-1800s. Using a network of beachcomber informants, rear admiral Alexander Becher is believed to be the first (from 1808–1852) to study travel of so-called "bottle papers" around an ocean gyre (a large circulating current system). In the late 1800s, Albert I, Prince of Monaco determined that the Gulf Stream branched into the North Atlantic Drift and the Azores Current. In the 1890s, Scottish scientist T. Wemyss Fulton released floating bottles and wooden slips to chart North Sea surface currents for the first time. Releasing bottles designed to remain a short distance above the sea bed, British marine biologist George Parker Bidder III first proved in the early twentieth century that deep sea currents flowed from east to west in the North Sea and that bottom feeders prefer to move against the current.
The U.S. Coast and Geodetic Survey (C&GS) used drift bottles from 1846 to 1966. More recently, technologies involving satellite tags, fixed current profilers and satellite communication have permitted more efficient analysis of ocean currents: at any given time, thousands of modern "drifters" transmit current position, temperature, velocity, etc., to satellites, thus avoiding conventional drift bottles' dependence on serendipitous finds and cooperation by conscientious citizens.
Drift bottle studies have provided a simple way to learn about non-tidal movement of waters containing eggs and larvae of commercially important fishes, for sharing among fisheries scientists and oceanographers. Such experiments simulate the travel of pollutants such as oil spills, study formation of ocean gyre "garbage patches", and suggest travel paths of invasive species. Persistent currents are detected to allow ships to ride favorable currents and avoid opposing currents. Projected travel paths of navigation hazards, such as naval mines, advise safer shipping routes. Even in inland waterways, drifters wirelessly deliver real-time data on water quality, GPS location, and water velocity, for early warning against flash floods, measuring pollution run-off, and monitoring algal blooms.
Outside science, people have launched bottled messages to find pen pals, "bottle preachers" have sent "sermon bottles", propaganda-bearing bottles have been directed at foreign shores, and survivors have sent poetic loving tributes to departed loved ones or sent their cremated remains (ashes) on a final journey.
It was estimated in 2009 that since the mid-1900s, six million bottled messages had been released, including 500,000 from oceanographers.
What's the furthest a message in a bottle has travelled?
The longest known single journey was that of a Doctor Who postcard in a bottle, thrown into the sea at Tyne and Wear in 2011. This turned up 17 months later in Perth, Western Australia – over 14,500km away. But in 1929, German marine scientists dropped a bottle into the Indian Ocean with instructions for the finder to report where it washed up and then throw it back. This floated for six years and covered 25,600km!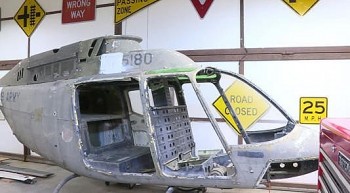 World
A piece of military history related to Vietnam is coming to life with a special project in a small Barton County townm in the US