Millions of Hanoi Students Unprecedentedly Attend Online New School Year Opening Ceremony At Home
A specially unprecedented online opening ceremony of the 2021-2022 new school year for students in Hanoi was held in Trung Vuong Secondary School in Hoan Kiem district on September 5 morning, and broadcast live on the Hanoi Radio and Television.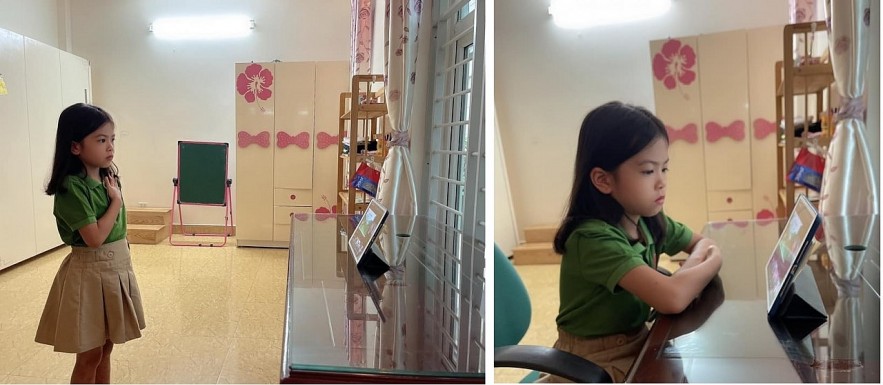 Pham Minh Thu, Mariecurie Hanoi school, attends her new school year opening ceremony online, Hanoi, September 5, 2021. Photo: ThuyHang VNT
At 6 a.m. on Sunday's earlier morning, Pham Minh Thu, a third grader, put on a new uniform to begin the new school year and waited to watch a telecast of the opening ceremony.
Students of most schools in Hanoi were able to watch the new school year opening ceremony broadcast on the Hanoi Radio and Television Station at 7:30 a.m.
As more than 20 million Vietnamese students began a new school year Sunday, the ongoing outbreak forced many schools to cancel their opening ceremonies, scale them down or go virtual.
The opening ceremony for Hanoi new school year at the capital city's emblematic Trung Vuong Secondary School in Hoan Kiem District.
The ceremony saw the in-person attendance of teachers, school staff, and over 20 students who had passed a Covid-19 test one day before the event. It was broadcast live on the Hanoi Radio and Television and online platforms so that teachers and students of all over Hanoi can watch the live broadcast and then held their new school year ceremony online.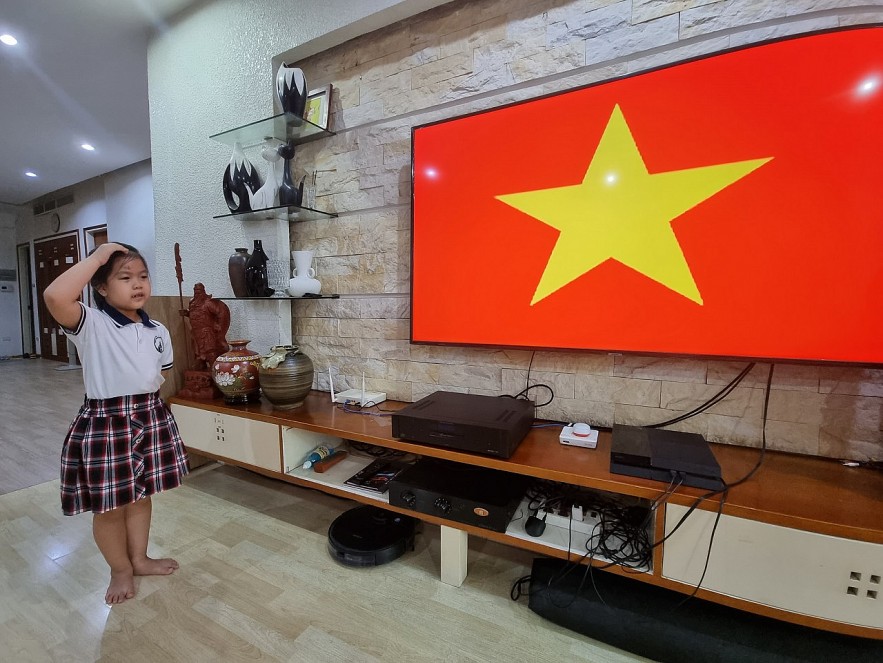 Nguyen Huong Thao, second grader at Ngoc Khanh Primary School, saluting for flag online for her new school year opening ceremony on September 5, 2021. Photo: ThuyHang VNT
Thu Huong, Huong Thao's mother, told the VietnamTimes that her daughter still found it eager, solemn and warm though she had to attend the new school year ceremony via a screen,
"Students are too young to understand the situation but they basically understand the new school year opening ceremory need be attended at home due to Covid prevention. This is my daughter's second opening ceremony at primary school, she was looking very much forward to attending it in person with her friends and teachers. But since it was not possible, I encouraged her to have fun attending the ceremony at home", Huong said.
Sharing the same feeling, Nguyen Duy Tan, father of Nguyen Huong Thao, said that their whole family seriously attended the ceremony with her daughter. Also, he agreed with the city's decision to hold the school opening ceremony online and remote learning because ensuring Covid-19 prevention was the most important thing.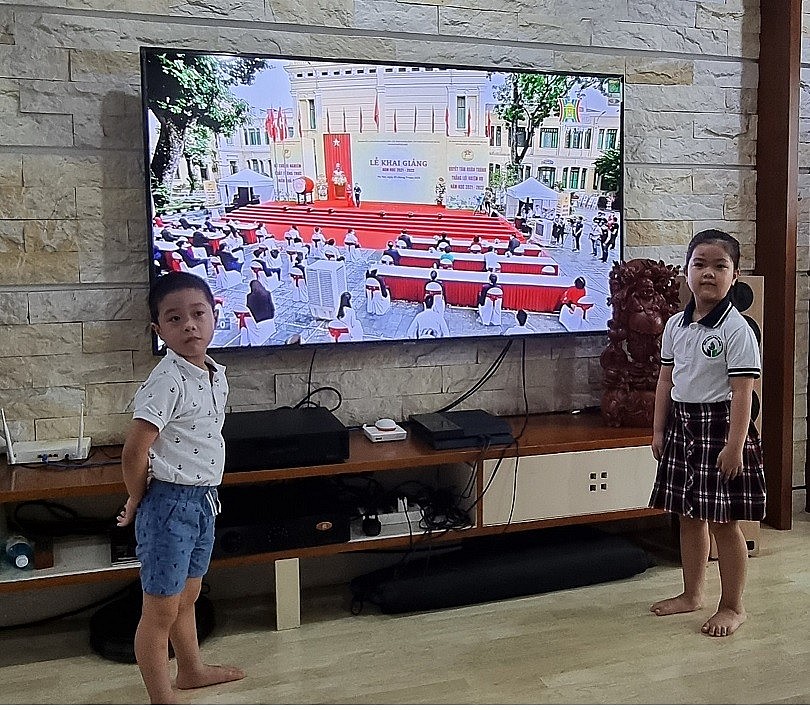 Huong Thao anh her younger brother Nguyen Duy Phuc Lam, who is only in kindergarten, seriously attending the new school year opening ceremony. Photo: ThuyHang VNT.
Hanoi has recently decided to extend its social distancing order in 15 districts for another two weeks as the Covid-19 outbreak remains complicated, with dozens of new cases recorded every day.
Speaking at the opening ceremony of the school year 2021-2022, Chairman of the Hanoi People's Committee Chu Ngoc Anh expressed his hope that the students would find motivation in learning; cultivate the qualities, ethics, intelligence, and courage of today's young Vietnamese generation; make worthy contributions to the beloved capital city, said hanoitimes.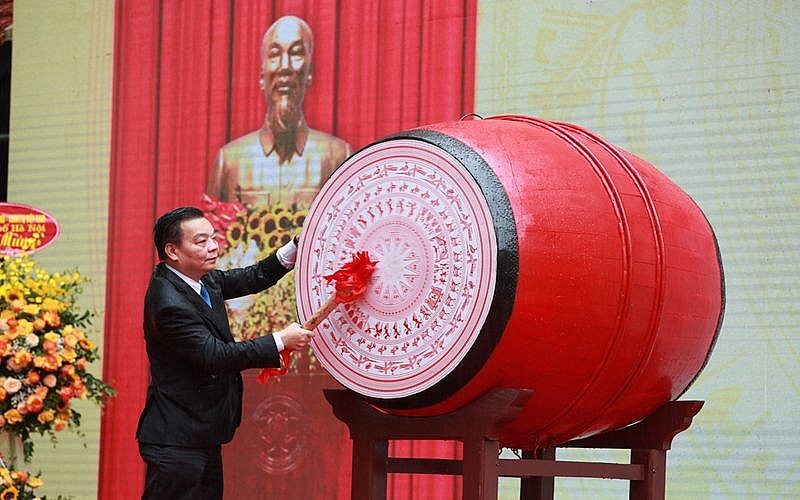 Chairman of the City People's Committee Chu Ngoc Anh beat the drum to open the new school year 2021-2022. Photo:hanoitimes
"In the face of the serious evolution of the Covid-19 pandemic, the city's education sector has quickly and synchronously deployed solutions to ensure the safety of more than two million students and over 150,000 teachers. Hanoi will keep maintaining the quality of education. The coming school year will face unpredictable factors, more difficulties, and challenges but we will do our best to complete the set tasks," Ngoc Anh said.
As of September 5, 57 cities and provinces out of 63 nationwide have decided to hold the opening ceremony of the new school year either in-person or online, while the remainders have canceled or delayed the opening date, giving priority to pandemic prevention and ensuring students' safety.
Due to the worsening situation of the outbreak triggered by Delta variant of the novel coronavirus, many schools are being used as quarantine facilities. After the ceremony, most students have to study online, reported the vnexpress.
In HCMC, epicenter of the ongoing outbreak with over 250,000 infections, 1.3 million students entered their new school year without opening ceremonies. Secondary and high school students will begin online classes from Monday while primary students will have two weeks to get familiar with online study before entering the official curriculum in mid-September.
The municipal education sector said all students would have to study online during the first semester, but more than 75,000 children are unable to do so because of a lack of equipment and internet speed. In addition, another 6,600 students have contracted Covid-19 and being treated at home or quarantine facilities. Many students' parents have died of Covid-19.
The provinces of Ca Mau and Quang Binh scrapped their opening ceremonies, while Dong Thap, Hau Giang, Ben Tre, Long An, Tra Vinh, Dong Nai and Hau Giang deferred them to between September 13 to 20 and are yet to decide which form they will take.
Over 20 localities in northern provinces where the pandemic situation has been brought under control allowed their students to attend scaled down new year opening ceremonies in their schools with strict restrictions. All students and teachers must comply with safety measures like face masks and hand sanitizers.
In the ongoing Covid-19 outbreak that began late April, Vietnam has recorded nearly 507,000 infections.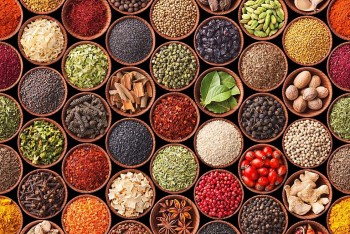 Vietnamese Herbal Tea
Antioxidants have been known since the 1990s and have been useful in fighting cancer, atherosclerosis, and many other chronic diseases.