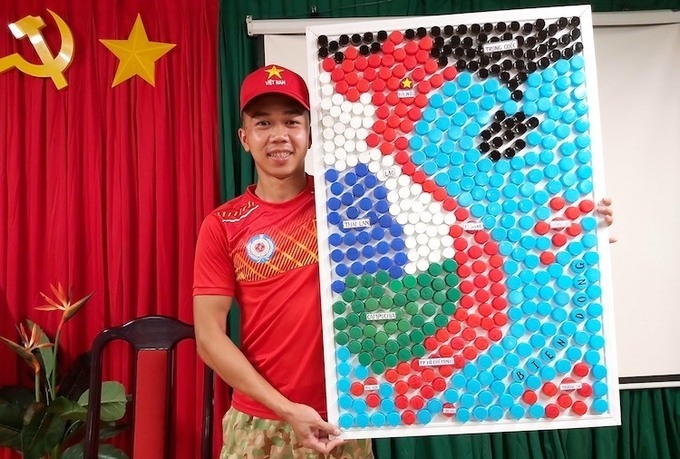 The map S-shaped map is made from 503 bottle caps(Photo: Viet Nam Department of Peacekeeping )
According to the hospital's Director Lieutenant Colonel Vo Van Hien, protecting the environment and reducing plastic waste is one of the initiatives of the Vietnamese peacekeepers in Bentiu, South Sudan, so as to build the level-2 field hospital into an environmentally-friendly one.
The map collage is solemnly hung at the entrance of Vietnam to the hospital to introduce to the international friends.
"The idea contributes to raise people's awareness of environmental protection, limit the use of plastic waste, and confirm the Vietnamese soldiers' determination to build environmentally friendly hospitals at the Bentiu base", the Lieutenant Colonel told VNE, adding the creative artwork of Vietnamese blue-beret doctors and medical staff is welcomed by Colonel Imran Safdar, Deputy Commander of the UNIMISS.
As reported by Vietnamese People's Army newspaper, Imran was impressed when he learned that the unique map was made from bottle caps that were collected in the mission. Welcoming the practical deed of the Vietnamese peacekeepers, he affirmed that the idea would contribute to raising UNMISS staff's awareness of environmental protection and harmful effects of plastic waste.
He hoped that the initiative will be multiplied not only in Unity but also UNMISS's headquarters in Juba. "It would be great if Vietnamese peacekeepers could make a map of Unity," said Colonel Imran Safdar.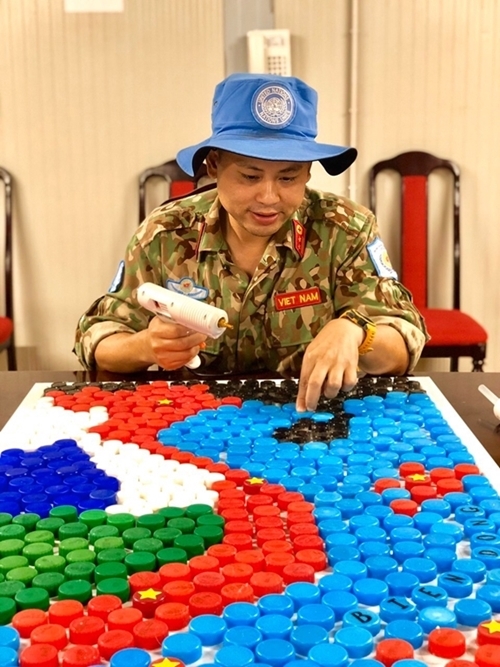 The map was made by personnel of the Level-2 Field Hospital Rotation 2 of Vietnam. (Photo: En.qdnd)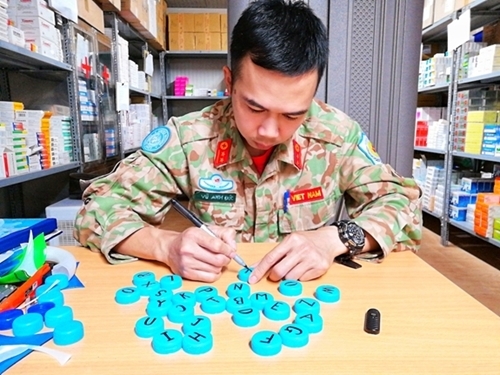 Non-commission Lieutenant Vu Anh Duc making toys for local children (Photo: En.qdnd)
Doctors at the Level-2 Field Hospital Rotation 2 have been building a plastic-free living environment since taking on the mission in Level-2 Field Hospital Rotation 2. The 3R movement "Reduce-Reuse-Recycle" has also been widely implemented.
Accordingly, inmates at the hospital minimize the use of nylon bags in daily activities. All items are made from environmentally friendly materials, such as rattan and bamboo brought from Vietnam. Domestic waste and medical waste are carefully sorted and processed.
Those actions are expected to inspire other foreign units and local people to be environmentally responsible.
The blue-beret doctors also recreated certain plastic waste into useful utensils for daily use.
Pharmacist Non-commission Lieutenant Vu Anh Duc, for example, has created eye-catching decorations from plastic bottles and beer cans. Thanks to his creativeness and enthusiasm, Vietnamese personnel in South Sudan have lovely hand-made crafts, such as pen cases and vases. His beautiful and useful products have inspired his co-workers to reduce their plastic use and collect plastic waste.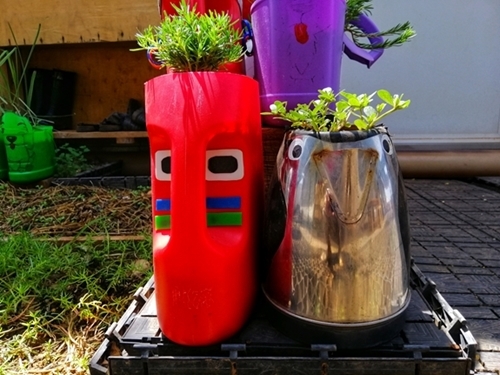 Decorations made from used products (Photo: En.qdnd)
"Duc also made an alphabet and some simple toys out of plastic shells for South Sudanese children from a refugee camp near the hospital", Hien said. "He also plans to build tables for the children from unused wooden boxes", the Lieutenant Colonel added.
"Hopefully, the hospital's withdrawal from plastic waste will contribute to promoting the image of Vietnamese soldiers and spreading the environmental movement to other missions", the leader of the Viet Nam Department of Peacekeeping Operations said.
Jasmine Le