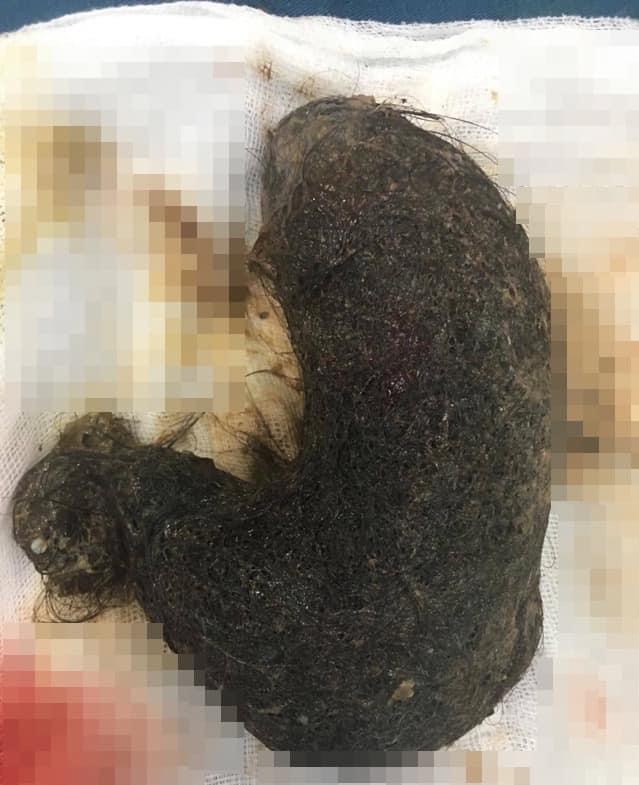 The huge clump of hair was successfully removed (Photo: baomoi)
M.Q.T, 11, has been chewing and swallowing hair since 2 years old but little did her parents notice the habit, Dr. Tran Anh Quynh, Deputy Head of the General Surgery Department told Lao Dong Online.
She was taken to National Children's Hospital hospital only when started to vomit blood and show other symptoms of abdominal pain.
Upon her arrival, doctors noticed normal signs of survival, no fever, no jaundice, her weighs only 30 kilograms. Imaging revealed she had a bulk of hair in her stomach and had to undergo openning gastric surgery.
The hairball sized 20x10x8 centimeters was removed from the patient's body after an hour.
"If the hairball isn't removed in time, the patient would have suffered severe complications, like stomach ulcers, yellowing of the skin, biliary obstruction, and acute pancreatitis ", Dr. Pham Duy Hien, deputy director of the hospital told Lao Don Online. "Other complications related to malabsorption like protein loss, iron deficiency and anemia could possibly arise", he added.
The girl has since received postoperative care and psychological treatment and is now in stable condition.
According to Tuoi Tre Online, a hairball found in the stomach was a rare condition that usually occurs among young women who suffer from a syndrome called Rapunzel, or trichophagia scientifically. Those suffering from the mental disorder have a compulsive urge to pull out their hair and shallow it.
Jasmine Le