Mobile Retail Chains Struggling Due to Social Lockdown
Extended social lockdown in Hanoi and Ho Chi Minh City has dealt a major blow to mobile retail stores in Vietnam.
The fourth Covid outbreak in Vietnam has caused major cities such as Ho Chi Minh City and Hanoi to enter extensive social lockdown. The retail sector, notably mobile retail, is hit hard as a result.
Bearing the brunt
Since the fourth Covid wave broke out in late April, most mobile stores in Hanoi and Ho Chi Minh City have recorded a significant drop in sales.
In 2021, CellPhoneS, one of the largest mobile retail chain stores in Vietnam, reported a 50% dip in June sales and 70% in July sales respectively compared to before the fourth Covid wave.
ShopDunk, a retail chain store specialized in Apple products, noted similar challenges, with a drop of 50% in turnovers as its 11 stores in Hanoi and Ho Chi Minh City have been forced to turn to online mode.
However, moving online did not boost sales significantly due to transportation constraints.
"A lot of our orders have been transferred to the transporting companies weeks ago, but they are still lying in the warehouse. Most provinces in southern Vietnam are under social lockdown so it is extremely difficult to deliver products to the customers," CellphoneS representative Nguyen Lac Huy said.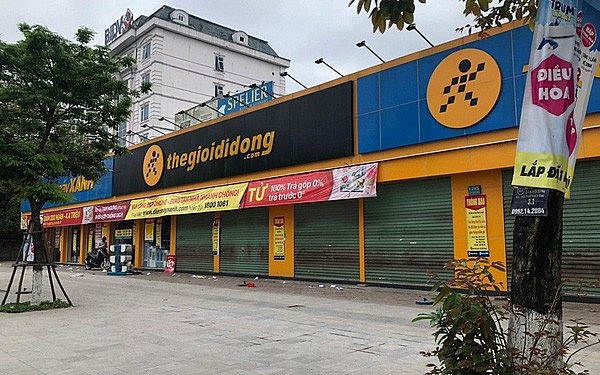 Mobile retail stores in Hanoi and Ho Chi Minh City are struggling due to extended social lockdown. Photo: GenK
According to ShopDunk representative, "if this continues, retail chain stores will continue to struggle. Our sales in August took a dive not because we did not have customers but because we could not deliver our products. For instance, J&T Express has canceled hundreds of our orders in Ho Chi Minh City because they could not come and take the orders from us."
FPT Digital Retail, another mobile retail giant, noted that although the demand for smartphones had cooled down, leading to a decrease of 10% in sales compared to some months ago, the company recorded a rise of 50% in laptop and tablet turnovers as blue collars and students embraced working and studying from home.
Mobile retail stores in Hanoi and Ho Chi Minh City noted that further social lockdown would place maintenance of their businesses under pressure due to rising operational and human resources costs. Some companies have planned to close down stores.
Finding a way out
To address current obstacles, mobile retail chain stores have sought solutions to maintain the influx of customers, notably boosting online sale channels and offering extra added value services to customers. In August, ShopDunk introduced new sale channels by cooperating with e-commerce giants such as Shopee Mall, Lazada and Tiki to open its Apple Authorized Reseller mall.
ShopDunk is complying with the Covid prevention measures imposed in areas with Covid outbreaks. According to ShopDunk representative, the chain store has provided vaccination to all its employees in high-risk areas, reducing human resources by applying an unpaid leave policy. The management staff has cut down 30 – 70% of salary to maintain operation.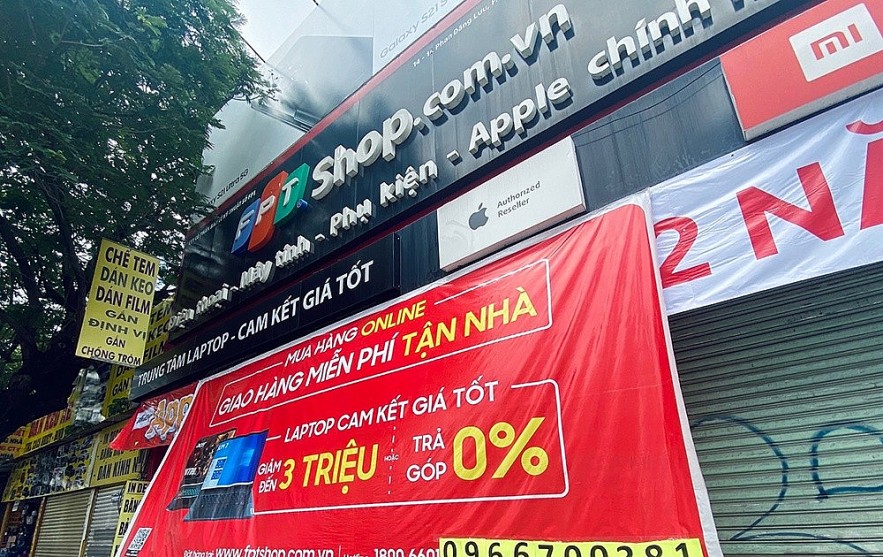 FPT Shop chain stores have closed down temporarily due to social distancing. Photo: Bao Thanh nien
ShopDunk is focusing on improving its online services such as free shipping, same-day delivery, giving vouchers worth VND 200,000 – 500,000 or providing 100% online shopping and technical advice to customers.
According to FPT Digital Retail mobile telecommunications director Nguyen The Kha, the corporation has developed various scenarios to become adaptive, utilizing the rise in laptop needs to compensate for decreasing smartphone demand.
For the third quarter of 2021, FPT Digital Retail has increased supply capacity and rolled out special sale programs intended for students in anticipation of the new academic year, ready to meet the target turnover growth. To attract customers, the retail chain store has also introduced promotion programs such as 15% or installment plans with 0% interest rates.
"Toward the end of the year, the market will be very unpredictable, so we have prepared various business plans to respond actively to new occurrences," FPT Digital Retail representative noted.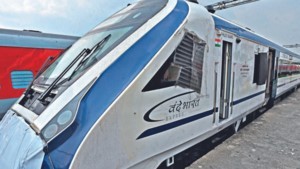 Economy
The Indian Railway department is all set to bring tilting trains in the country by 2025-26. The technology will be used in manufacturing almost 100 Vande Bharat trains. The technology will ​​enable trains to maneuver curves at higher speeds, just as a motorbike on a winding road, reported PTI citing a senior official on Friday. He said 100 of the 400 Vande Bharat trains to be manufactured by 2025 will have this technology.
November 27, 2022 | 20:04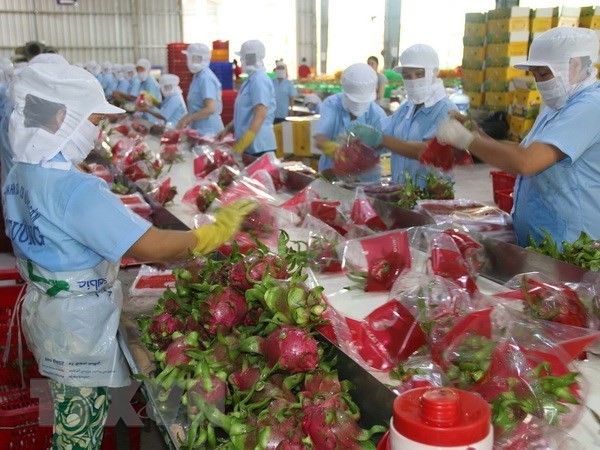 Make in Vietnam
Denmark and Vietnam strengthen cooperation in production, certification and management of organic products
November 26, 2022 | 10:48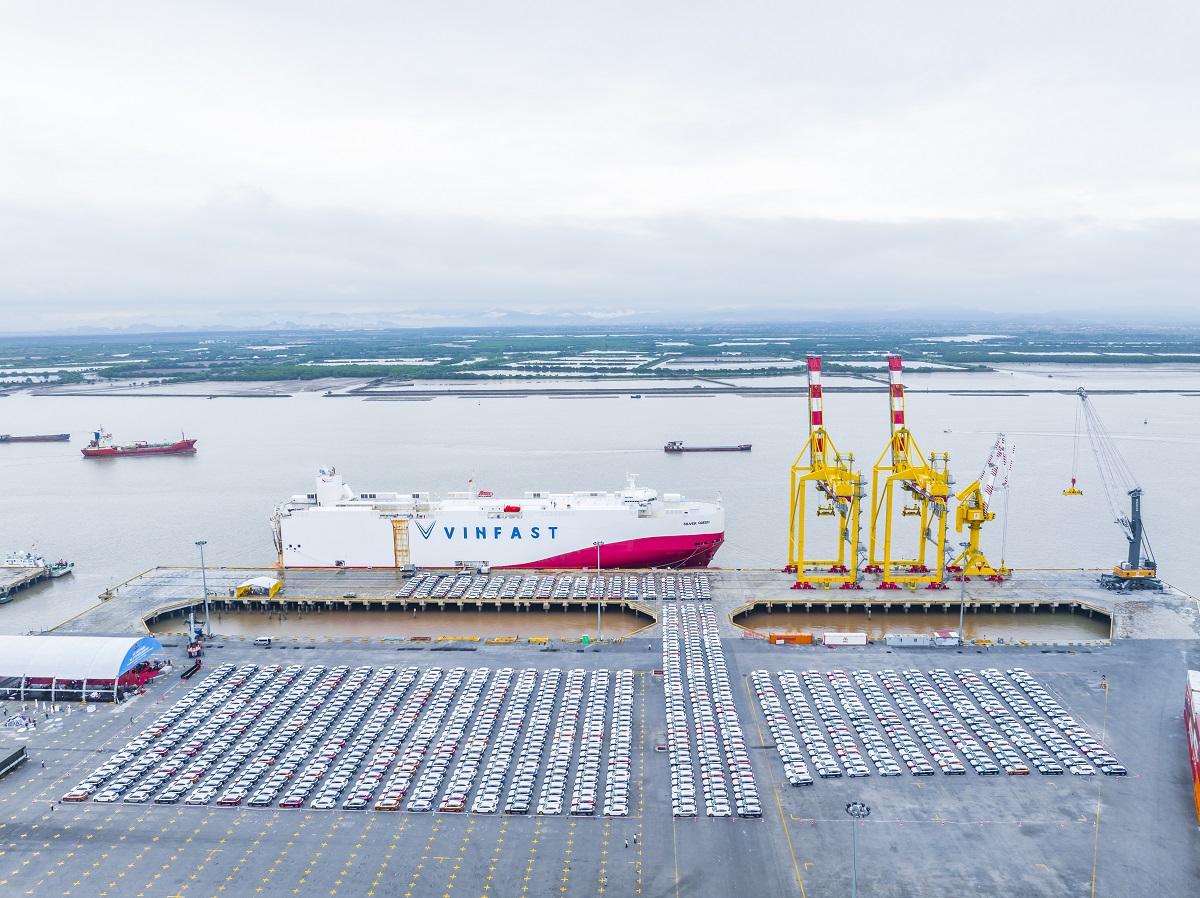 Economy
HAI PHONG, VIETNAM - Media OutReach - 25 November 2022 - VinFast held a ceremony to mark its first batch of exports of smart electric vehicles including 999 VF 8s to international markets. This event is a remarkable milestone in the history of Vietnam's automotive industry as Vietnamese-branded electric cars have officially entered the global market.
November 25, 2022 | 20:30