Mong Cai Border Gate Welcomes First Chinese Tourist Group Post-Covid
The northern province of Quang Ninh welcomed a group of 100 Chinese tourists entering through Mong Cai border gate at March 15.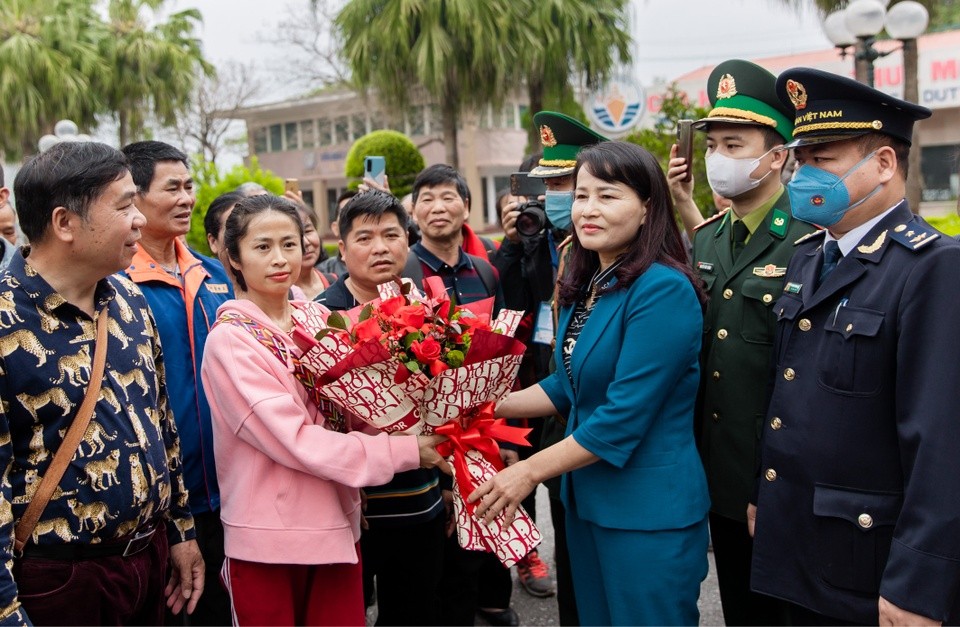 Mong Cai International Border Gate welcomes the first foreign tourist group post COVID-19 on March 15. Photo: VNA
On the first day China reopened tourism in groups to Vietnam, Mong Cai border gate recorded about 600 people completing entry procedures to Quang Ninh to visit and travel, VNA reported.
The first foreign tourists entering Vietnam through the border gate in the northern province of Quang Ninh on the day were a group of 38 Chinese tourists.
They are scheduled to visit several places in Vietnam during their four-day visit such as the UNESCO-recognised Hạ Long Bay (Quang Ninh) and the capital city of Hanoi.
The Mong Cai - Dongxing International Border Gates were officially re-opened on January 8 but only Vietnamese and Chinese citizens were allowed to go through to return home after a period of being stuck due to the Covid-19 pandemic.
On February 21, import-export activities were fully resumed, and individual travellers were allowed to go through the border gates.
It is expected that about 3,000 people will go through the border gate on March 15, the day China re-opened group tours to Vietnam.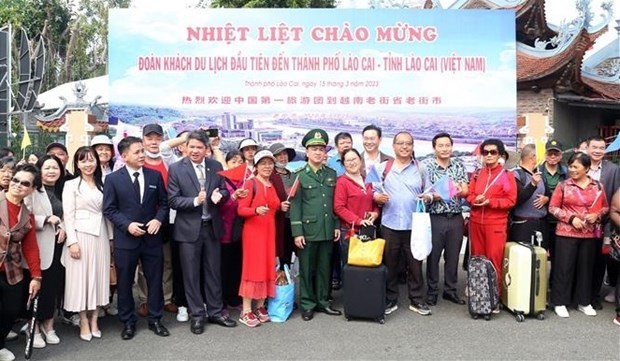 Mong Cai International Border Gate welcomes the first foreign tourist group post COVID-19 on March 15. Photo: VNA
Both the authorities and tourism agencies in Quang Ninh have got infrastructure and staff readied to receive foreign tourists.
Vietnam is on the list of countries to which Chinese group tours can be conducted starting from March 15 in the second phase of China's pilot programme on resuming outbound group tours.
With China officially resuming group tours to Vietnam on March 15, several Chinese travel firms have firmly backed the recovery of the Vietnamese market and are actively preparing tourism products in a bid to capitalise on opportunities during the upcoming holiday, VOV reported Wednesday.
A representative of Beijing-based BJST Company, a firm that specialises in organising international tours for Chinese citizens, said the business has begun designing advantageous products aimed at seizeing upon opportunities of the upcoming May Day holiday on May 1.
The representative revealed that BJST started to tap into the Vietnamese market in 2017, adding that it can bring more than 800 passengers to the nation by air every day during the peak period.
Wu Xing, in charge of BJST's Tourism Operations, said the company has devised plans which seek to boost tourism promotion activities through several channels, noting that it takes at least one month to launch tourism products to the market.
According to data from Ctrip, China's largest online travel platform, between January 8 and March 8, the number of Chinese tourists to Vietnam increased by more than 23 times, while the number of hotel bookings also saw a 22-fold rise against the same period from last year.
Furthermore, statistics from the platform Tongcheng Travel indicate that among the 40 countries in the list of resuming group tours, Chinese tourists remain extremely interested in markets such as Vietnam, Italy, Serbia, France, and Spain.
Xing emphasised that Japan, the Republic of Korea, and other Southeast Asian countries, especially Vietnam, represent the BJST's main markets.
Before the Covid-19 pandemic broke out, the company brought between 80,000 and 100,000 visitors to Vietnam each year, adding that the Vietnamese market accounts for more than 50% of the company's overall tourism operations.
"I strongly believe in the Vietnamese and hope that the Vietnam National Administration of Tourism will exert greater efforts in ramping up tourism promotion activities in China, providing support to tourism businesses and facilitating visas for Chinese tourists such as visa-fee waivers," he said.
According to data compiled by China's Ministry of Culture and Tourism, before the Covid-19 pandemic, 2019 saw Chinaese travel agencies bring 62.88 million tourists to foreign markets.
Most notably, Vietnam ranks fourth after Thailand, Japan, and Taiwan (China) in terms of the number of visitors, accounting for 8%.
He emphasised that if Thailand was the country that welcomed the most Chinese tourists in the world before the pandemic, Nha Trang represents a Vietnamese locality that can do the same thing.
"Nha Trang accounts for more than 80% of our tourism products in Vietnam as the city has had many flights all over China," he said, adding that it also boasts a complete chain of hotels, vehicles, services, and shopping malls, whilst the friendliness of local people is also a strong factor luring tourists to the city.
He predicts that Phu Quoc island in the southern province of Kien Giang can also develop into a prime choice of Chinese tourists in the future.
With Thailand being the country that receives the most Chinese tourists, the Tourism Authority of Thailand estimates that there will be about five million Chinese visitors to Thailand this year, or less than 50% compared to 2019.
HSBC experts, however, pointed out that the return rate of Chinese tourists to Vietnamese market is likely to reach 50% to 80% compared to before the pandemic, equivalent to between three million and 4.5 million if the country eases flight restrictions or further relaxes visa requirements in the time ahead.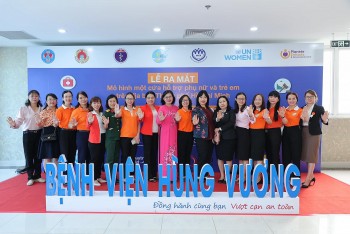 Viet's Home
What is the one-stop centre for women and children experiencing violence?