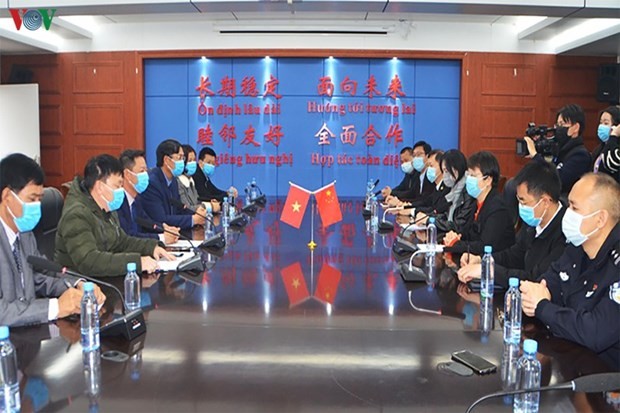 At talks between authorities of Mong Cai and Dongxing (Source: VOV)
Earlier on February 9, Vietnam had sent medical supplies and equipment worth 500,000 USD to China on a Vietnam Airlines plane.
On this occasion, the Vietnam Red Cross Society has also donated medical supplies worth 100,000 USD to China.
Chinese Foreign Ministry spokesperson Geng Shuang expressed gratitude to countries, including Vietnam, Russia and those in Africa, for their firm support to China in combating the disease.
The number of fatalities and new cases from China's coronavirus outbreak soared on February 13, with 242 more deaths and nearly 15,000 new cases in hard-hit Hubei province as authorities changed their threshold for diagnosis.
At least 1,355 people have now died nationwide and nearly 60,000 have been infected after Hubei's health commission reported the new numbers.
According to Vietnam News Agency, among the 15 confirmed cases in Vietnam, seven have recovered. The latest case, who is also the youngest recorded so far, is a three-month-old baby from Vinh Phuc's Binh Xuyen district./.
VNF