More Efforts Needed to Settle War Consequences in Vietnam, Laos, Cambodia
Stories were shared to help bring about peace and reconciliation and to find solutions to address the lingering consequences of the war in the three Indochinese countries.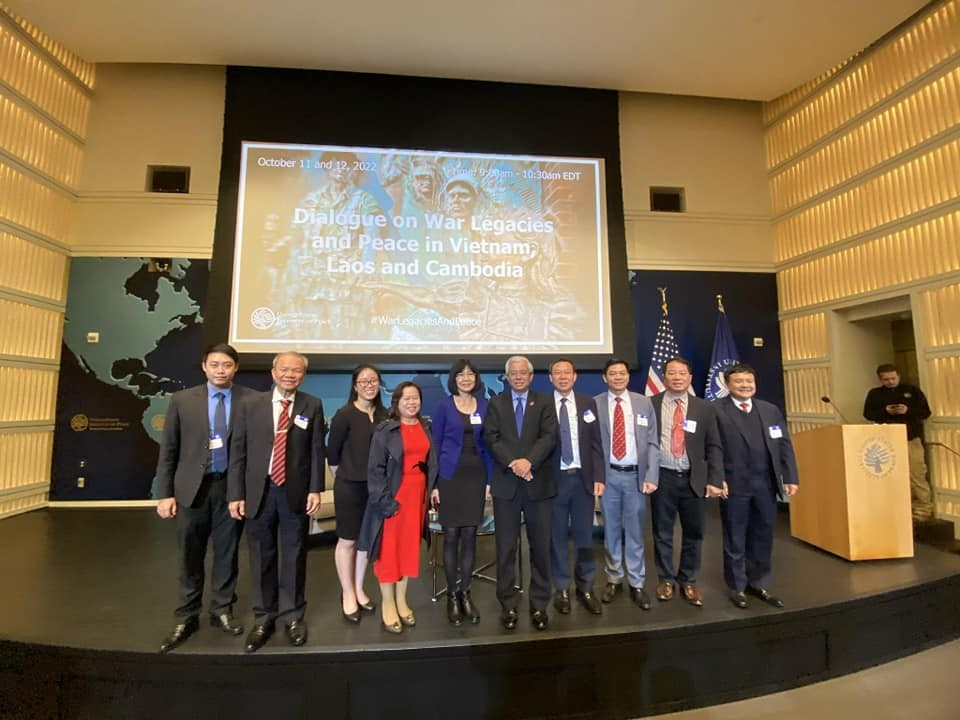 Vietnamese speakers and delegates. Source: Vietnam Association for Victims of Agent Orange/Dioxin
The United States Institute of Peace (USIP) hosted a dialogue on war legacies and peace in Vietnam, Laos and Cambodia on October 12 -13 in Washington DC, VNA reported Saturday.
The dialogue brought together the ambassadors of Vietnam, Cambodia and Laos with US academics, representatives and officials, including Under Secretary of State Bonnie Jenkins; former Defense Secretary Chuck Hagel; Ambassador Ton Nu Thi Ninh, President of Ho Chi Minh City Peace and Development Foundation; Vietnamese Ambassador to the US Nguyen Quoc Dung; President of Vietnam-US Society Pham Quang Vinh; Lieutenant General Hoang Khanh Hung, Chairman of the Vietnam Martyrs' Family Support Association; US Ambassador to Vietnam Marc Knapper; former US Ambassador to Vietnam Ted Osius and others focused on resolving war legacies in Indochina.
This is part of a series of dialogues on the settlement of war consequences and building peace in relations between the US and the three Indochinese countries.
With plenary sessions and symposiums, the event aimed to promote the settlement of war consequences and further strengthen the US's relationships with Vietnam, Laos, and Cambodia amid new opportunities.
According to the USIP, overcoming war consequences is still an important part of the cooperation relationship between Vietnam and the US.
US Defense POW/MIA Accounting Agency (DPAA) Director Kelly McKeague spoke on the cooperation among US and Vietnamese veterans and families panel on October 11, stressing that the mission to build a closer and stronger alliance is personal "simply because it's about reconciliation not just between our two countries, but more importantly between our two peoples."
Joint searches for US servicemen missing in action in Vietnam are a humanitarian activity conducted between the countries' governments.
To date, 719 US servicemen, were recovered; this would not be possible without the joint field exercise and the support of the Vietnamese government, he said.
"What we're proud to be a part of is a very purposeful mission; it's one that we can not perform without the assistance of our Vietnamese partners, more importantly, the Vietnamese people," he concluded the session, as information posted in the US Defense Visual Information Distribution Service's website.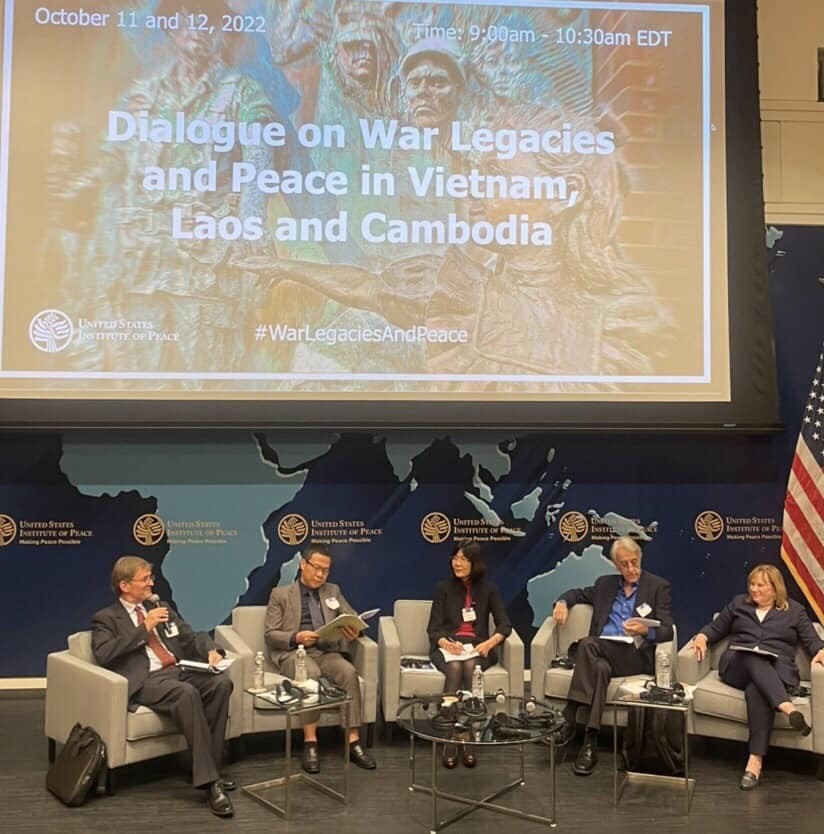 The dialogue was held to promote the settlement of war consequences and further strengthen the US's relationships with Vietnam, Laos, and Cambodia amid new opportunities. Source: Vietnam Association for Victims of Agent Orange/Dioxin
At symposiums on October 12, experts mentioned issues related to mine action, supporting community and Agent Orange/dioxin victims, searching for missing American soldiers, and a new agreement on cooperation between the two countries in searching for missing Vietnamese soldiers.
Meanwhile, discussion sessions on October 13 focused on placing Vietnam-US relations in a new context, considering the development of bilateral relations and overcoming war consequences an important content in the new cooperation between the two countries.
The USIP's initiative to support reconciliation and settlement of war consequences was first held via an online conference in 2019, and after a two-year hiatus due to the Covid-19 pandemic, USIP will continue to maintain annual dialogues to highlight lessons and experiences from Vietnam-US relations which can be applied to other parts of the world.
Speaking at the event, Ambassador Bonnie Denise Jenkins, US Under Secretary of State for Arms Control and International Security Affairs, who had visited the central province of Quang Tri in September to learn about its post-war recovery, stressed that next year marks the 10th anniversary of US-Vietnam Comprehensive Partnership. This milestone offers a chance to reflect upon the many areas of shared interest between the US and Vietnam.
"The United States is dedicated to working with Vietnam, Cambodia, and Laos to address these war legacy issues, help heal the wounds of the past, and support communities to thrive...And because of the trust we have built between our governments by addressing the legacies of war, we have opportunities in new areas of our relationships," she said.
Do Mai Khanh, director of the International Relations Department of Vietnam Association for Victims of Agent Orange/Dioxin (VAVA) has a speech at the Parallel Session 3A on Agent Orange Environmental Remememdiation and Disability Assistance.
She emphasized that "overcoming the consequences of war is an urgent and deeply humanitarian task, as well as a responsibility of all levels of society with the goal of protecting human health, environment, and socio-economic development... The US side must be responsible, provide more and direct support to Agent Orange victims..."
Ted Osius, former US ambassador to Vietnam, also discussed reconciliation efforts in Vietnam at the people-to-people level and emphasized that work must continue to reduce the impact of landmines and unexploded ordnance, remediate dioxin, assist those with disabilities and facilitate cooperation between the US and Vietnam veterans and their families.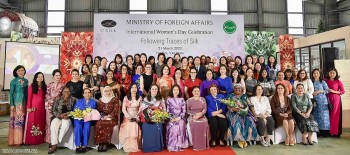 Friendship
Female ambassadors, representatives from diplomatic corps and international organizations, along with spouses of diplomats in Vietnam gathered together to find about more about silk weaving and silk products in Vietnam.