Two War-Time Bombs in Residential Areas of Quang Tri Safely Handled
PeaceTrees Vietnam successfully removed two big bombs, wiith the total weight of 680 kg in the central province of Quang Tri, the most severely contaminated locality in Vietnam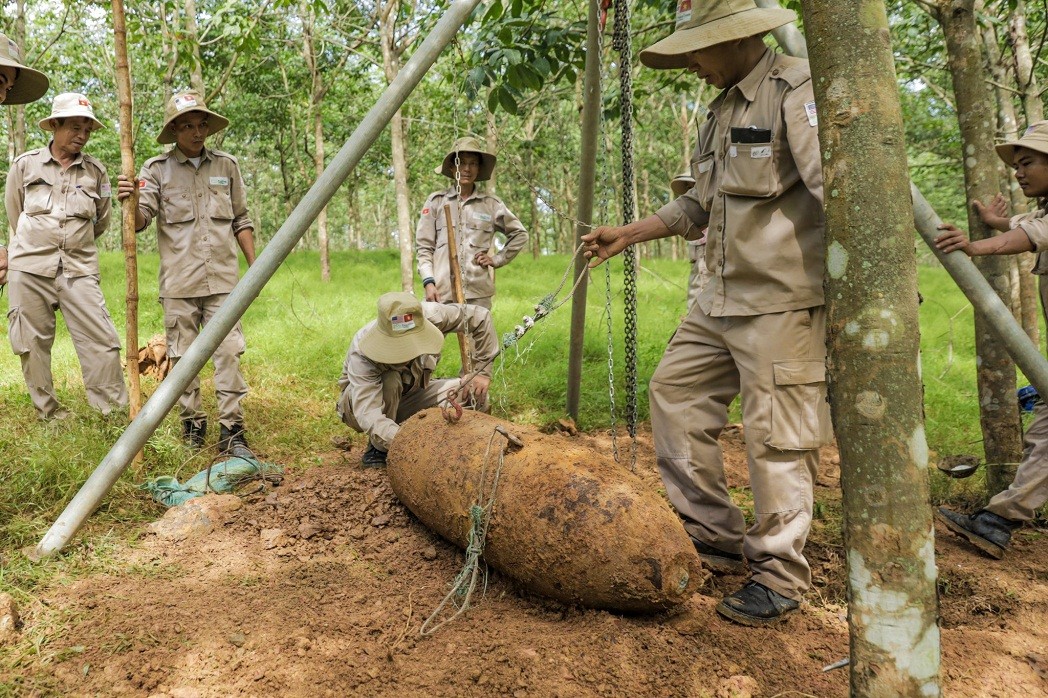 The first bomb, identified as an M117 - was discovered at a depth of 1 metre in a rubber farm in Cam Lo district's Cam Hieu commune. Source: PeaceTrees Vietnam
During the clearance at a Confirmed Hazardous Area (CHA) in Nam Hieu 2 village, Cam Hieu commune, Cam Lo district of Quang Tri province, the Battle Area Clearance (BAC) Team 3 of PeaceTrees Vietnam found a big bomb on the rubber farm of a local farmer.
The bomb located at a depth of 1 meter, identified as M117 bombs, have a diameter of 408 mm, a length of 2.06 m, and a weight of 750 lbs. Becauce the late afternoon and the road is difficult to travel, having to move through the stream, if excavating and moving immediately, it will not be timely and unsafe. Therefore, the team reported and actively barricaded the bomb, putting up danger signs.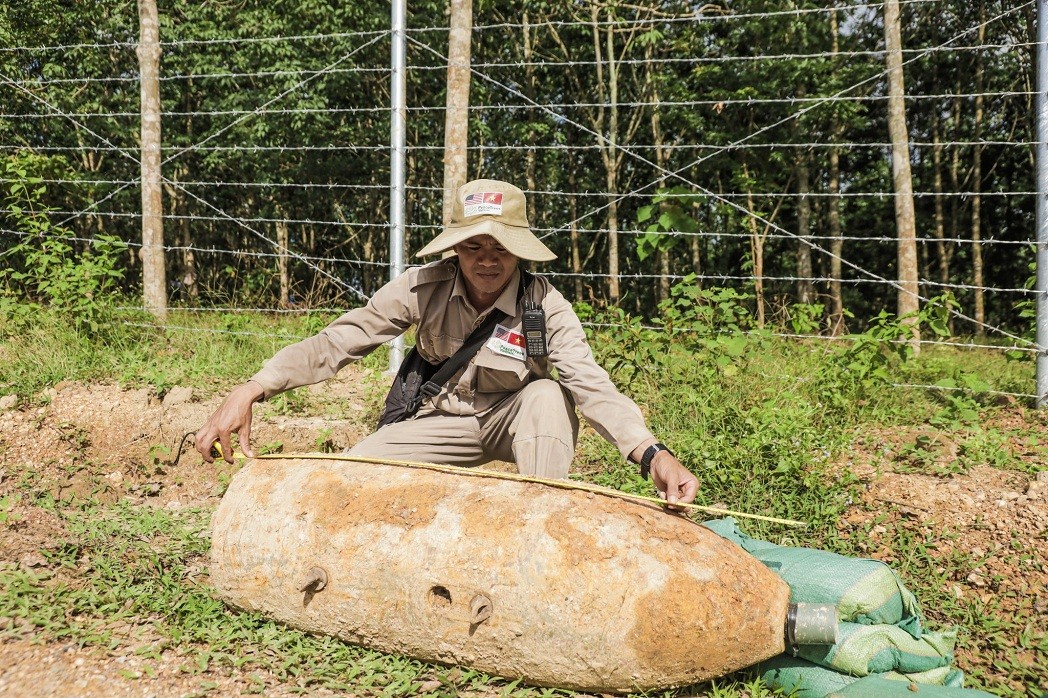 The second one, also an M117 bomb, was detected about 70 metres away from the first one. Source: PeaceTrees Vietnam
The next morning, after carefully checking the safety of the bomb, Team BAC3 carried out excavating, moved the bomb to a safe location and continued clearance work.
At 10 o'clock the same day, the team discovered another big bomb, of the same type as the previous one, M117 bomb, located at a depth of 0.9m and 70m from the first bomb. After evaluated as "safe for transportation", the bombs were brought to a safe location, and loaded onto a truck to transport to storage for demolition later.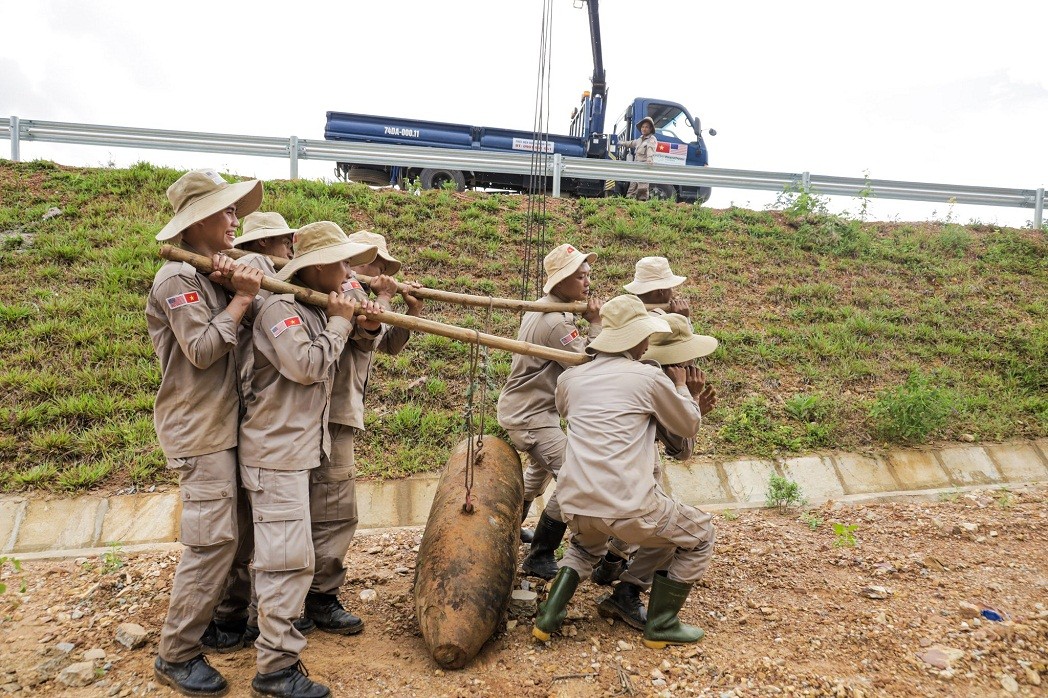 With the joint efforts of the whole team, the bombs were loaded onto a special vehicle and transported to a safe storage location for detonation later. Source: PeaceTrees Vietnam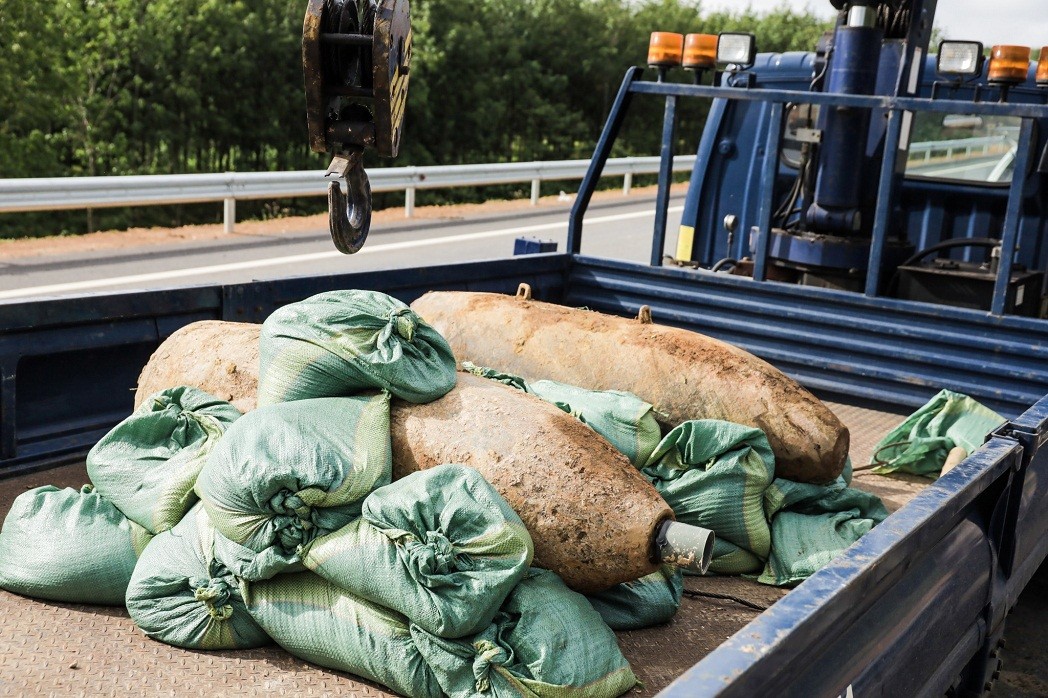 The two bombs were relocated to a safer area for handling. Source: PeaceTrees Vietnam
Fifty years ago, a bloody 81-day battle to protect Quang Tri's ancient citadel took place, claiming the lives of thousands of Vietnamese soldiers and civilians. The battle, commonly referred to by Vietnamese veterans as Quang Tri 72, is also called the Stalingrad of the anti-American War in Vietnam.
An estimated 328,000 tonnes of bombs were dropped on the old citadel and the surrounding area, equivalent to 100 tonnes of bombs and 200 artillery shells for every soldier of the North Vietnamese army.
Quang Tri is now the most polluted locality in terms of unexploded ordnance (UXO) in Vietnam, with over 82% of its land area contaminated. War-left landmines and bombs have killed over 3,430 people and injured 5,100 since the war ended in 1975.
Bombs and explosives are still a risk to people and communities, and can still be found everywhere, even in the local's gardens, fields where being cultivated for years. Since 1995, the local authorities have cooperated with international organisations to carry out demining activities.
In 1995, PeaceTrees Vietnam was the first international non-governmental organisation (NGO) coming to the province.
Since 2005, with the support from US Government, PeaceTrees Vietnam removed over 140,601 dangerous landmines, bombs, mortar shells and grenades from over 5,458 acres of land, minimise the threat of UXO to communities. In addition, PeaceTrees Vietnam also participates in supporting UXO victims, explosive ordnance risk education, post-clearance community development and many other projects in the join effort to address the war's legacies.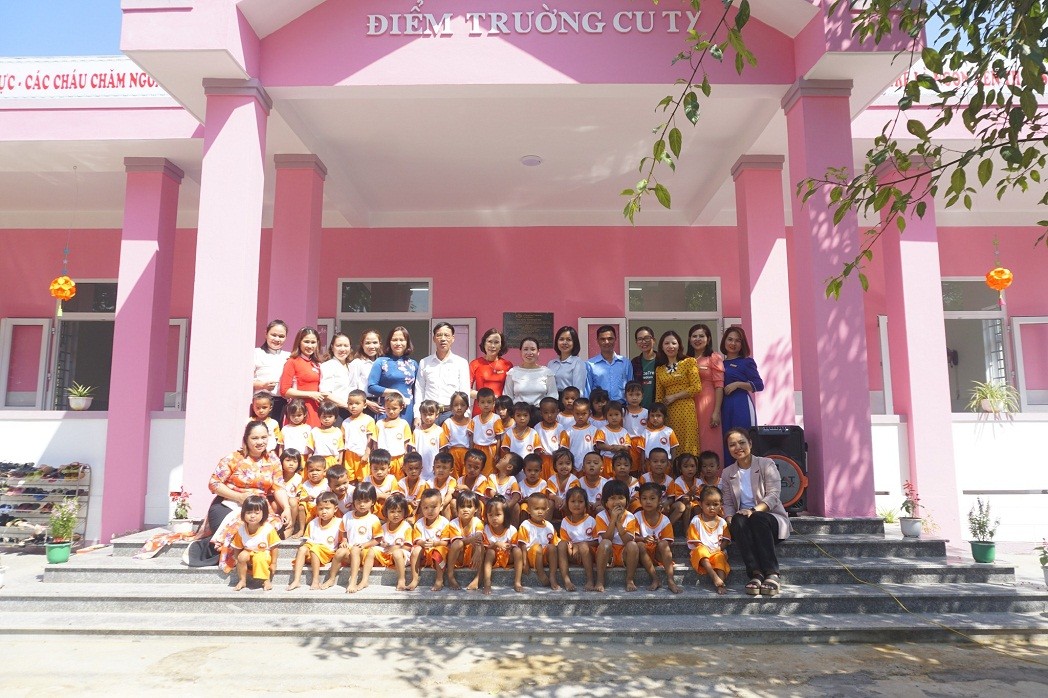 This new kindergarten has created joy and happiness for all children, parents, and teachers. They now have such a nice and safer place to teach, study and play. Source: PeaceTrees Vietnam
Recently, a kindergarten, located in Cu Ty village of Huong Hoa district, is now complete and has opened its doors in time for the new school year.
This kindergarten, supported by the Walter B. and Marie W. Williams International Friendship Fund, will serve the 47 kindergarten-aged students of Cu Ty village, replaced a 30-year-old classroom that had been damaged by consecutive storms.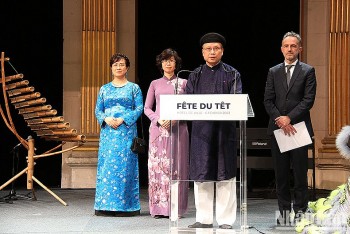 Friendship
Speaking at the celebration on the occasion of Lunar New Year for the overseas Vietnamese in France on February 6, Ambassador Extraordinary and Plenipotentiary of Vietnam in France Dinh Toan Thang emphasized that 2023 is an important milestone to promote the friendship and cooperation between Vietnam and France to the next level.