Most critically-ill Covid-19 patient in Hai Duong hotspot gradually recovers
A 60-year-old man, who used to be the most critically-ill Covid-19 patient in Hai Duong, Vietnam's biggest epicenter has gradually recovered and can move by himself.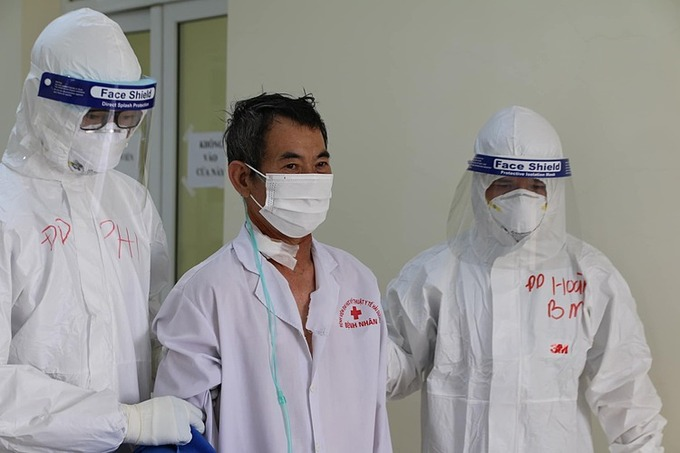 Doctors help a Covid-19 patient (C) walk at a hospital in Hai Duong Province. Photo by the Ministry of Health.
Doctors at the Field Hospital No.2 at the Hai Duong Medical Technical University said that the patient was hospitalized on February 18 and became critically-ill only one day later. His lungs at that time were condensed. The Subcommittee on Treatment held a consultation on his case on February 19, Vnexpress reported.
The patient was treated at the intensive care unit (ICU), had to use non-invasive ventilation. His oxygen saturation index was the blood was only 70%.
The patient also had to use tranquilizers and had his blood filtered.
After a period of time under treatment, the patient's health has greatly improved. On February 23 morning, he disconnected with the endotracheal tube. Two days later, he began to practice moving. On March 7 afternoon, he was transferred from the Department of Rehabilitation to the Department of Internal Medicine - Infectious Diseases for further treatment.
As of March 11, the patient stopped being feverish for 12 days. His lung function has gradually improved.
He now can completely walk by himself. He will continue being cared for in accordance with the Health Ministry's treatment regimen, said doctors at the Field Hospital No.2, adding that he tested positive for the novel coronavirus at the latest time.
To date, Hai Duong Field 2 Hospital has received a total of 376 Covid-19 cases, 215 of which cases have recovered.
The Health Ministry confirmed two new Covid-19 patients in Hai Duong Friday morning, raising the northern province's community transmission tally to 713 since late January.
Both patients had close contact with previously confirmed patients and have already been quarantined following contact tracing.
The national tally has increased to 897 in 13 cities and provinces since January 28 when community transmission reemerged in Vietnam after almost two months.
Ten cities and provinces, including HCMC and Hanoi, have gone almost a month without recording any new locally-transmitted cases.
Vietnam has so far recorded 2,535 Covid-19 patients and 449 are active.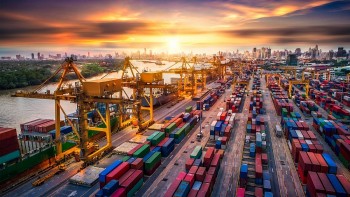 National
Vietnam, a rising star in the global supply chain, has the potential to become a new tiger in Asia, economist Brian Lee Shun Rong at Maybank - Malaysia's largest financial services group and the leading banking group in South East Asia – has reportedly said.