Mua Caves and Gia Vien Sheep field among best places to spend New Year Eve
The New Year of 2021 is on the way with a three-day break taken in Vietnam, a good occasion to camp out with families and friends. Mua Caves and Gia Vien Sheep Farm and Fields in Ninh Binh province may serve as the top of the list for must-visit places during the holiday.
Ninh Binh continues to be the shining lights for travel with some touristic landscape and locations. Thanks to its close proximity to the center of Hanoi, it usually attracts thousands of visitors from the vicinity and afar areas.
Mua Caves
The destination has emerged recently as one of the best destinations for visitors to take Instagrammable photos and among the best choice for holiday hangout. The strangest lotus lake in Vietnam, the Vietnamese version of the Great Wall of China, and so on. Mua Caves lure travelers with its poetic and charming beauty.
The tower on the top of Mua mountain, giant cactus garden, a hundred meters of Koi fish tank ... are still free for youngsters to enjoy with family and friends.
Trang An
Trang An is one of the most beautiful tourist areas of Ninh Binh province. The beautiful scenery is endowed as a natural gift. Trang An landscape includes winding mountain ranges surrounding the water flow of natural streams, creating countless beautiful and mysterious caves. Sitting on a boat, you will discover the caves around, silently watching rice fields on two sides of streams. An extremely beautiful natural space that opens itself fades out before your eyes.
Traveling on the boat to enjoy the scenery in the first days of the year without worrying about hot weather or drizzling rain, this is said to be the best time to cruise on this dreamy Ngo Dong river.
Gia Hung Sheep Field
Gia Hung Ninh Binh sheep field is currently the hottest check-in point in Gia Vien district, Ninh Binh province. The vast sheep fields are quietly located on the dike slopes, promising to bring you many artistic photos.
Sheep are raised along the dyke where they can move freely, leisurely eat grass and enjoy the beautiful and dreamy natural picture.
Photo from Congly.vn.
Along the dike slopes of Gia Hung is a vast stretch of grass that embraces the riverbank, both beautiful and quiet like a common picture of Vietnamese countryside. When you first come here, you are fascinated by a very peaceful space. Far from the riverbank, there was a glimpse of pine trees leaning to reflect the ball. Under the lake is a few canoes, adorn the picture more romantic like a fairyland.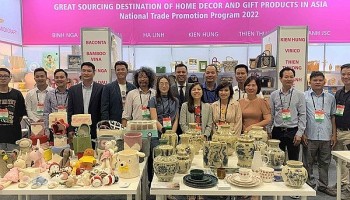 Economy
"Amazing ASEAN 2022 - Discover the flavors of Asia" campaign and the NY NOW exhibition are important events in August 2022 that introduced the rich and diverse goods and products from Vietnam to international markets.