Must-try Chinese Delicacies in Ho Chi Minh City
Check out Phung Hung market in District 5 - a paradise of all kinds of salty and sweet cakes from HCMC's Chinatown.
If you have not tried Chinese cuisine in Saigon, you are missing out on some of the most delicious food of this city. Besides duck noodles, and hotpot, there are countless unique treat at the Chinatown of District 5 that you can enjoy.
Chives cake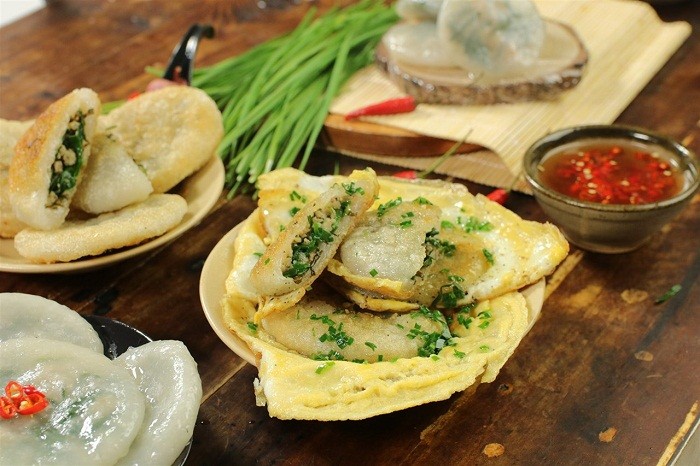 Photo: Bepvang
Chives cake is made from rice flour and chives leaves, the cake is flat or square in shape. The Chinese get rice flour mixed with boiling water, knead with their hands until the dough is soft, supple, and smooth, chives leaves are cut into pieces, mixed with rice flour, and steamed. When eating, crispy bread on a hot pan. Nowadays, many people change cakes with radish filling, sliced ​​cassava roots with lean meat.
Some Chinese vendors sell fried chive cakes with eggs, pickled radish, garlic, and spring onions. These cakes are typically served with chili vinegar fish sauce and dab of grated papaya. Often, beetroot is added to the mix for an attractive, bright-pink color.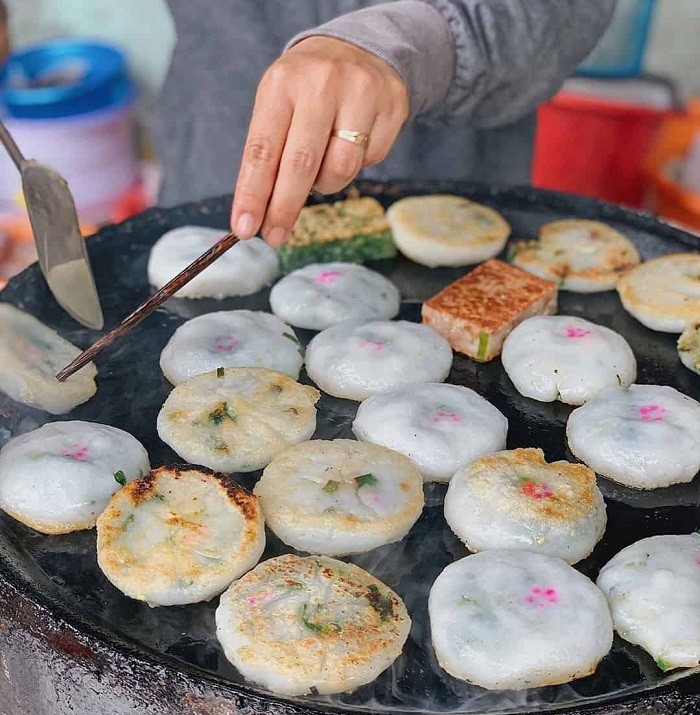 A cake costs only VND 10,000 (US $0.43). Photo: Bepvang
Chinese steamed buns
Originated from China, this snack is made of white wheat flour, but other ingredients, such as corn flour, sweet potato, pumpkin, are sometimes added to the dough. As a popular staple, Mantou has a firm position on Chinese families' dinner table.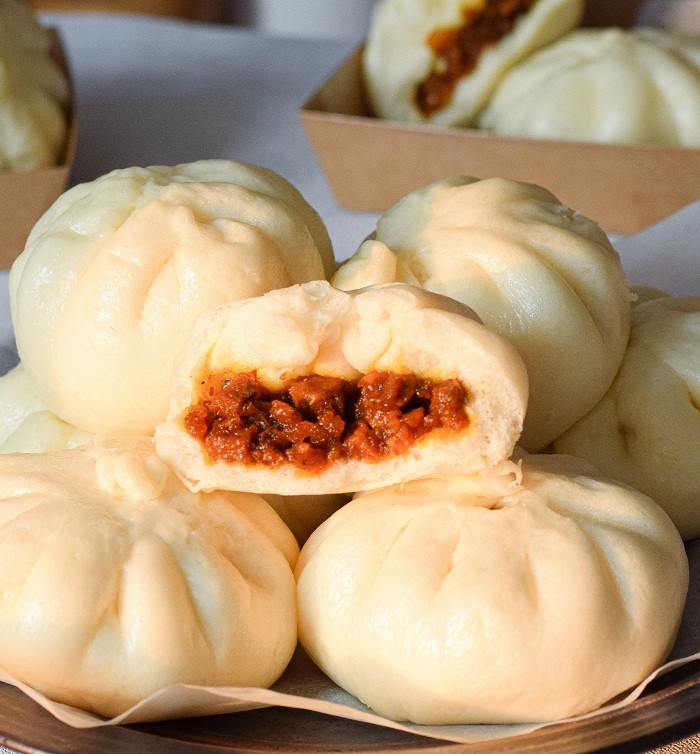 Photo: Bepvang
In regions of northern China, Mantou is also a festive food prepared for the New Year. For this occasion, apart from regular round ones, they are made into all kinds of shapes, such as flowers, butterflies, animals, etc., and decorated with dried Chinese dates (Jujube).
Chinese dumplings are available in hot or cold varieties. Hot dumplings have 3 types of filling, namely cadé, char siu, Kim sa, steamed hot, soft and fragrant shell, can be eaten with dumplings. In the photo are caffeinated dumplings with a smooth and fatty filling, fragrant with eggs and milk.
For less than US $1, you can enjoy hot delicious Mantou. Photo:
The dumplings are usually steamed, let cool, sweetened with green beans, coconut, taro, and green beans. On the face of this kind of dumplings, there is an image of Phuc with the meaning of praying for good and good luck. In addition, the Chinese also have a variety of non-human dumplings made from flour, granulated sugar, steamed sweet potatoes to eat with roast pork.
Willow leafcakes
Willow leaf cake, also known as peach- leaf cake, is a familiar snack of the Chaozhou people (Tieu people). The crust is made from dumplings, the inside is filled with sticky rice, dried shrimp, meat, pickled radish, and onions, very similar to salty sticky rice. The cake has a purple color like peaches, so it is also considered a symbol of luck and longevity. The Tieu people often buy willow leaf cakes to worship on the anniversary of their death.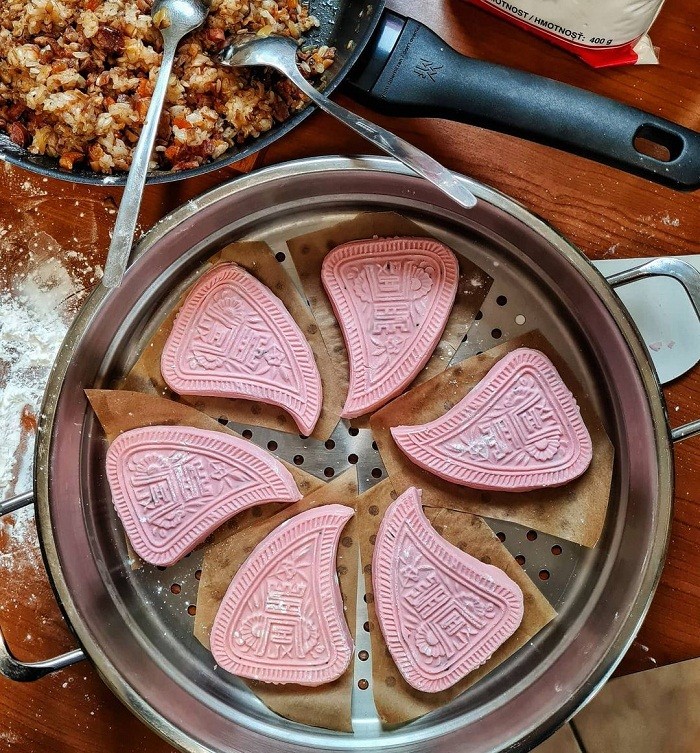 Photo: Bepvang
A portion of a la lieu cake fried with an egg, pickled radish, spring onions and garlic costs VND35,000 (US $1.5).
Flour cakes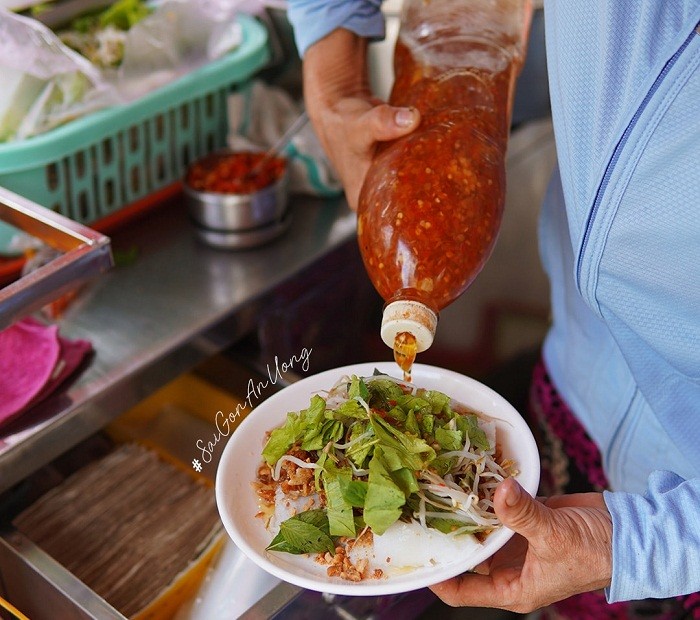 Photo: Sai Gon An Uống
Bot cakes (flour cakes) are served with sweet and sour fish sauce. They are typically made from rice flour without meat or wood ear. Cinnamon leaves and sprouting could help elevate these cakes.
The making process of this steamed rice cake is quite similar with Chinese rice fa gao, but they tastes quite different. Bai Tang Gao is fluffy and chewy and taste best when cold, while rice fa gao is fluffy but soft. Rice Fa gao should be severed warm.
Although the process seems quite simple, there are lots of reasons can lead to failure. A successful Bai Tang Gao should presents honeycomb texture in center and tastes chewy after cooling down.
The cakes are often sold as an afternoon snack. Each portion costs VND15,000 ($0.65).
Radish cakes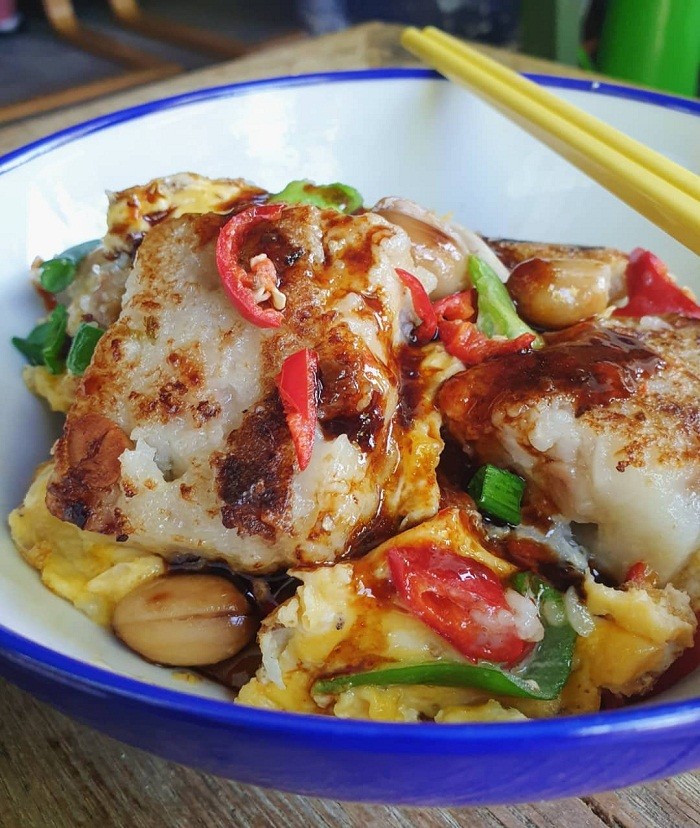 Photo: Bepvang
Do not mistake Western-style turnips for the turnip used in this special dish. Chinese radish cake uses shredded radish (typically Chinese radish) and plain rice flour. Or Singaporean might call it, carrot cake. In Taiwan, turnip cake is also commonly eaten as part of a breakfast in Chinese speaking areas.
Radish cake or Turnip cake is commonly served in Cantonese yum cha, usually cut into rectangular slices and sometimes pan-fried before serving. Each pan-fried cake has a thin crunchy layer on the outside from frying, and is soft on the inside. The non-fried version is soft all over.
It is one of the standard dishes found in the dim sum cuisine of China as well as overseas Chinatown restaurants. It is also commonly eaten during Chinese New Year, since the word for radish is a homophone for "good fortune" in the Hokkien language.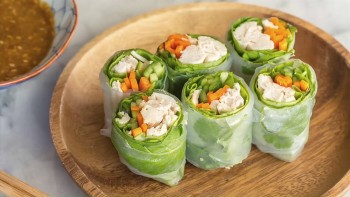 Travel
Rolls are a easy-to-make dish that is loved by many Vietnamese diners as well as Korean stars.