Reminisce at these Old-Timey Eateries in Ho Chi Minh City
The dishes are served on rustic plates and each wall is depicted with familiar drawings and nostalgic colors. All these things create a gentle space to make the meal more cozy.
Amid the hustle of the city, delicious meals in an old space bring peace and relaxation to customers. These are 3 restaurants in the central area of Ho Chi Minh City (HCMC) being suitable for you to enjoy delicious Vietnamese dishes.
Mau Dich Restaurant No. 119
+Adress: Ton That Dam, 1 District
+Serve Vietnamese dinner
+Opening time: 10 a.m - 22 p.m
+Price: approximately $0.64 to $11.79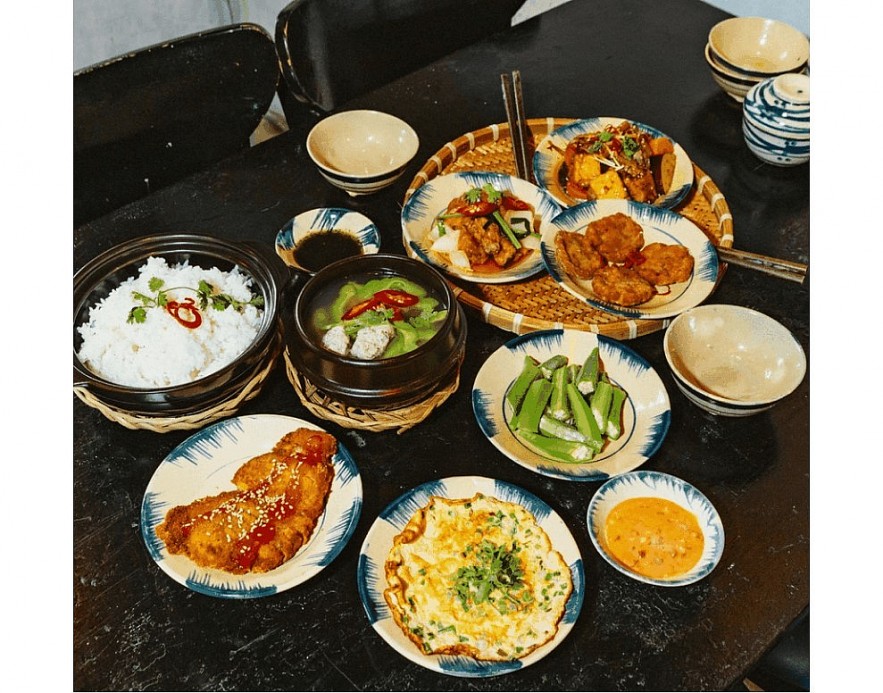 Photo: quanthoibaocap119
A small, rustic restaurant decorated in the subsidy period was the first impression when you arrived here.
The restaurant serves delicious lunch trays like homemade food. In addition to bowls of white rice, fried rice, grilled pork ribs rice or fried noodles with beef tendon with spicy sauce are filling dishes that help you recharge effectively. The meal will be more delicious when combined with soup, stir-fried vegetables, fish or meat.
In the afternoon, a variety of grilled dishes and snacks are the highlight of the menu. You should try the charcoal grilled chicken with sticky rice. It is quite delicious and sticky rice is cooked from chicken broth, combined with mushrooms and eggs.
Most of the ingredients are fresh and delicious. Besides, the affordable price is a plus to attract diners. Food is served relatively quickly.
Com Moc Restaurant
+Adress: Nguyen Thanh Son, Thu Duc District
+Serve Vietnamese food
+Opening time: 7 a.m - 22 p.m
+Price: approximately $2.52 to $25.69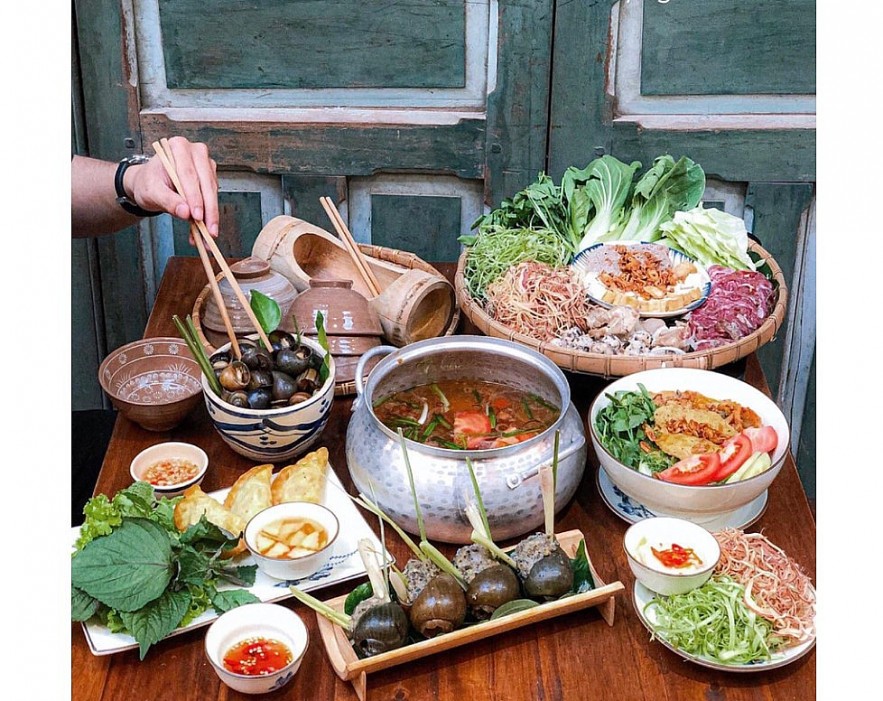 Photo: bepnguoihanoi.
It's actually a small and cozy restaurant for those who love the sophistication of Northern cuisine. The space here is airy, elegant and mixed with art.
Breakfast includes typical dishes such as pho, sprouted vermicelli, mixed chicken vermicelli, green bean sticky rice with chicken and mushrooms. Lunch served with a tray of 4-6 dishes with herbal tea and dessert is priced at around VND 289,000 ($12.41) - VND 489,000 ($21). This price is suitable for small groups. If you want to enjoy old town snacks, fried spring rolls, pillow cakes, Hanoi beef noodle rolls... are suggestions not to be missed.
Additionally, braised duck, chicken cooked with herb, carp hot pot are the highlights of the dinner menu. Sour bamboo with chicken hot pot, beef with wine sauce or Wagyu beef are also considered signature flavors of the restaurant.
According to customers' experience, the food is well served with good taste and the staff is enthusiastic. However, the price is a bit high.
Le Michael commented: "Beautiful space, eye-catching food. Interesting place for families to experience weekends. If there are no guests, you can take photos because the design of the restaurant is quite beautiful."
Other one named Viet Hoang commented: "The shop is like a corner of Hanoi in the heart of Ho Chi Minh City. My house is near this restaurant, so I come for breakfast, lunch and dinner. I am impressed by delicious Northern food here."
Bep Co Ze Restaurant
+Adress: Truong Dinh, 3 District
+Serve Vietnamese food
+Opening time: 10 a.m - 1 p.m
+Price: from $2.78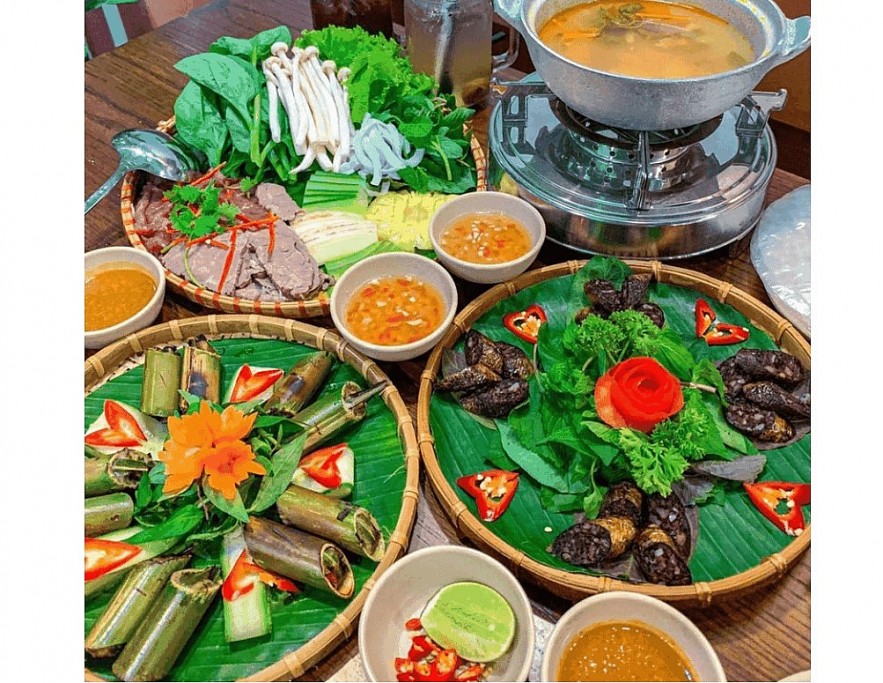 Photo: bepcozequan3.
The restaurant owns an ancient design towards Hanoi in the past. The space is large, airy and has an outdoor sitting area.
Here, diners can enjoy home rice, office rice, old town hot pot or drinks.
A suggestion for diners is to enjoy stuffed snails dipped in sweet fish sauce, cartilage sausages combined with shrimp sauce served with flavorful vegetables. Beef dipped in vinegar has rare beef and encrusted beef, served with vermicelli, rice paper, raw vegetables and seasoning sauce to increase the richness. In order to have a delicious meal, you should order more dracontomelon and mulberry juice to cool down.
A diner named Hy Nguyen commented: "The restaurant is really cool and the staff is friendly. The food is so delicious and you should try the fried corn with salted egg, please add lemon juice to increase the attractiveness".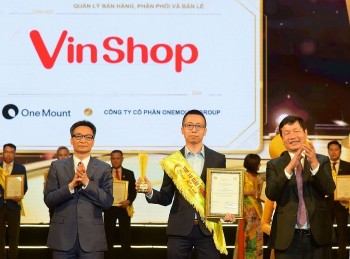 Viet's Home
The One Mount Group was recently been honored by Google as the industry's best practice in digitally transforming logistics and supply chains in 2021 at the Google Cloud Customer Award. This is also the only business in Southeast Asia to receive this award.