Nam O Ancient Fishing Village's Iconic Raw Fish Salad – A Must-try Dish in Da Nang City
Locals in the ancient fishing village of Nam O use fresh herring to create a raw fish salad, an iconic dish that any tourists coming to Da Nang City should not miss.
Nam O raw fish salad is named after Nam O fishing village, located adjacent to the Cu De estuary at the foot of the Hai Van Mountain pass in Lien Chieu district, about 17 kilometers away from the center of Da Nang city.
Tourists traveling along the National Road 1A to explore the beauty of Da Nang should not forget to stop by the village and have a taste of its iconic dish.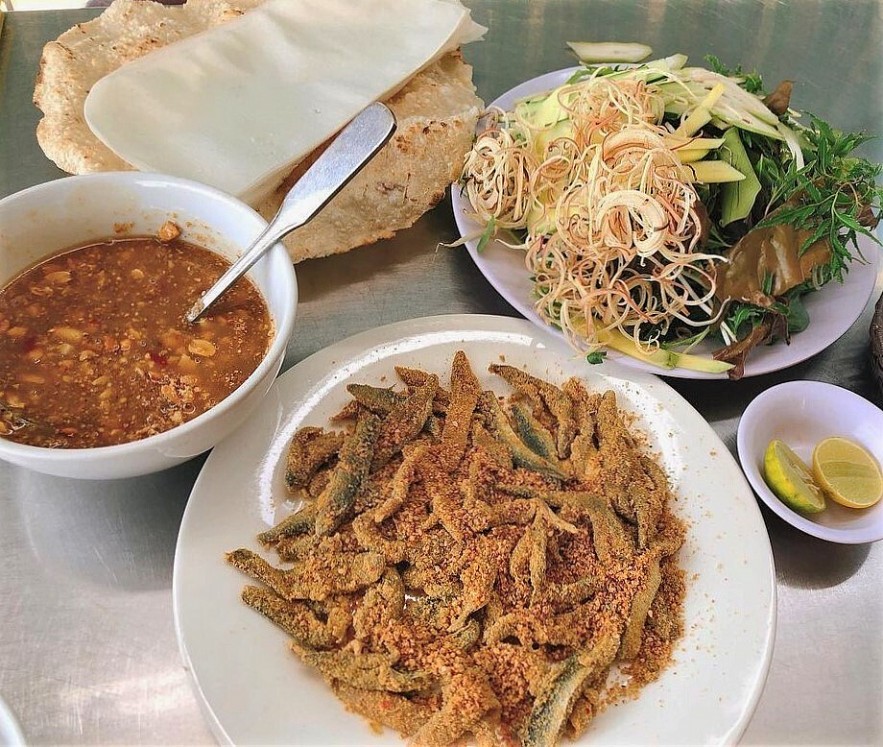 The ancient Nam O fishing village, believed to be created over 700 years ago, is famous for its Nam O historic relics, age-old fish sauce-making tradition, scenic beach and raw fish salad. @van0503/Instagram
Nam O raw fish salad used to be served only to seafarers in Da Nang as a local dish that villagers prepared in their family meals. Over time, the dish is commercialized and elevated to become a famous specialty with two types of salad: Wet and dry.
Although Nam O raw fish salad can be made using sardine or anchovy, the dish tastes best with herring that has firm flesh and the size of two human fingers. Herring can be found in the Nam O area all year round and caught fresh every day. After catching the herring, fishermen clean the fish, remove the heads and fillet the flesh into bite-size pieces.
With dry Nam O raw fish salad, the herring is cured in vinegar and lime juice then squeezed dry before being mixed with powdered grilled rice and seasonings. The mixture extracted from the fish is boiled and mixed with Nam O's high-quality fish sauce, powdered chili, tapioca powder, seasonings and finely ground peanut to create a thick, flavorful and nutty dipping sauce. The flesh of the herring is mixed with spicy seasonings such as chili and ginger to remove the fishy odor, powdered grilled rice and roasted sesame to make the dish eye-catching and aromatic.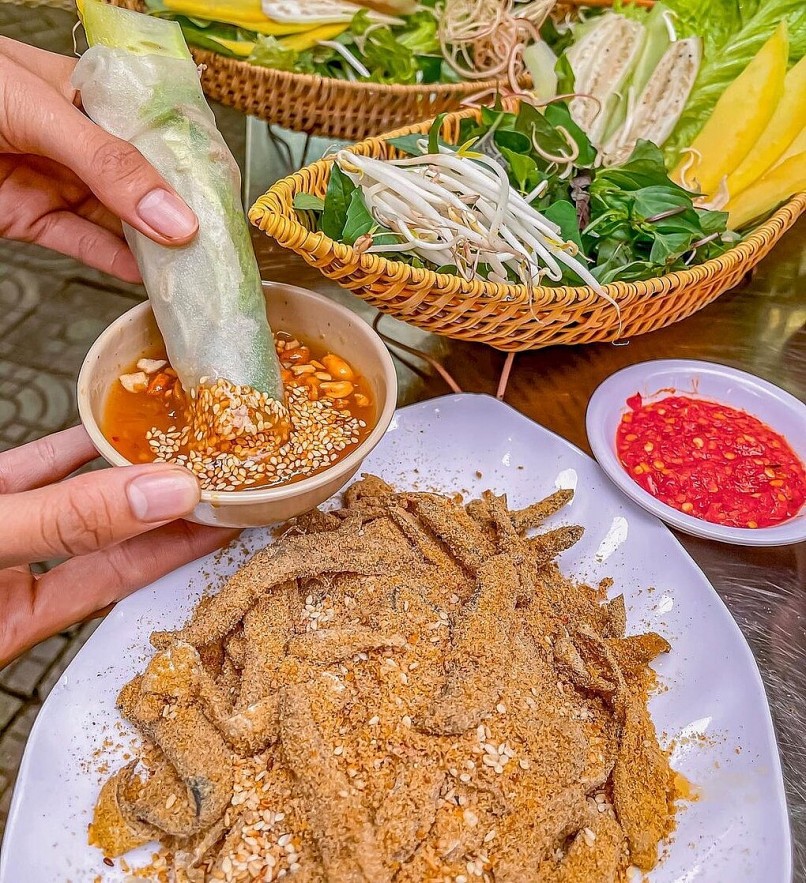 Dry Nam O raw fish salad is served with rice papers, fresh herbs and special dipping sauce. Photo: @trungbuii/Instagram
The wet Nam O raw fish salad is similar to the dry version for the most part, but instead of with powdered grilled rice, the herring is mixed with a special spicy sauce made from Nam O's fish sauce, ginger, chili and sugar. The rich umami flavor of the herring flesh is brought out even more when mixed with the sauce.
The dish is served with grilled rice papers and fresh herbs. Other than commonly found vegetables such as lettuce, bean sprout, shaved banana flowers, Nam O villagers also use wild vegetables like Ming aralia and fruits such as wild banana, mango, cucumber and star fruits that are thinly sliced.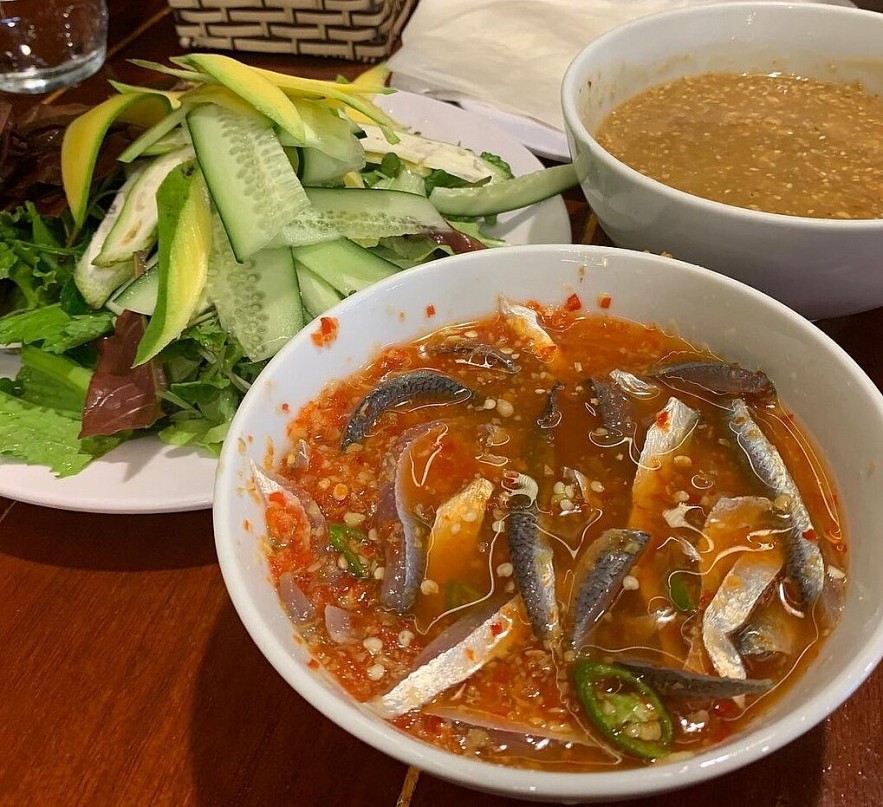 Wet Nam O raw fish salad attracts food fanatics with rich herring, flavorful, spicy sauce made from Nam O's high-quality fish sauce and fresh herbs and fruits. Photo @quemidang/Instagram
To enjoy wet Nam O raw fish salad, simply mix well together with the fish, fish sauce, grilled rice papers and fresh herbs and fruits. The richness from the herring's flesh, spicy, flavorful sauce, acrid green banana, sour star fruits and freshness of the herbs come together perfectly to create Da Nang's iconic specialty.
In addition to trying Nam O's iconic dish, tourists should check out the breathtaking Nam O beach with its tranquil landscape and crystal-clear blue water. The area also has the vestiges of Cham people that historical and cultural explorers should not miss. From the beach, tourists can travel by boat towards the west to reach Cu De estuary. Along the way, they can marvel at the French-built Nam O steel railway bridge.
4 Incredible Bridges in Da Nang

The bridges on the Han River include Dragon Bridge, Tran Thi Ly and Thuan Phuoc, each with a unique look, bringing the modern and impressive ...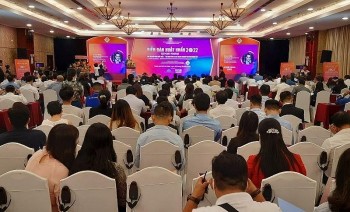 Focus
Vietnam News Today (Dec. 9): Vietnam - Singapore innovation centre helps firms transform production; HCM City among most searched destinations by travelers; Vietnamese digital technology industry's revenue estimated at 148 billion USD in 2022; Two Vietnamese films up for consideration at Oscars.