Nearly 50 Vietnamese trainees in Japan test COVID-19 positive
A total of 47 Vietnamese trainees working at Ariake shipyard in Nagasu town of Kumamoto Prefecture (Japan) have been tested positive for COVID-19 and currently in isolation at local healthcare station, the Vietnamese Consulate General in Fukuoka confirmed.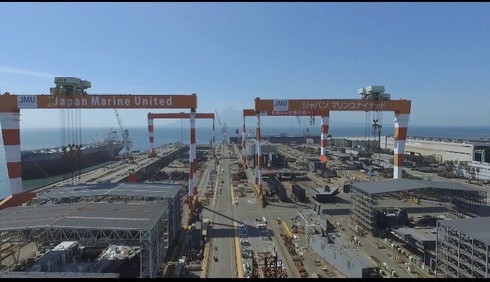 A panoramic view of Ariake shipyard in Japan. Source: VOV
According to VOV, they are among a total of 245 Vietnamese trainees who are currently working at the shipyard in the Japanese town.
Some other trainees who tested negative for the virus have started to display symptoms such as a fever and shortness of breath, the Consulate General said, adding that 86 others remain waiting for coronavirus tests till the end of August 6.
Nguyen Xuan Hai, leader of the Vietnamese trainee group, shared that the group have since received encouragement and advices from the Consulate General along with support, meals, and other essential items from Ariake shipyard.
However, because of the large number of people infected, they are also very worried and feel unsafe because the local health facilities is also overloaded due to the many cases.
And it is likely that the number of infected Vietnamese trainees will increase, Hai said. On the other hand, because the company's activities are likely to be delayed, their income will greatly reduce, directly affecting the lives of hundreds of Vietnamese trainees here.
At present, both the Vietnamese Embassy in Japan and Vietnamese Consulate General in Fukuoka are closely monitoring the situation, taking citizen protection measures and working with the local medical agency to provide treatment for infected cases.
It's not clear whether those infected trainees would want to come home but if they do, it would not the first time Vietnam attempt to repatriate guest workers infected with COVID-19.
A specially-adapted Vietnam Airlines plane equipped with ventilators and doctors returned from Equatorial Guinea to Hanoi on July 29 carrying 140 Vietnamese infected workers.
The plane, which left on July 27 night for 27-hour, 21,000-kilometre (13,000 mile) round trip to the town of Bata in the West African country, arrived in the capital, where infected patients were taken to the Hanoi-based Hospital for Tropical Diseases for treatment.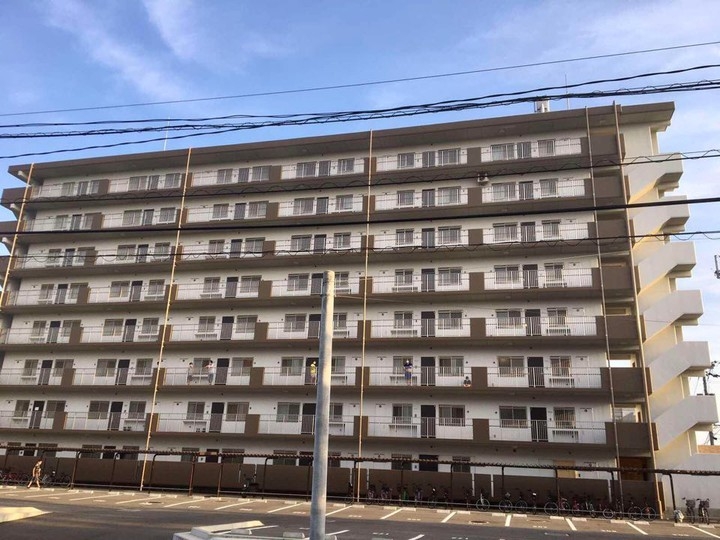 The trainees' dorm in Nagasu town of Kumamoto Prefecture (Japan).
The rescue effort was organised after the stranded workers, who had been working on a hydropower project, sent a letter to the Vietnam embassy in Angola, asking for help.
Thankfully, of the 219 Vietnamese guest workers returning from Equatorial Guinea, just 20 have been tested positive for the SARS-CoV-2 virus, far fewer than expected, said the National Hospital for Tropical Diseases on August 4.
Experts had earlier put the figure at more than 120, citing the results of tests conducted in Equatorial Guinea.
The global death toll from COVID-19 surpassed 700,000 on August 5, according to a Reuters tally, with the United States, Brazil, India and Mexico leading the rise in fatalities.
Even in parts of the world that had appeared to have curbed the spread of the virus, countries such as Vietnam have recently seen single-day records in new cases, signaling the battle is far from over.
Vietnam, virus-free for months, reported 41 new COVID-19 infections on August 5 afternoon, lifting its total cases to 713, with eight dead and the outbreak has spread to 11 cities and provinces in the country.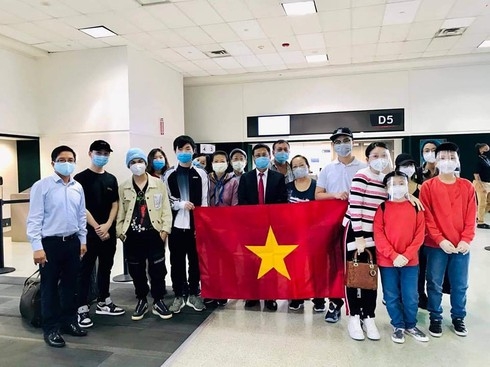 Vietnamese citizens pose for a photo alongside Vietnamese Consul General Luong Quoc Huy (C) in Houston before boarding the repatriation flight. Source: Vietnamese Consulate General
Despite surging infections, domestic authorities and Vietnamese overseas representative offices, under Prime Minister Nguyen Xuan Phuc's recent instructions, are making plans to bring home more Vietnamese nationals based on their needs and the nation's current quarantine capacity.
Relevant Vietnamese agencies, the Vietnamese Consulate General in the US, and the national flag carrier Vietnam Airlines coordinated efforts with US agencies on August 4 to bring home 347 Vietnamese citizens from Houston in the state of Texas.
The majority of passengers on board the flight were people under 18, including a four-month-old child, elderly people, people suffering from various illnesses, and those in challenging circumstances.
Ahead of the repatriation flight's departure, Vietnamese Consul General Luong Quoc Huy went directly to the airport to support citizens with all necessary procedures.
Right after landing at the airport, all the passengers and flight crew were given health check-ups and then sent to quarantine areas in accordance with current regulations./.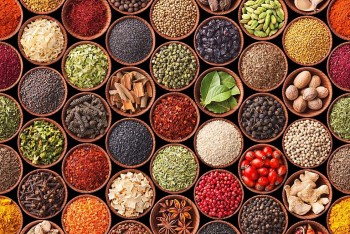 Vietnamese Herbal Tea
Antioxidants have been known since the 1990s and have been useful in fighting cancer, atherosclerosis, and many other chronic diseases.