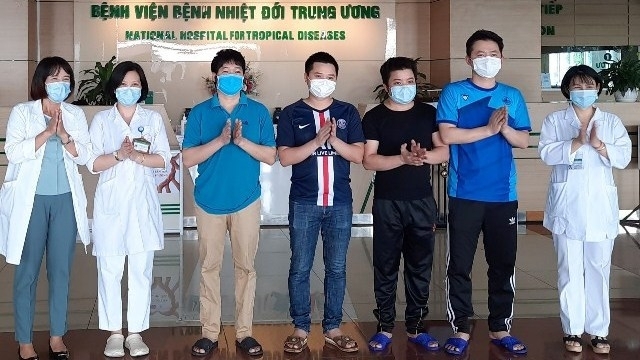 Four male patients declared recovered from COVID-19 at the National Hospital for Tropical Diseases Base 2 in Hanoi on June 2, 2020. (Photo: suckhoedoisong.vn)
Specifically, at the Central Tropical Diseases Hospital No. 2 (in Kim Chung commune, Dong Anh district, Hanoi), 4 patients with Covid-19 were declared recovered, coded as patients 294, 299, 307, 311.
These four patients were passengers from the Russian Federation on May 13 and were quarantined immediately after entry. They all had negative test results from 2-3 times with the SARS-CoV-2 virus. Currently, they are now in stable health conditions and displaying no symptoms of the virus such as fever, cough, or difficulty in breathing and will continue to be isolated and monitored for the next 14 days.
According to the National Steering Committee for COVID-19 Prevention and Control's Sub-committee on Treatment, 298/328 patients in Vietnam (accounting for 91% of the total number of patients) recovered. There are still 30 patients being treated at provincial and central hospitals in stable basic health conditions. Among them, seven patients have tested negative for the novel coronavirus once, while several others have tested negative for the virus twice or more.
Regarding the health of a British pilot, known as Patient 91 – the most severely ill COVID-19 patient in Vietnam, doctors at the Cho Ray Hospital in Ho Chi Minh City have said that the patient's lungs have improved significantly since declared free from COVID-19 earlier in May.
Annie Nguyen