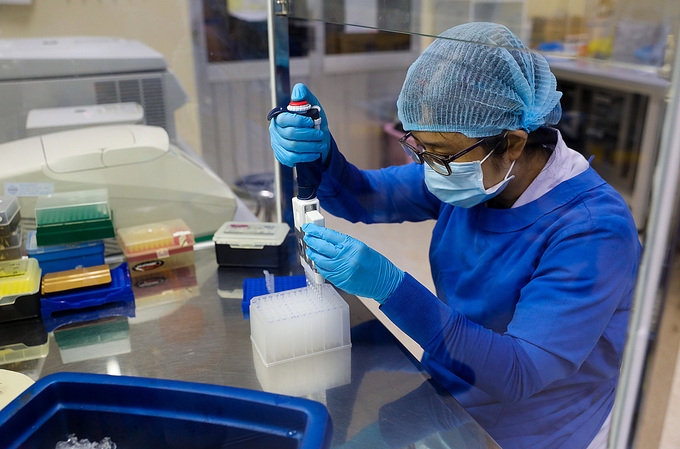 A medic testing samples from suspected COVID-19 patient (Photo: VNE)
The 43-year-old pilot, known as patient 91, one of the three critical COVID-19 patients in Vietnam is currently under ECMO (Extracorporeal membrane oxygenation) intervention, actively resuscitated with mechanical ventilation, antibody-filtered dialysis, antibiotics and antifungal at Ho Chi Minh Tropical Diseases hospital.
"The hospital's been trying to control and give patient 91 the best treatment methods lately. However, he suffered from blood clotting and dialysis difficulties. The thing was, his from blood clotting condition was growing less response to existing drugs, even the most effective ones", Nguyen Truong Son, Deputy Minister of Health told Nguoi Lao Dong.
"Therefore, the Health Ministry on April 13 ordered a rare coagulation drug (blood clotting drugs) from abroad, which is not available in Vietnam to treat this patient", the Deputy Minister added.
Earlier, when the patient's health was deteriorating since April 8, experts from the Ministry of Health all agreed to do their utmost to save patient 91's lives, as "where there are lives, there are hopes".
Ho Chi Minh City Department of Health announced April 14 that the patient shows more positive clinical signs, even though the latest test result still came out positive.
The patient had good pupil light reflect, no fever, pulse of 84 beats/minute, blood pressure of 130/80 mmHg, 98% SpO2, stable coagulation test result with reduced nasal bleeding, good urination of 700 ml / 24 hours, Nguyen Van Vinh Chau, director of Ho Chi Minh Tropical Disease Hospital told VnExpress.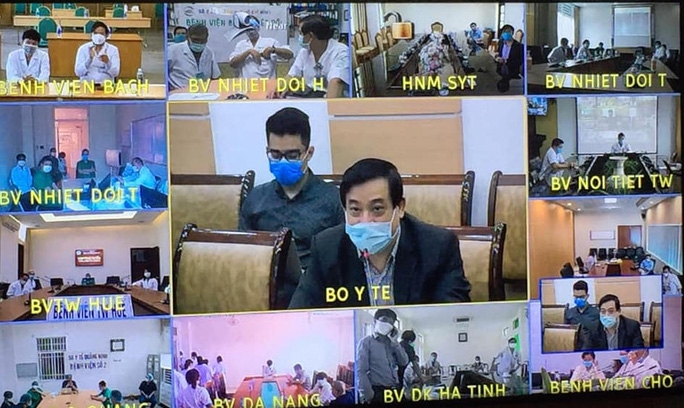 Experts in an online consultation for critical patients (Photo: Nguoi Lao Dong)
Patient 91 works for Vietnam Airlines and currently resides in Ho Chi Minh city. He immediately informed the flight crew and went to the hospital himself after showing signs of fatigue and tested positive on March 17. He had earlier went to Buddha bar – one COVID-19 hotspot in Southern Vietnam that has 19 confirmed cases.

As of April 14 early afternoon, Vietnam has a total of 265 patients, in which 145 patients have been discharged, including both Vietnamese nationals and foreigners. Many foreigners express their gratitude towards the Vietnamese government and hospitals in Vietnam for giving them a second chance to live, praising Vietnam and saying they are lucky to be treated in Vietnam.
Jasmine Le