National University Entrance Exam Students Stay Focused Despite Covid Pressures
The novel coronavirus pandemic has affected different aspects of life, including education, but students taking the national exam are doing their best to take it all in their stride
The National University Entrance exam, considered a make-or-break opportunity for Vietnamese high school students, is set to take place from 7 to 9 of July. The Covid-19 pandemic, however, has been placing unprecedented difficulties and pressure on school officials and examinees..
Worried, struggling but determined
Nguyen Dieu Hong Trang, 18, a student from Le Loi high school, Ha Dong, said she was determined to overcome all such hurdles to attain the highest result.
For the 12 grader, getting infected during the exam really concerns her.
"Anti-Covid protocols will be strictly deployed, but I might still contract the virus because there will be students coming from different places," Trang told Vietnam Times. "My teacher keeps reminding us to follow preventive measures. I will wear face mask and sanitize my hands before getting into the exam room to protect myself."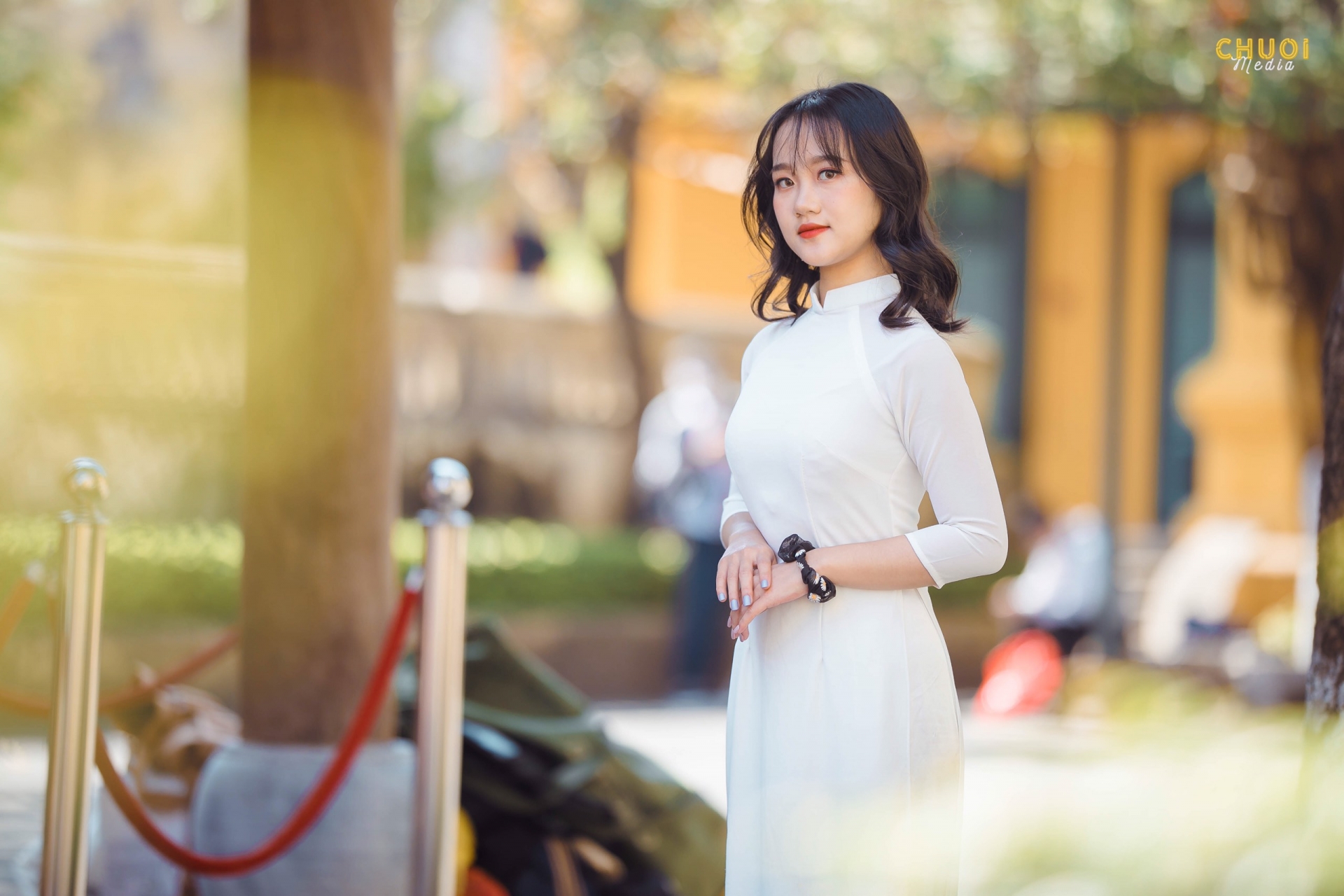 Hong Trang. Photo courtesy of Nguyen Dieu Hong Trang
Trang is already doing her best to avoid coronavirus exposure, as test-takers may be illegible for the exam in July if they are either Covid-19 patients or suspected patients. Practicing preventive measures, following healthy diets, and doing physical exercises to boost immunity have been among her go-to tips in the past few months.
Since the coronavirus reemerged in Vietnam on April 27, educational establishments across Vietnam have switched to distant learning. Even though online classes had been adopted earlier, the learning method still has its drawbacks, especially for exam preparation courses.
"The pandemic has disrupted our learning twice since the beginning of 2021. The final months are very important for us 12 graders, but we didn't have much face-to-face practicing; even revising the lessons with peers is useful, you know," Trang said.
In Trang's experience, the lack of direct supervision from exam officials during online mock tests also deprives her of a sense of sitting in a physical exam room, with all the time pressure and exam officials walking around. Like thousands of other 12 graders, she has been only taking mock tests in the comfort of her own room.
Notwithstanding the struggling, the student is positive about her performance at the upcoming exam. "Whatever happens" she said, "I'd better be confident and do my utmost to get the highest results. I have no choice; it's all for my future."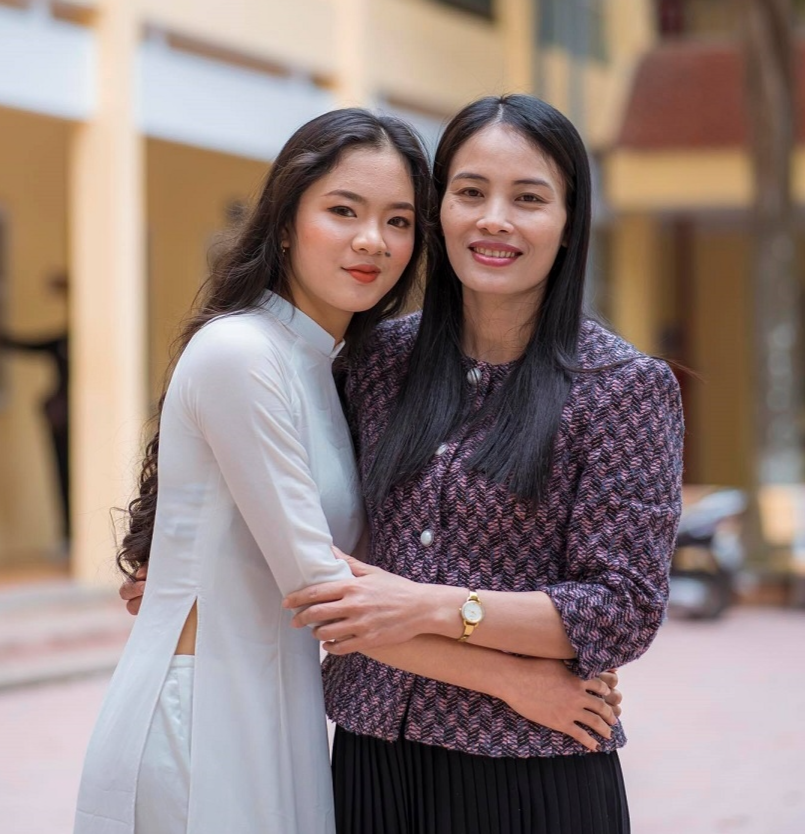 Ngoc Anh and her teacher. Photo courtesy of Nguyen Thi Ngoc Anh
Nguyen Thi Ngoc Anh, a 12 grader from Tung Thien highschool is having a similar experience.
"It's more flexible to just sit in my house learning, doing tests and all. But I couldn't have in-person interactions with teachers, thus there are certain parts of the lessons I don't clearly understand but it's hard to raise questions in online classes," Ngoc Anh told Vietnam Times.
"We couldn't take mock tests either. I'm pretty worried about the Literature test because, unlike Mathematics or English which have fixed answers, Literature doesn't."
Covid situation improves just before exam
The fourth wave swept through northern provinces in late April when the university entrance exam was just weeks away, raising concerns of a late exam like last year's. However, it started to abate towards the end of June, and the make-or-break event of Vietnamese students's lives will take place on July 7-9 as scheduled.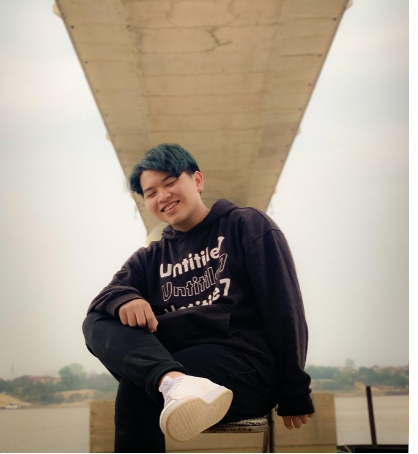 For Lam, the exam opens a new environment with challenges and opportunities. Photo courtesy of La Ngoc Lam
"I credit the timely containment to the Vietnamese government and the whole community. Putting off the examination would be frustrating for me. I've been spending the last few months cramming for the exam and it's already exhausting. I don't want it to last any longer," said La Ngoc Lam, a student from geography gifted class, Son Tay high school in Hanoi, .
For Lam, the university entrance exam is a milestone in his student life, opening a new environment with challenges and opportunities.
"I would have to live away from my parents when I entered university. My parents are worried, especially with the Covid-19 development," Lam added. "However, I have faith in the joint efforts of the government and Vietnamese people. We have effectively controlled it three times."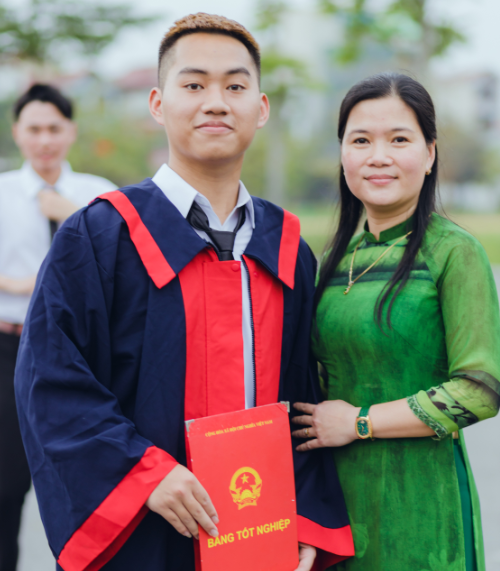 Truong Tien Dung and his homeroom teacher. Photo courtesy of Truong Tien Dung
Meanwhile, Truong Tien Dung, a student from Maths gifted class, Son Tay high school, said was a relief that the coronavirus was contained and he could sit for the exam as scheduled.
"I want to take the tests as soon as possible. I'm planning to refresh myself after these stressful times," Dung said. "People flock to Hanoi for work and study purposes. It's a relief that the pandemic has improved in the capital, people can resume their daily rituals."
Dung is confident in his performance in the coming exam, saying he wouldn't let the coronavirus concerns stand in his way. He believes local authorities and exam organizers have plans to guarantee a safe examination.
Cherished memories and regrets
Most schools in Hanoi ended the school year without an official anniversary due to the pandemic.
"We were super eager and had planned a lot for the school year-end anniversary. But the much-awaited event was canceled," Dung said.
His class, instead, had spent one evening sharing future plans with their homeroom teacher on Zoom. "Each of us wrote and showed thank-you messages to our teacher. That moment was very touching and memorable. We've never thought of an online ceremony like that before," the student added.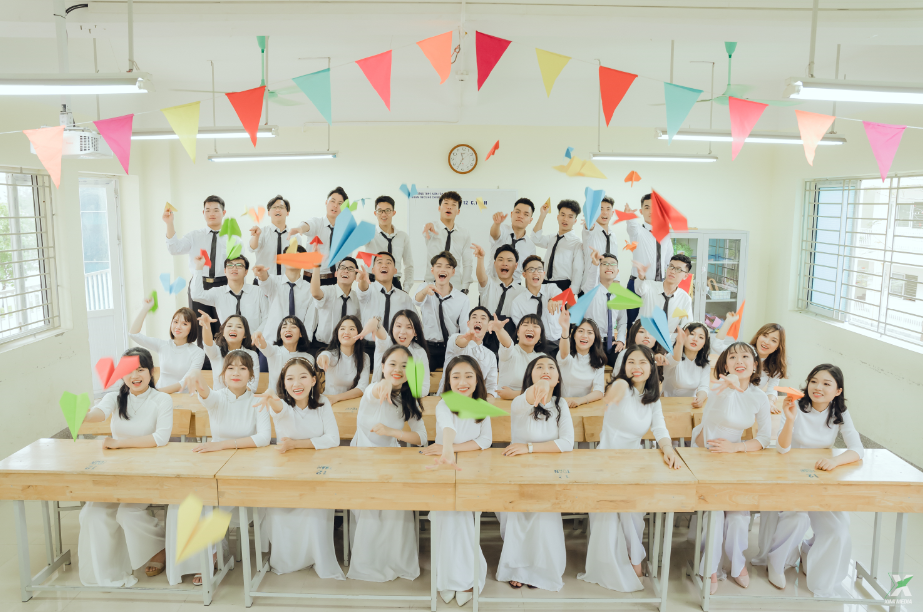 Dung and his classmates from Maths gifted class, Son Tay high school. Photo courtesy of Truong Tien Dung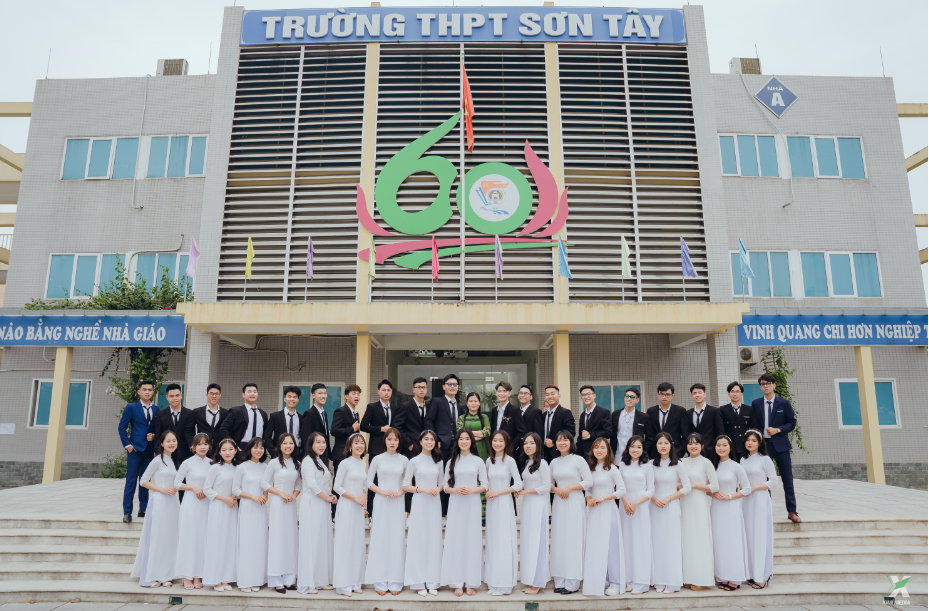 Photo courtesy of Truong Tien Dung
"I only met my teachers and classmates once since May, which is sad for us senior students. We didn't have an official end of school year anniversary, the occasion is considered a milestone in any student's journey," Trang said. "I want to meet them all as soon as the pandemic abates and we may travel for a blast after all the hard work and separation. Thank you for all the good memories we had had together."
Trang also wished that all 12 graders would pass the coming National University Entrance exam with flying colors.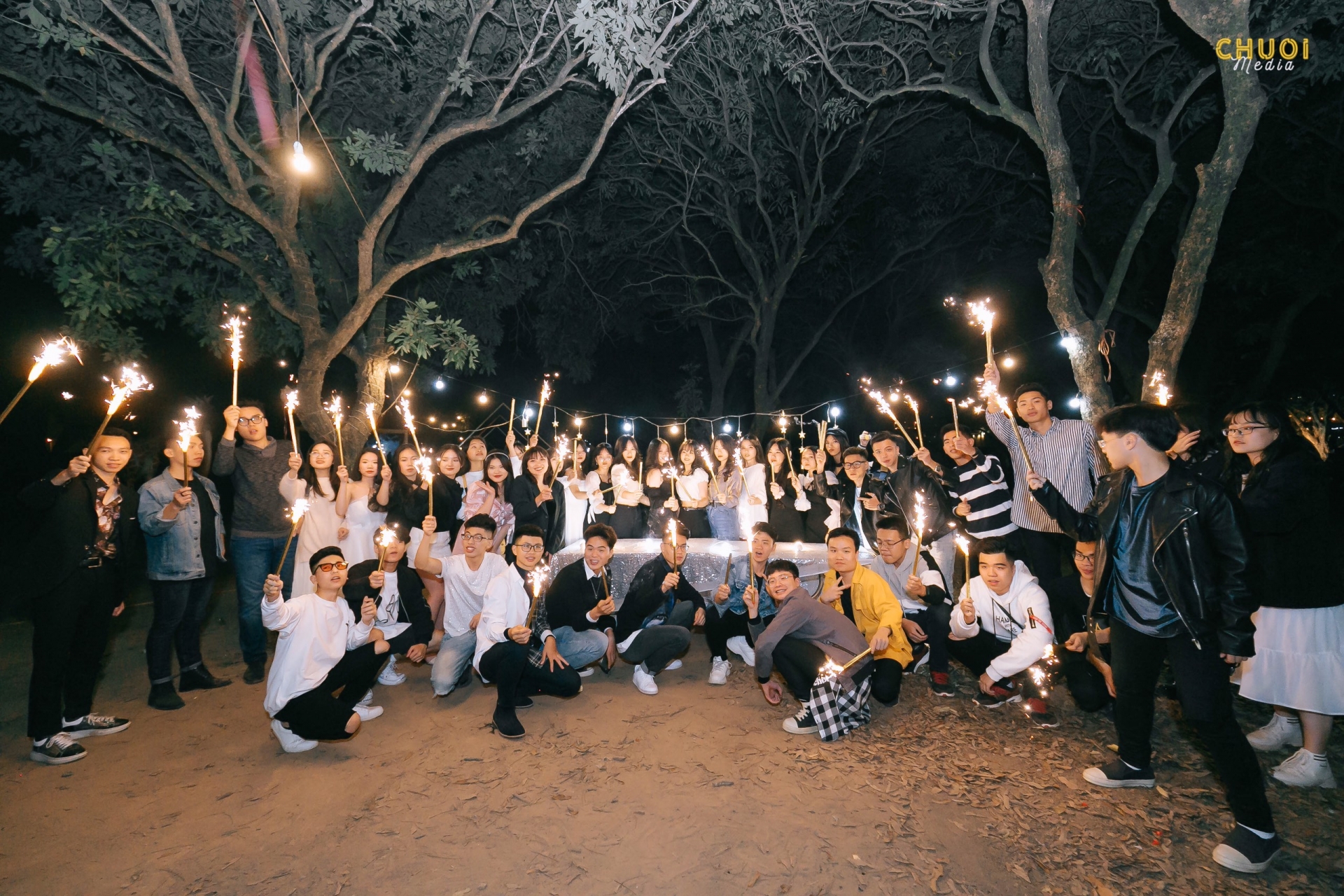 Trang and her classmates from Class 12A12, Le Loi high school. Photo courtesy of Hong Trang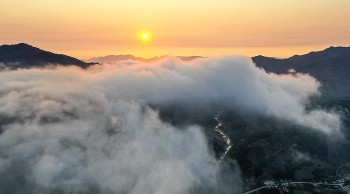 Multimedia
The gorgeous dawn behind a sea of fluffy white clouds creates a wonderful and beautiful picture of Truong Son Dong peak, Quang Ngai.