Boris Johnson's plan to lift social distancing rules in the U.K despite concerns
U.K Prime Minister Boris Johnson will lift social distancing restrictions on July 19, despite various concerns and delta variant sending infections soaring to their highest daily rate since January.
Ministers are planning to remove all mandatory mask and social distancing restrictions in England on 19 July, but national guidance may still encourage caution in high-risk areas such as public transport.
A number of key scientific advisers including England's chief medical officer, Chris Whitty, and the government's chief scientific adviser, Patrick Vallance, are said to be behind ministers' plans to lift restrictions, though they have cautioned that the NHS may come under pressure in the winter, according to The Guardian.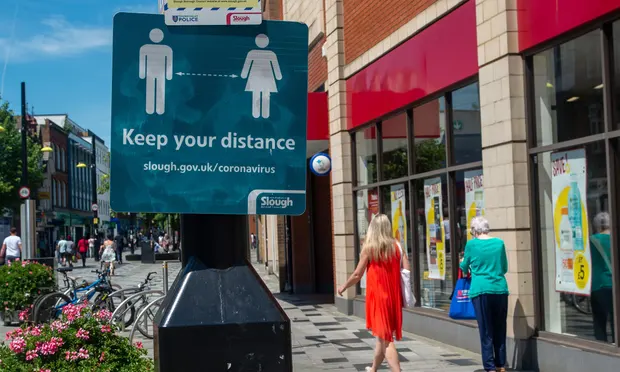 A sign reminding shoppers to stay distanced on Slough High Street. Photograph: Maureen McLean/REX/Shutterstock
However, hospital bosses fear the reopening date will lead to a new spike in admissions due to Covid. NHS Providers, which represents hospital trusts in England, warned it could lead to the cancellation of surgery and other care.
"Trust leaders are increasingly confident that vaccines are breaking the chain between infections, serious illness and deaths. But they are understandably nervous about what a wholesale lifting of restrictions on 19 July could mean for the NHS", said Saffron Cordery, the organisation's deputy chief executive.
"We are dealing with a fast-moving, ever-changing picture and the reality on the frontline is that even a small increase in Covid-19 admissions or emergency care pressures could affect our ability to deliver non-Covid services in a context where many staff are exhausted."
U.K. May Still Keep Some Covid Rules
Boris Johnson during a visit to the Envision AESC Holding Ltd. battery facility inside the Nissan Motor Co. plant in Sunderland, on July 1. Photographer: Ian Forsyth/Bloomberg
U.K. Prime Minister Boris Johnson said some "extra precautions" could still be required even after the July 19 date he has said will mark the end of the country's Covid restrictions.
The premier said he was "impatient" to get back to normal life but would not rule out keeping regulations or guidance in place on wearing masks in crowded public areas or on people keeping a specified distance apart.
Johnson said he will be setting out his plans for what the next phase of the U.K.'s route out of pandemic restrictions will look like when it comes into force, due to be on July 19.
"We'll be wanting to go back to a world that is as close to the status quo ante-Covid, as possible," Johnson said on a visit to a factory in Sunderland, northeastern England on Thursday. "But there may be some things we have to do, extra precautions that we have to take, but I'll be setting them out."
Any move to retain virus measures would likely face vocal opposition from within Johnson's Conservative Party, with an increasing number of rank and file members of Parliament calling for an end to all curbs. In June, Johnson suffered a significant rebellion from his own MPs over his decision to delay the final easing of restrictions by a month to July 19, according to Bloomberg.
Coronavirus infections have been rising steeply in the U.K. in recent weeks, fueled by the more-transmissible delta variant, with latest figures showing 26,068 new cases reported on Wednesday, the most since Jan. 29.
However, deaths and hospitalizations have remained low compared to previous waves of the disease in Britain, giving the government confidence that restrictions will be lifted on July 19.
Worries and concerns about rules lifting
Several NHS trust chief executives, speaking on condition of anonymity, warned that hospitals were not well-equipped to deal with a new surge in Covid cases because they were already so unusually busy for the time of year.
One said they were "nervous" about the likelihood of greater social mixing after 19 July leading to more people becoming infected, ending up very ill and needing hospital treatment. Another voiced unease about the impact of people who are already mingling in pubs.
A third said more than 100 nurses in their trust were already off isolating because they or someone in their household were infected, saying: "I feel anxious at the moment about the roadmap."
Boris Johnson's spokesperson said the vaccine programme was having its expected effect at preventing a similar surge in hospital admissions as happened during the previous two waves.
One government source said that there was the potential to use Covid certification more widely this winter rather than reimpose any restrictions. "It may have a wider utility if there's a big surge in winter," the source said.
Another source said that although mask regulations could be lifted safely now, advice could also be hardened in the autumn.
Some senior local leaders such as the London mayor, Sadiq Khan, are known to be uneasy at the decision to leave mask-wearing up to guidance or to personal responsibility on high-capacity networks such as the London Underground and believe changes could discourage use of public transport.
Khan's spokesperson said it was important to continue to follow the science around limiting transmission. "Evidence shows that the wearing of face masks gives many Londoners the confidence that they can travel safely on public transport," the spokesperson said.