2020 Presidential Election: How to watch? Debate topics? When is the second debate?
President Donald Trump and and former Vice President Joe Biden is squaring off now in-person for the first time on Tuesday, and judging by Trump's ludicrous insistence that Biden take a drug test prior to taking the stage, it's probably going to be ugly.
How to Watch the 2020 Presidential Debate?
The first presidential debate will take place on Tuesday, September 29th at Case Western Reserve University and Cleveland Clinic in Cleveland, Ohio. It will begin at 9 p.m. ET and run for 90 minutes with no commercial breaks.
You'd be hard-pressed to avoid it if you tried. The debate will be broadcast live on all of the major networks, as well as CNN, MSNBC, Fox News, C-SPAN, PBS, and Univision. Several networks and outlets are streaming the debate online. You can also get a free trial to a live streaming service like Vidgo or Sling TV, which both carry a number of news networks for full coverage of the debate (Sling's package includes 10 hours of DVR if you want to pause, record or re-watch the debate). The C-SPAN YouTube page is always a good option, as reported by Rolling Stone.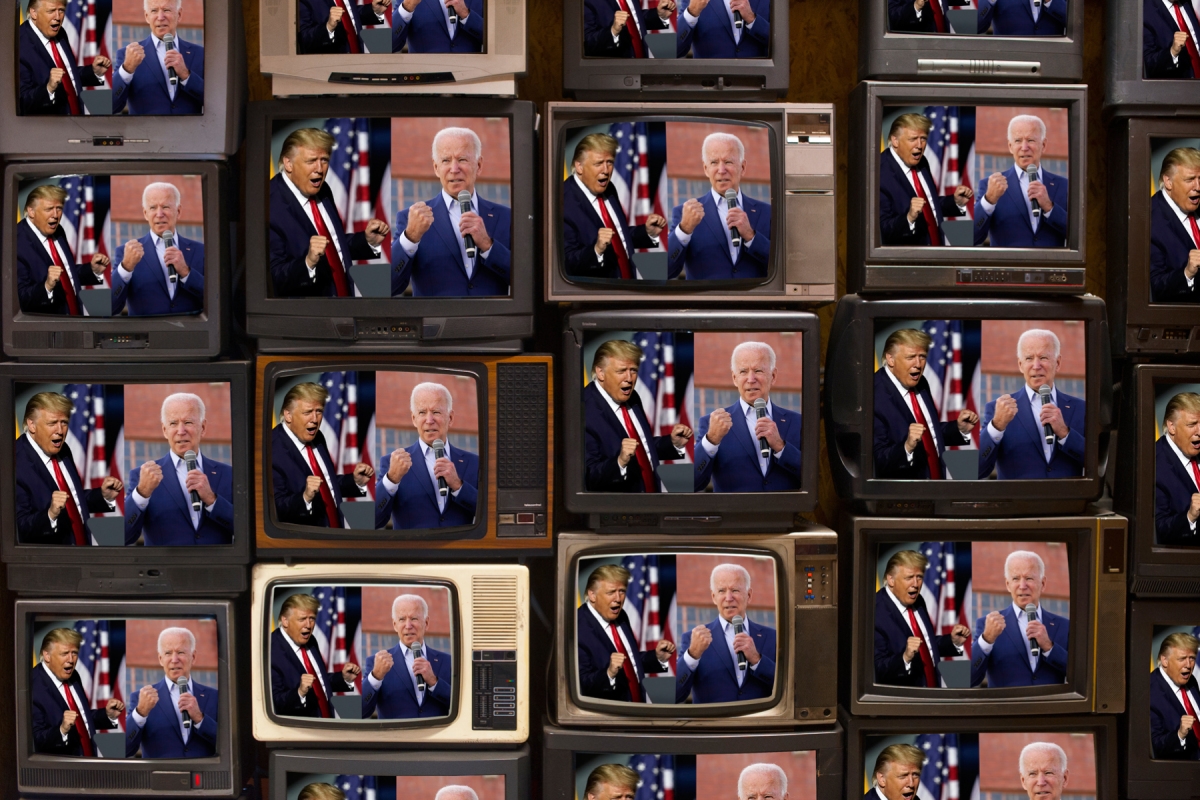 Photo illustration by Joe Rodriguez. Images in illustration: Steve Helber/AP Images(Trump); Carolyn Kaster/AP Images (Biden) Getty Images (TV's)
The networks will also be broadcasting live streams of their coverage on YouTube, which has devoted a section of its front page to authoritative coverage of the event. The C-Span live stream is embedded above as an authoritative source, although other networks will be providing their own commentary and coverage for the broadcast, including analysis before and after the event. Other YouTube streams include CBS, ABC, and Fox News.
The debate is scheduled to start at 9PM ET and will run for approximately 90 minutes.
What Are the Debate Topics?
Moderator Chris Wallace announced the following six topics as a focus for the debate, with roughly 15 minutes to be devoted to each topic, in whatever order Wallace deems appropriate.
The Trump and Biden records
The Supreme Court
COVID-19
The economy
Race and violence in our cities
The integrity of the election
A number of Democrats have criticized Wallace for not addressing the climate crisis as an issue, given the extreme hurricane season on America's Atlantic coast and ongoing wildfires on the West Coast.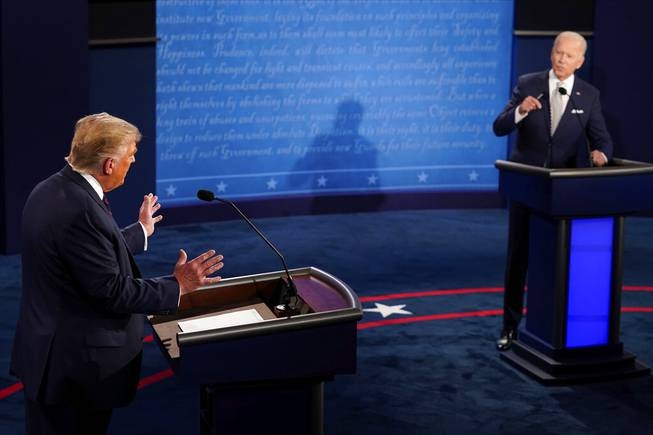 President Donald Trump and Democratic challenger Joe Biden squared off Tuesday night in their crucial first debate (Photo: Las Vegas Sun)
When's the Second Presidential Debate?
The second presidential debate will take place on Thursday, October 15th, at the Adrienne Arsht Center for the Performing Arts, in Miami, Florida. It will be moderated by Steve Scully of C-SPAN and formatted as a town hall, with candidates fielding questions from non-committed voters.
The third and final presidential debate will take place the following week, on Thursday, October 22nd, at Belmont University in Nashville, Tennessee. It will be moderated by Kristen Welker of NBC News and formatted identically to the first debate.
A vice presidential debate between Vice President Mike Pence and Sen. Kamala Harris will take place on Wednesday, October 7th, at the University of Utah in Salt Lake City. It will be moderated by Susan Page of USA Today, and feature nine 10-minute segments.