NGO Combats Cyber Bullying and Gender-based Cyber Violence in Vietnam
Plan International aims to protect more than 9,000 children and young people in ethnic minority and mountainous areas in Kon Tum and Quang Binh provinces from cyber bullying and gender-based cyber violence, in a new project.
In alignment with the national program "Protect and Support Children to Create Healthy, Innovative Interactions on the Cyberspace, 2021-2025", Plan International Vietnam has worked with Plan International Germany to mobilize funds for the 3-year project "Protection of Girls and Boys from Cyber Bullying and Gender-based Cyber Violence", implemented in two provinces of Kon Tum and Quang Binh.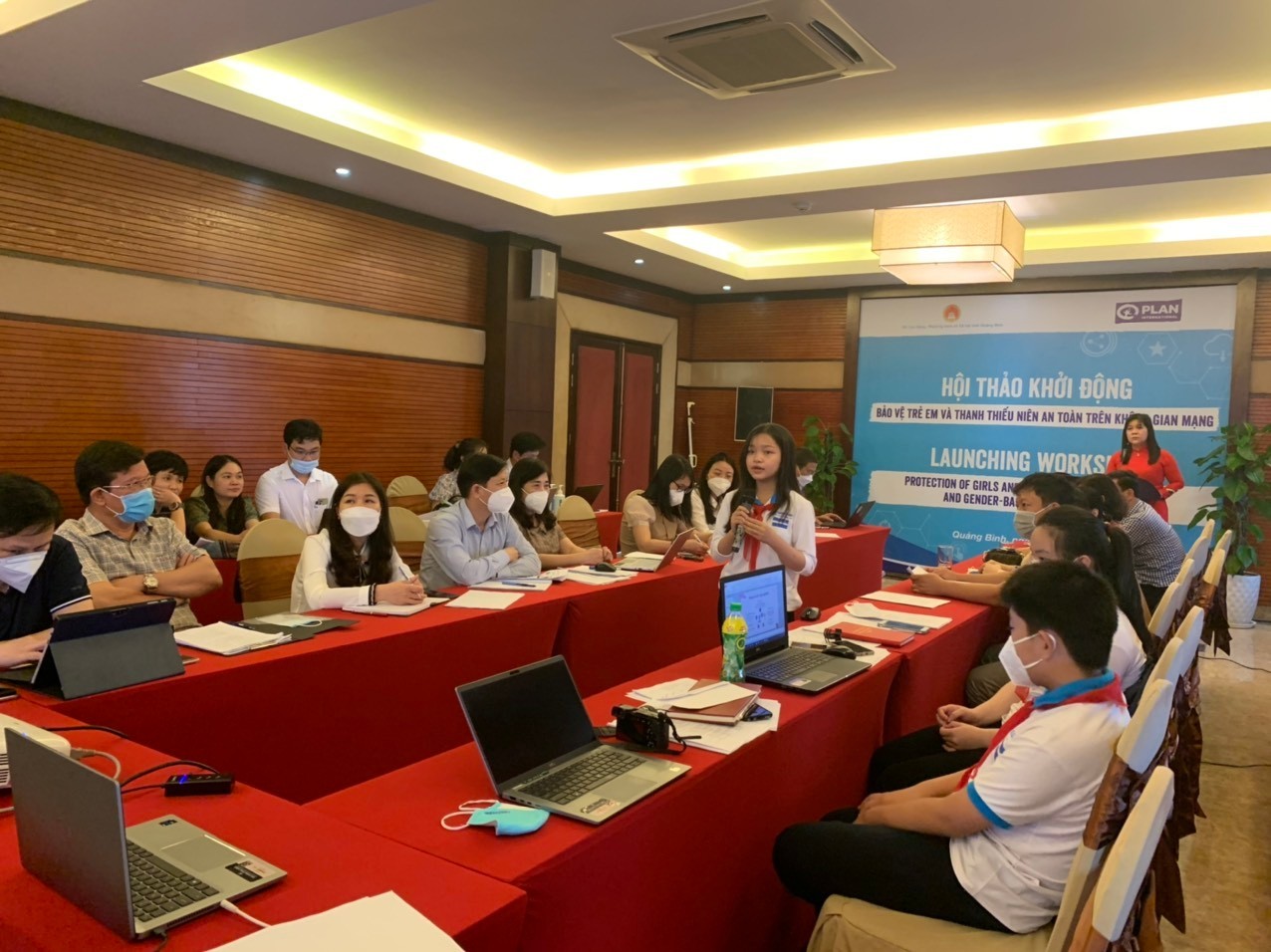 A student voices her opinions about the project.
As of February 2021, Vietnam has 72 million social media accounts and 68.72 million Internet users (accounting for 70.3% of the population).
Due to Covid-19, more and more people, including teenagers, who make up 15.22% of the population, are using the Internet to study, work, communicate, entertain and access services. This increases online risks for children and young people including cyberbullying and gender-based cyber-violence.
Vietnam now has around 15 million under-16 children, who are considered the most vulnerable to harmful effects like bullying, attacks, scamming, and even sexual assaults on the cyber environment.
A survey conducted by Plan International Vietnam shows that only 10% of children have knowledge and skills to safely use the Internet. That context requires a deep understanding of the situation and identification of gaps in capacity, legal corridors, and socio-cultural environment to propose appropriate interventions to ensure the safety of children in cyberspace.
In early 2022, the EUR-1.5-million project was launched in two provinces.
The project goal will be achieved through three outcomes. Firstly, adolescents, particularly girls and vulnerable groups, have enhanced collective agency to protect themselves and others from cyber bullying and gender-based cyber violence.
Secondly, families, schools and communities have established protective mechanisms to protect children, especially girls and vulnerable groups, from online abuse.
Finally, government authorities, media agencies and IT service providers have effective prevention and response measures to ensure children's safety on cyber spaces.
It is expected that after three years of implementation, more than 9,000 children and youth aged 10-18 years old will be supported to improve their knowledge and skills to protect themselves and others from all forms of bullying and gender based violence on cyberspace.
Le Quynh Lan, Program Impact & Partners Manager, Plan International Vietnam said: "'Protection of Girls and Boys from Cyber Bullying and Gender-based Cyber Violence' is one of the key projects in the Gender-based Violence Prevention Program within the framework of Plan International Vietnam's 5-year strategy (2020-2025) so that 2 million girls can learn, lead, decide and thrive. We are committed to work alongside our partners, schools, families and children so that all children and youth are safe online."
Van Khanh, a secondary school student in Quang Binh province, shared at the launching event: "My friends, some of them were solicited by strangers on Facebook to send photos and chat with inappropriate content for their age. Meanwhile, most of us have not yet acquired the knowledge and skills to protect ourselves in cyberspace. Therefore, I'm very happy to know that the project will be deployed at my school."
Nguyen Thi Nga, deputy head of the Department of Child Affairs under the Ministry of Labour, Invalids and Social Affairs, appreciated Plan International for mobilizing resources and supporting the local implementation of this project. Protecting children in general, and in the online environment in particular, requires substantive and effective inter-sectoral coordination from prevention, support and intervention, most importantly, to help children acquire knowledge and skills to participate in a safe and healthy network environment.
Also at the event, Svea Norkus, specialist in charge of Asia programs of Plan International Germany, representing the sponsor, said that keeping children and young people safe online is more important than ever, especially in the context of the Covid-19 pandemic.
With the joint efforts of all partners, young people will be enhanced with their digital knowledge and skills to use the internet and social networks safely. She believes this project will have a big impact on the safety of teenagers online.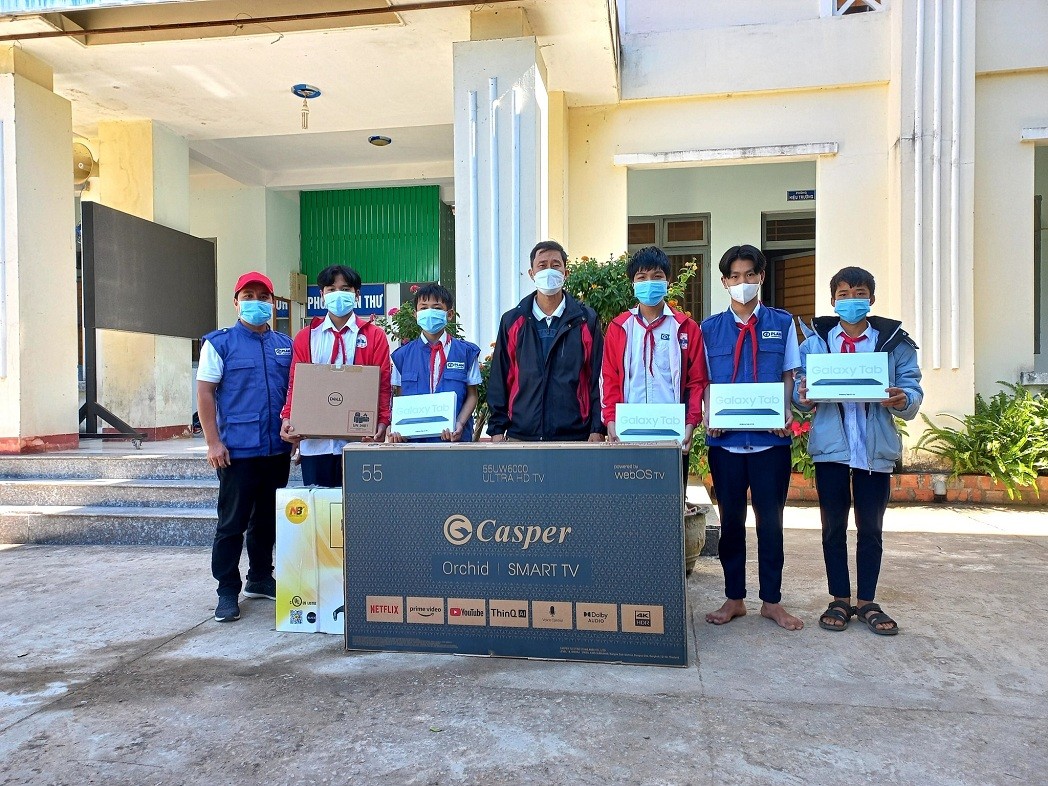 Dak Ruong Secondary School in Kon Tum received the project's equipment.
Under Decision No 830 signed by Prime Minister Pham Minh Chinh, the national programme on child protection online aims to protect the privacy of children and prevent and handle acts of abuse, has been approved in 2021.
UNICEF Representative in Vietnam Rana Flowers said that the new programme has taken into account the need to strike a balance between addressing the threats to children and the promising changes that the digital environment might deliver to them.