Nha Trang, Vung Tau Voted Among The Most Beautiful Beaches On TikTok
With more than 2000 miles of coastline, Vietnam brims with secluded coves, white sands, and waters fit for snorkeling. Crystal blue water, sandy beach, and bright sunshine, Vung Tau, and Nha Trang are voted among the most beautiful beaches by TikTok users.
Summer may be over in the UK, but there's still plenty of hot weather and sunshine elsewhere in the world.
If you're hoping for some winter sun this year, or are already planning your holiday for next year, you may want to familiarise yourself with some of the world's most popular beaches.
Vietnam is a tropical Asian paradise with an abundance of natural beauty that surrounds booming metropolitan areas like Ho Chi Minh City and Hanoi, and it remains relatively untouched in rural towns like central Hoi An and remote Cat Ba Island. While the ancient, towering tamarind trees and mountainous limestone monoliths protruding out of the seas are impressive, few attractions can surpass the magnificence and allure of Vietnam's beaches.
Nha Trang Beach is probably the most famous beach in Vietnam – just 35 minutes from Ho Chi Minh City. Tall, green mountains provide the background for this beach which – paired with the crystal clear water – makes for an incredibly aesthetically-pleasing spot.
This other option in southern Vietnam is appealing due to its generous length. But it's worth pointing out that tourists tend to prefer sightseeing at Front Beach (Bai Truoc) and to go swimming on Back Beach (Bai Sau).
1. Nha Trang Beach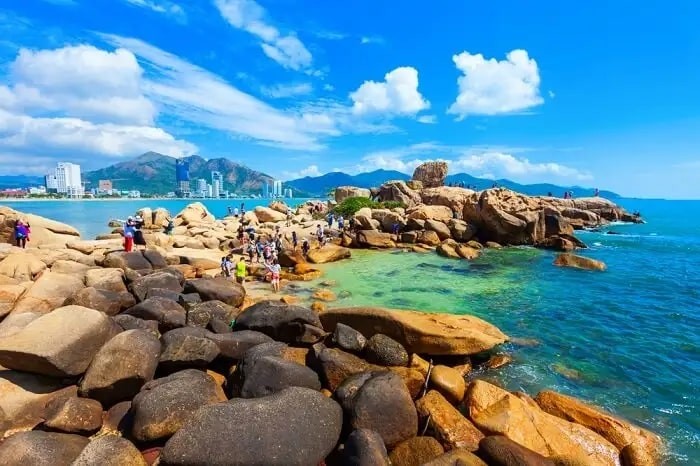 Photo: Travel Triangle
Once a set of sleepy fishing villages named Xuon Huan, Phuong Cau, Van Than, Phuong Sai, and Phuoc Hai, the city of Nha Trang has grown into one of the most popular tourism sites in Vietnam, as well as a beautiful place to live for its 500,000 inhabitants.
Nha Trang's tropical savannah climate means you'll experience mostly lovely weather during the area's long dry season from January to August. In the hottest months, from May to September, average high temperatures hover in the low 90 degrees Fahrenheit.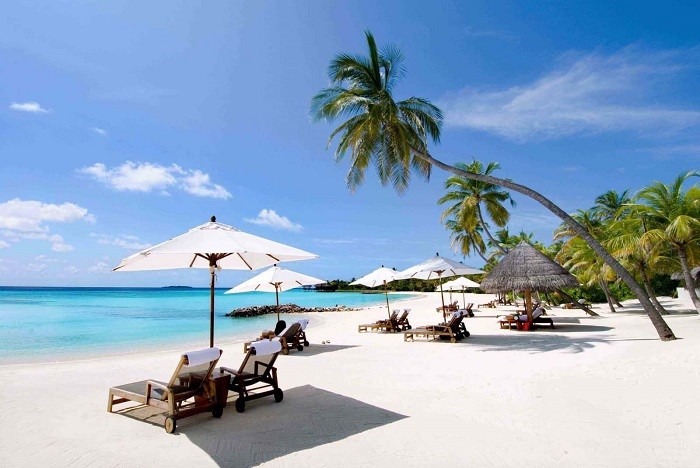 Photo: Vinpearl
The wet season, though short—from September or October through December—is very wet. Islands in the bay protect the city from the worst typhoon winds, but you can expect daily heavy rainfall during these four months. Though average temperatures rarely dip below a balmy 70 degrees Fahrenheit, it can get chilly at times. Humidity remains high year-round.
Because the city was originally built as a resort getaway, the emphasis continues to focus on the luscious natural beauty of the area. With a population of 500,000, Nha Trang is a relatively quiet village when compared to Hanoi or Ho Chi Minh City, with populations of seven and eight million, respectively. The city stretches along the edges of the aquamarine Nha Trang Bay, with kilometers of golden sand beaches and a promenade along Tran Phu Street, enticing visitors to wander and soak in the sun. But please do not think that Nha Trang is sleepy and boring! The city still bustles, and when the sun goes down, the nightlife heats up.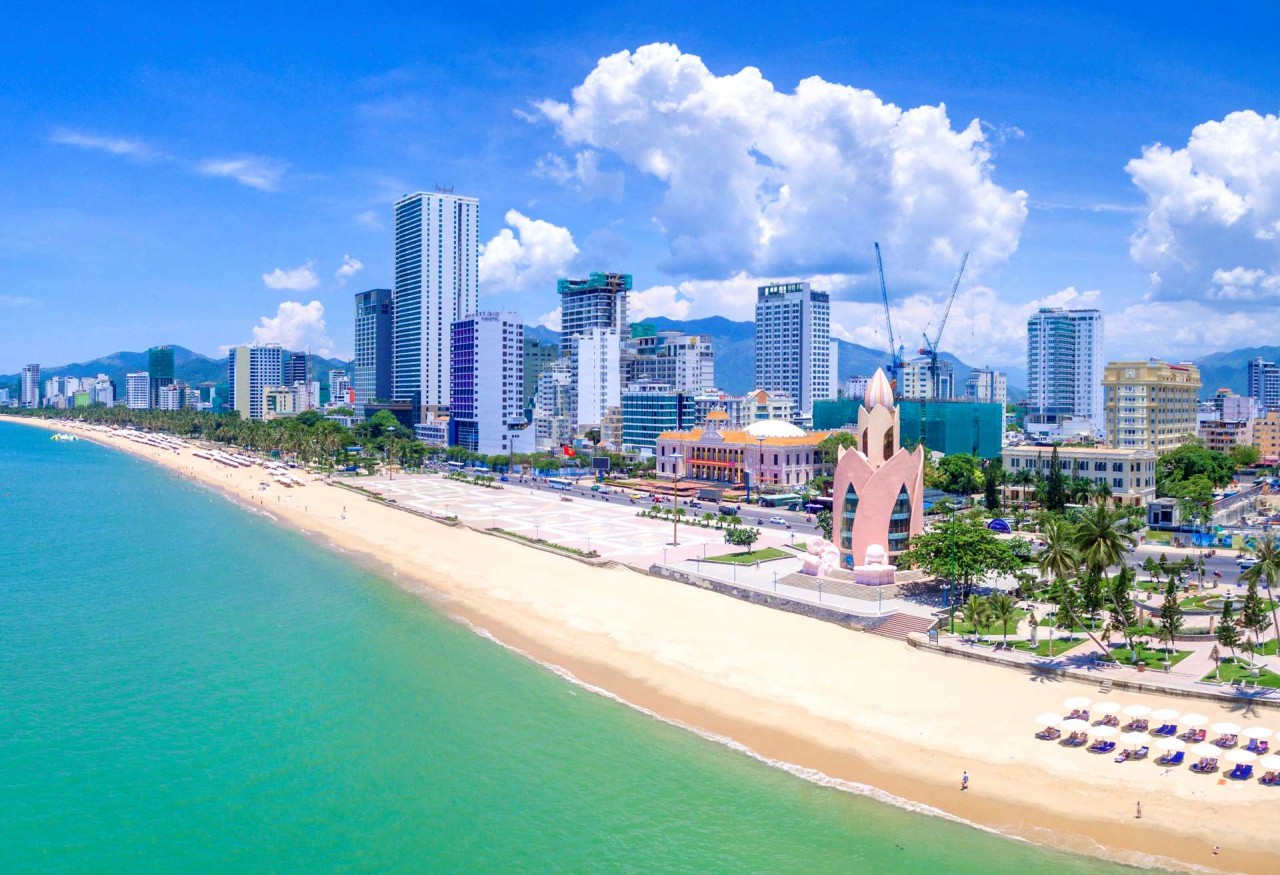 Photo: Getty Images
Inside the city, you'll find plenty to see and do, from visiting the Po Nagar Cham Towers to lounging on the beaches, relaxing in the spas, hiking or biking in the mountains, and sampling the delicious seafood dishes that are the specialty of the city.
Nha Trang is a popular vacation destination for the Vietnamese, of course, but Russian tourists and expats also love the city. You'll find most signs to be in Vietnamese and Russian, and local guides and shopkeepers often speak Russian instead of English or French.
2. Vung Tau Beach

Photo: Vietnam Discovery Travel
Located near Ho Chi Minh City, this port city is an all-time favorite destination with the city folks for a day trip or a weekend vacation. Vung Tau has a long stretch of sandy beaches and a mountainous backdrop.
The pretty seaside town of Vung Tau is the Vietnamese equivalent of fish n' chips and a few days by the sea. In short, it's where locals go to relax, soak up the sea breeze, and indulge in seafood feasts. Vung Tau may not have Con Dao's paradisiacal white-sand beaches, but just two hours from Ho Chi Minh City, it's perfect for a quick getaway.
Photo: Viet Fun Travel
Dip your toes in cool water and watch the day wake up on Vung Tau's beautiful Back Beach. This three-kilometer-long strip of sand will entice you to spend a day in the shade of an umbrella, cocktail in hand. A handful of high-end hotels, restaurants and beach clubs line Back Beach, and local vendors rent umbrellas on the sand. When you're hungry, break for a delicious seafood lunch overlooking the water.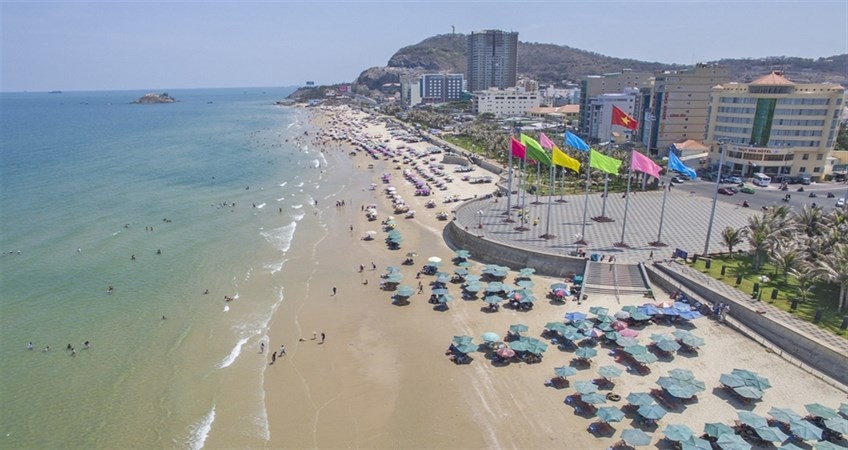 Photo: Vivutravel
Vung Tau is known for its wide range of mouthwatering dishes made with fresh, local ingredients. Try a fragrant, steaming hot pot of stingray and baby bamboo shoots; or crispy bánh khọt, a mini-pancake made of flour and curry powder, topped with fresh squid or shrimp, green onion, and shrimp powder. Each piece is wrapped in lettuce and fresh herbs and then dipped into a mix of fish sauce, papaya, and chili.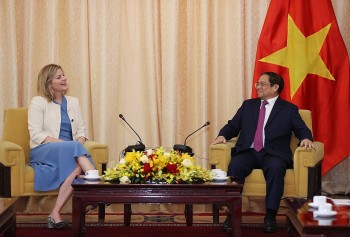 National
The Netherlands committed to cooperate with Vietnam, and together find innovative and sustainable solutions to accelerate green economy transformation.