Norwegian ambassador works on gender quality, female empowerment
Gender equality, empowering women and inspiring the younger generation have always been top priorities for Norwegian Ambassador Grete Lochen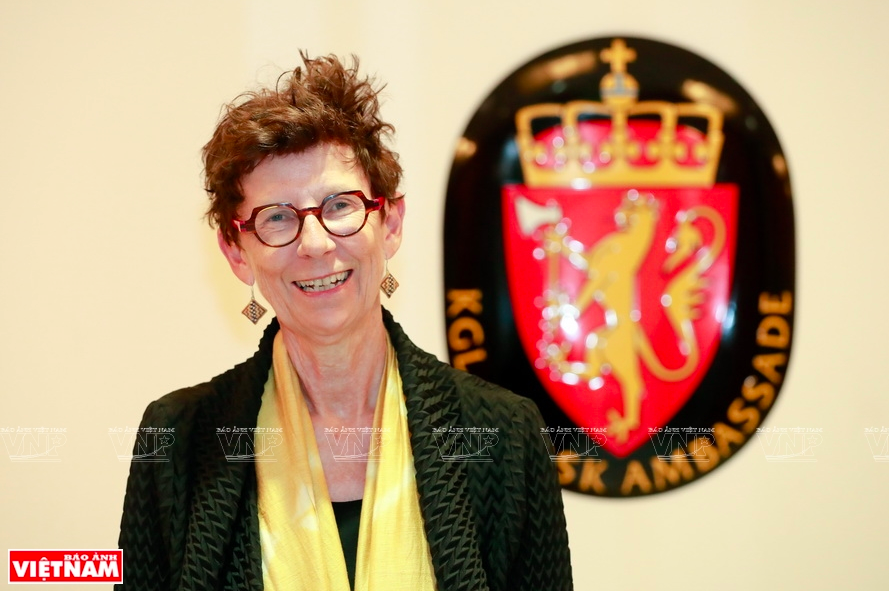 Norwegian Ambassador Grete Lochen in May 2021. Photo: VNP
Vietnam was Grete Lochen's first choice when registering as an ambassador for her new term. "I came to Vietnam for the first time more than 25 years ago. I like Vietnam, its vibrant atmosphere, natural beauty, traditions, culinary culture, dynamism of the economy and above all friendly people. So I'm very happy to be back in Vietnam," she said.
Her first activity in Vietnam was to conduct a fisheries workshop organized by the Norwegian Embassy, ​​the Norwegian Trade Office and the Directorate of Fisheries under the Ministry of Agriculture and Rural Development of Vietnam in October 2018. The embassy invited speakers from the Norway to Vietnam to discuss their experience with Vietnamese partners.
Norway has experience in combating illegal fishing practices, using satellites and technology and promoting sustainable fishing through a quota. Seafood has been an area of ​​long-term bilateral cooperation between Vietnam and Norway for more than 30 years. The two countries Vietnam - Norway have many ocean related issues in common. This first event in her role as ambassador in Vietnam was to promote cooperation between the two countries on the economy, culture and education.
Lochenhas used many activities to strengthen and protect global standards and practices as well as the rights of women and girls in Vietnam. She adopted highly-effective inclusive, non-discriminatory measures to promote the status, power and opportunity for girls and women.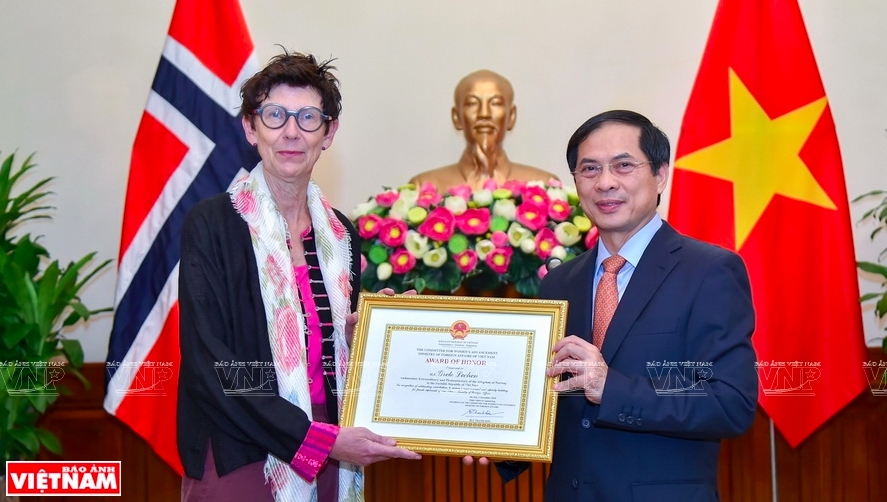 In 2020, Deputy Minister of Foreign Affairs Bui Thanh Son awarded Grete Lochen the Certificate of Merit for the advancement of women from the Ministry of Foreign Affairs. Photo: Norwegian Embassy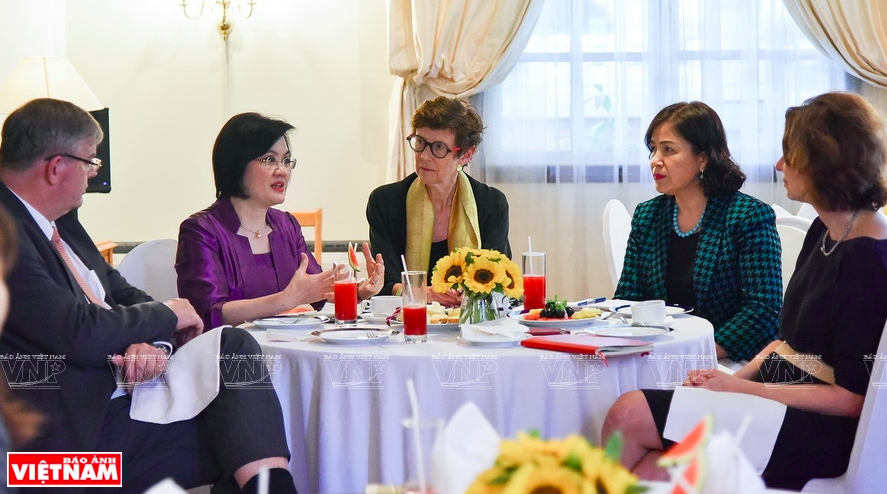 Ambassador Grete Lochen worked with Vietnamese diplomats. Photo: Norwegian Embassy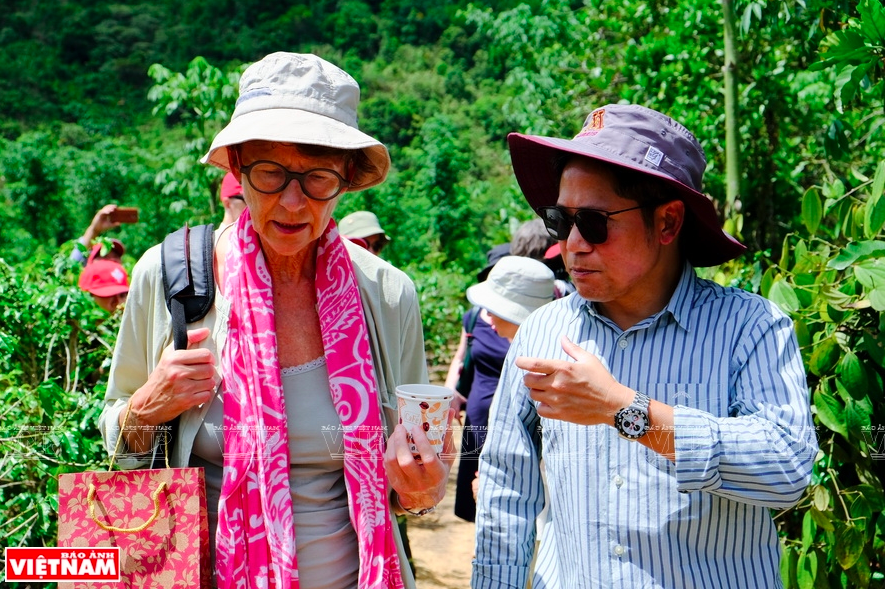 Ambassador Grete Lochen on a business trip in Quang Tri. Photo: Norwegian Embassy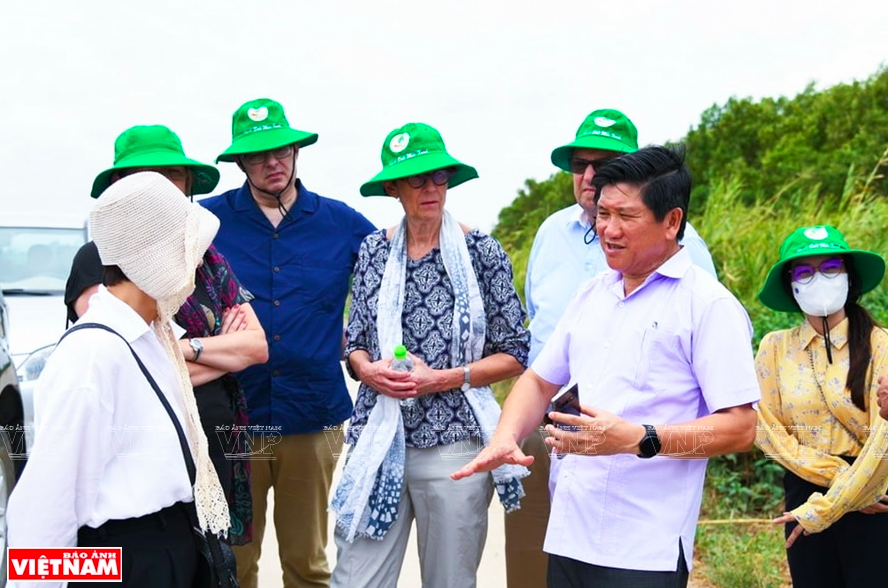 Ambassador Grete Lochen chats intimately with local people. Photo: Norwegian Embassy
"Currently, no country in the world has achieved the goal of gender equality. Therefore, we need to make more efforts, especially the participation of the young generation is extremely important. Gender equality is also the way to achieve sustainable development goals, leaving no one behind," Lochen said.
Norway has worked closely with various partners and stakeholders to address this issue on a global, regional and domestic scale. In 2017, Norway completed the 15-year Young Lives project in Ethiopia, India, Peru and Vietnam. The project studied the causes and consequences of child poverty. In addition, Norway is also sponsoring the project "Solving the problem of gender selection based on gender stereotypes and harmful practices in Vietnam" and another project being implemented in five provinces and cities of Vietnam to mobilize the participation of local women in building effective models for waste and plastic waste management.
"I am really shocked to hear about the heartbreaking number of 45,900 girls who are not born each year in Vietnam just because people know they are girls. This situation is a mentality that respects men and despises women," she said. "Investing in girls and women is not only the right thing to do, but also a smart and extremely profitable thing to do. So I am happy to know that in Vietnam , with financial support from Norway, UNFPA is spearheading efforts with the Vietnamese government to address sex selection at birth."
Lochen has interacted, talked and worked with Vietnamese people in all parts of the country. In Hanoi, the ambassador spent time with fellow ambassadors to congratulate the Vietnamese women's football team on Tet, and participated in running with blind children, with students from universities in Hanoi to participate in the campaign "16 days of action against gender-based violence" organized by UN Women Vietnam.
Thw ambassador also met with members of Hanoi's network of female entrepreneurs to promote empowerment and equal business opportunities. She has visited many localities and provinces in Vietnam to learn about the situation and challenges faced by the locality in socio-economic development, as well as ensuring the participation of women and members of disadvantaged groups.
At the International Conference on the Role of Women and the Prevention of Covid-19 organized by the Ministry of National Defense of Vietnam and the United Nations, she affirmed that she always accompanies Vietnamese women, supporting and assisting in promoting their full potential.
Lochen talks to young people about environmentally friendly recycled products. Photo: VNP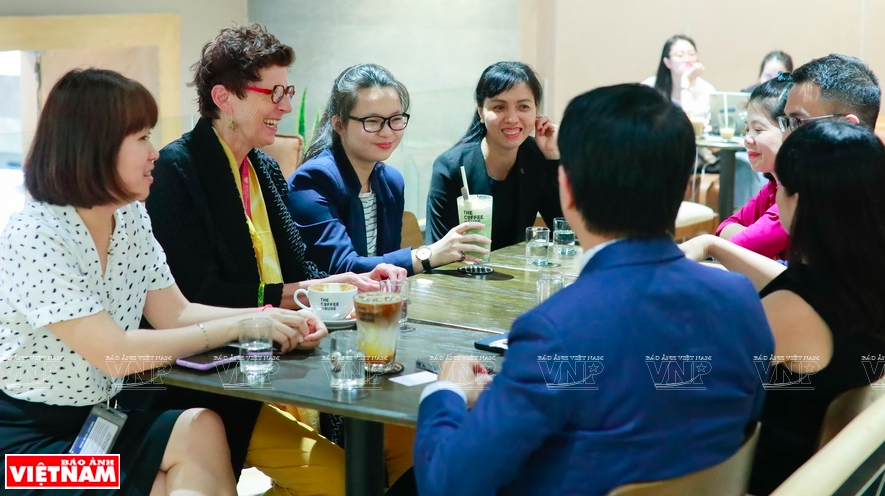 Lochen chats with managers of the Coffee House restaurant chain about using recycled materials. Photo: VNP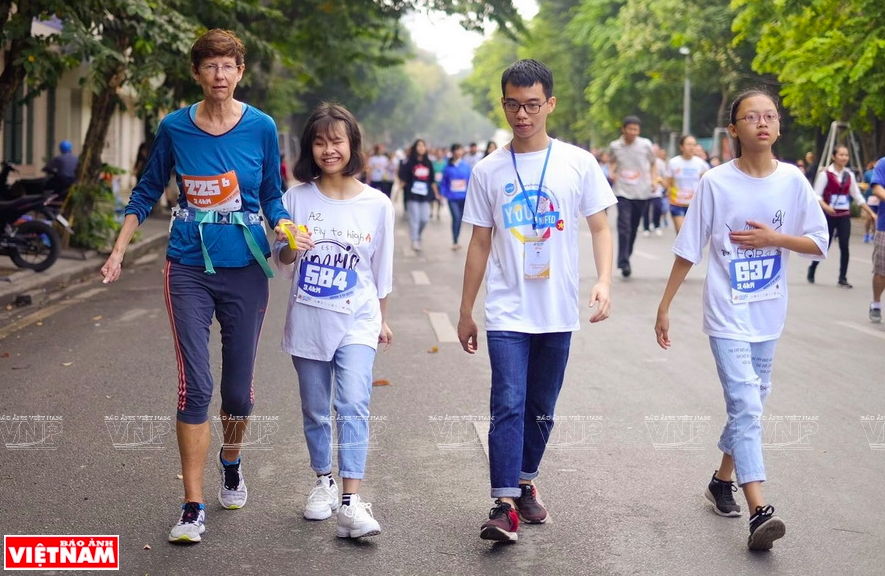 Lochen participates in running with blind children in Hanoi. Photo: Norwegian Embassy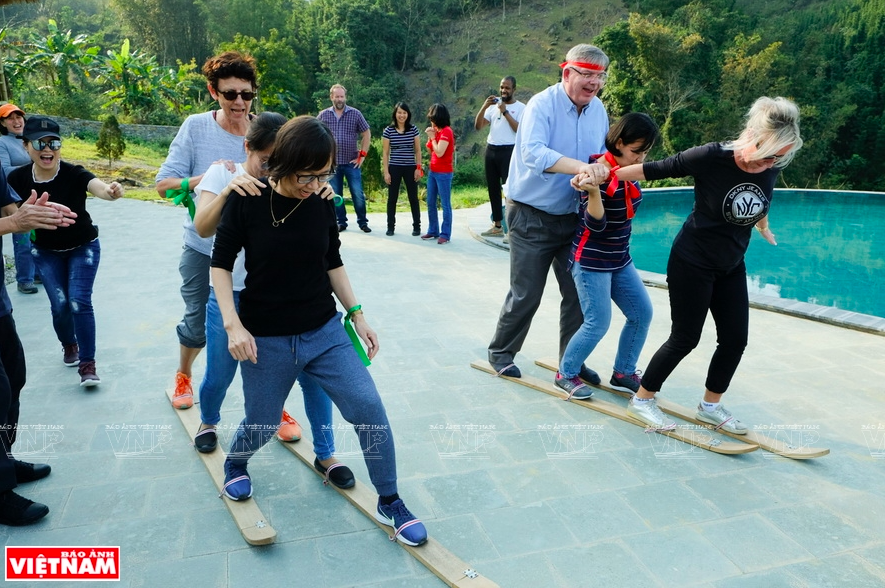 She mingles with Vietnamese young people and colleagues at the Norwegian Embassy. Photo: Norwegian Embassy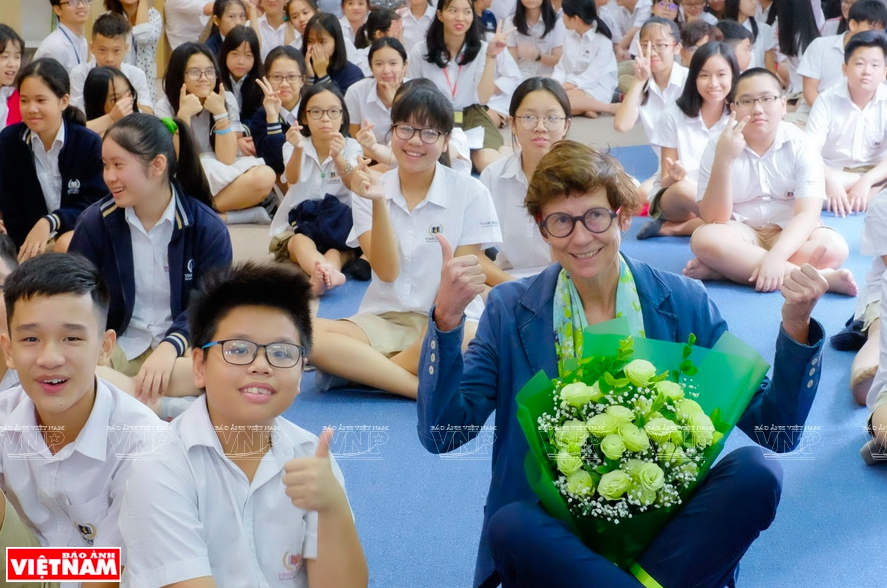 Lochen in an exchange session with students from Vinschool in Hanoi. Photo: Norwegian Embassy
Promoting gender equality and empowering women. Photo: Norwegian Embassy
For the 50th anniversary of the establishment of diplomatic relations between Vietnam and Norway on May 17, 2021, Lochen with embassy officials and staff prepared several events to celebrate the milestone. Among them, the International Conference on Sustainable Ocean Economy and Climate Change Adaptation, co-organized by Vietnam and Norway, will take place at the end of 2021 and a number of cooperation activities between enterprises of the two countries in the fields of fisheries and renewable energy will be held online
Handbook
Southeast Asian cuisine has a long and rich history with many delicious traditional plates that make the pickiest foodies fall in love with.