Over 300 Vietnamese citizens return home safely from Europe and Africa
The latest repatriation flights on May 23 and 24 helped over 300 people fly home from Europe and Africa.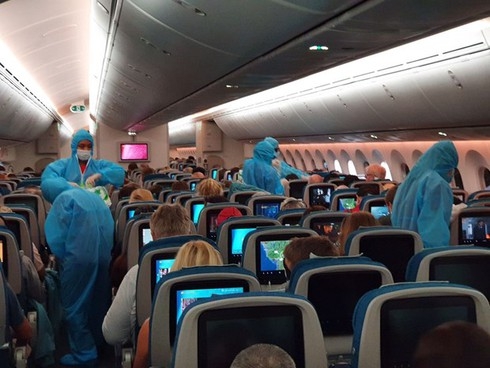 The flights are ensured security, safety and preventive measures against COVID-19. Photo: Vietnam Airlines
Implementing the direction of Prime Minister, Vietnamese relevant agencies, representative agencies and national flag carrier Vietnam Airlines coordinated with host authorities to conduct flighs bringing home safely over 300 Vietnamese citizens.
According to VOV, they include children under the age of 18, tourists and businesspeople whose visas had expired but could not leave European countries such as Germany, the UK, France, Poland, the Czech Republic, Hungary, Portuga, Italy, Denmark, Finland, Switzerland and Slovakia, as well as some Vietnamese citizens stranded in African countries like Algeria and Nigeria.
They gathered at the Amsterdam (Netherland) and Paris (France) airports where the flights were arranged to land.
Vietnamese representative agencies in Europe and Africa guided Vietnamese citizens to move to these airports, while those in the Netherland and France sent staff in order to directly assist citizens as they finalized all necessary procedures before boarding to return home.
To ensure the safety of everyone onboard, the flights saw a strict range of measures enforced, with passengers and flight attendants are required to wear face masks.
After landing at Tan Son Nhat International Airport, all passengers and crew members were given medical check-ups and quarantined in line with the country's regulations.
The flight from Hanoi to the Netherland also carried antibacterial face masks as gifts of the Vietnamese National Assembly's Committee for External Affairs presented to the Dutch parliament.
In the coming time, Vietnam has planned to operate more repatriation flights to bring roughly 2,000 people home from Japan, South Korea, Taiwan (China), Singapore, and New Zealand, VOV cited Dinh Viet Thang, head of the Civil Aviation Authority of Vietnam (CAAV).
On May 25, another flight by national flag carrier Vietnam Airlines will be operated from Tokyo to repatriate 343 citizens to Hanoi.
On May 27, the carrier will help 300 citizens from South Korea fly home. It's scheduled to arrive in Danang on the same day.
On May 29, as many as 343 citizens will be repatriated from Taiwan on flight VN579 to land in Danang.
On May 31, flight VN650 from Singapore will bring home 300 citizens. Passengers will land in the southern city of Can Tho.
On June 1, flight VN68 by Vietnam Airlines will bring home more than 340 citizens from Auckland, New Zealand, and Sydney, Australia and arrive in Ho Chi Minh City on June 2./.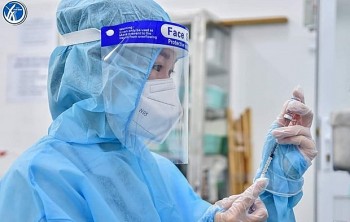 National
Vietnam News Today (December 9): Vietnam confirms 14,595 new Covid-19 cases; Vietnam, New Zealand sign action program to promote strategic partnership; HCM City to inject third Covid-19 vaccine jab from December 10; Hanoi may ban motorbikes in inner areas from 2025.