Oversea Vietnamese Praise Vaccination Campaign in Cambodia
Vietnamese in Cabodia say the vaccination campaign in the country is fast and convenient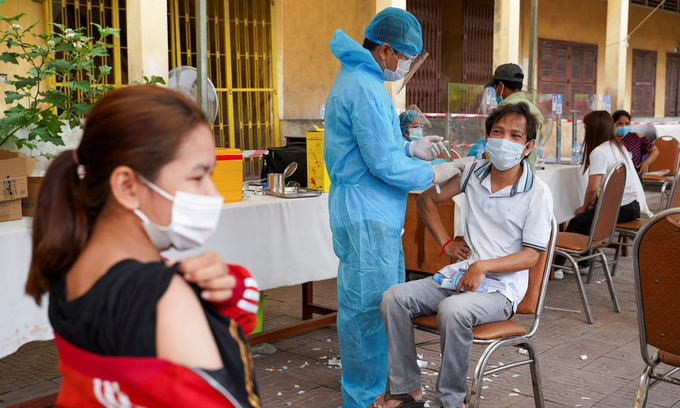 A vaccination site in the capital Phnom Penh on May 1. Photo: Reuters.
Nguyen Tien, a telecommunications worker in Phnom Penh, is one of many Vietnamese living and working in Cambodia who have completed the Covid-19 vaccination program.
"I had two shots of Sinovac a month ago," Tien said. "The vaccination campaign in Phnom Penh is very good. They deploy quickly, continuously and actively support foreigners."
Tien said that his vaccination in Cambodia is registered by the agency supporting the registration and is completely free. "Once you've had two shots, you'll get a vaccination certificate," he said.
The vaccination program in Cambodia, which started on Feb. 10, initially focused on vulnerable groups such as frontline medical workers and military officers. Next, people over 60 will receive the vaccine, which will the be gradually expanded to other groups.
Cambodia, a country of more than 16 million people, has injected nearly 8.3 million doses of the vaccine and nearly 22% of the population has received the full dose. The capital Phnom Penh alone completed the vaccination campaign on July 8, according to Cambodia's National Committee on Covid-19 Vaccination.
"Cambodia focused on deploying vaccines in the capital Phnom Penh first, increasing vaccination for some industrial parks with a large concentration of workers. Then, they expanded the campaign to red, yellow and orange areas," said Sim Chy, chairman of the Khmer Vietnam Association in Cambodia.
Chy said that after the capital Phnom Penh completed the vaccination campaign, Cambodia moved to other provinces with industrial zones and high infection rates.
"Phnom Penh's vaccination campaign is very well organized. They use all the medical centers in the districts and wards as places to vaccinate people. In addition, they also organize vaccination points at schools. The army was also mobilized to support the vaccination campaign for all people in the capital," Chy said of the strategy to help Phnom Penh quickly complete vaccination.
Covid-19 vaccination in Phnom Penh on June 1. Photo: Xinhua/VNA
The Vietnamese community in Cambodia currently has nearly 30,000 people, mainly concentrated in the districts of Chbar Ampov, Russey Keo and Prek Pnov in the capital Phnom Penh. Chy said that at first, it was difficult to vaccinate Vietnamese people here, when the authorities required a Cambodian passport and identification card. However, the Khmer Vietnam Association in Cambodia has sent petitions to 25 provinces and cities to consider allowing Vietnamese people living legally in Cambodia to be vaccinated.
"Currently, about 70% of Vietnamese in Cambodia are vaccinated," he said.
Cambodia has one of the top vaccination rates in Southeast Asia. From the beginning, the country has worked to ensure vaccine supply, as the government welcomes help from all countries, exempting vaccines that meet safety standards as prescribed by the World Health Organization (WHO). Cambodia receives major vaccine support from China and Australia.
"I find their vaccination speed is quite fast, maybe because of the large supply from China, there is enough vaccine for all people, not just for health workers or frontline workers," Huynh Trinh, a Vietnamese living in Phnom Penh, said about Cambodia's vaccination campaign.
Registering for vaccinations in Cambodia is now quite easy, as people only need to bring their identification documents to register at a health facility, according to Trinh. She said before that, people had to register through the app and then wait for a message confirming the injection schedule. However, registration through the application takes a long time to wait, so now people often choose to register directly at the medical facility.
Trinh said she also had two doses of Sinopharm vaccine two months ago. "I felt reassured when I got vaccinated, because the doctor said that even if I was unfortunately infected, the risk of serious illness and death would be lower," she said.
After a period of cooling down in mid-May, the number of infections in Cambodia increased sharply, especially in the last two weeks. To date, Cambodia has reported 59,978 infections and 881 deaths since the beginning of the pandemic. On July 10 alone, the country recorded 933 new infections and 26 deaths.