Overseas Delegates Attend New Year Meeting in Ho Chi Minh City
300 overseas delegates attended the Lunar New Year meeting hosted by HCMC officials Tuesday evening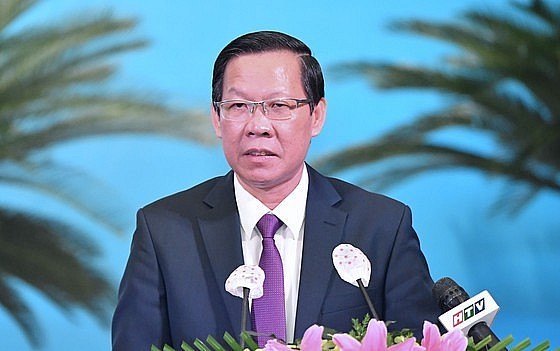 Chairman of HCMC People's Committee Phan Van Mai speaks at the meeting. Photo: SGGP
The event, held by the HCMC Party Committee, People's Councils, People's Committee, and Vietnamese Fatherland Front, welcomed Vietnamese returnees and expressed appreciation for their sharing and support to HCMC's Covid-19 fight.
On behalf of the city's leaders, Chairman of the municipal People's Committee Phan Van Mai recalled the heavy tolls the fourth coronavirus wave has taken to the city, particularly to people's health, lives, and subsequent socio-economic impacts and prolonged recovering time.
However, the chairman said, the city has now basically contained the outbreak, city dwellers can reunite with family and celebrate the Lunar New Year. Such achievement is partly thanks to the tireless efforts of all city officials, citizens, especially the overseas Vietnamese community.
Mai spoke highly of the overseas nationals' efforts in donating medication, medical equipment and sharing anti-pandemic experiences with their countrymen. He also encouraged the overseas community to continue giving support, offering expertise to help Vietnam solve difficult Covid-19 situations. HCMC's core task in 2022 is to overcome the consequences of the pandemic, he added.
The chairman also pledged to fulfill his responsibilities and duties, creating the most favorable conditions to receive comments, suggestions from overseas Vietnamese as well as their investments.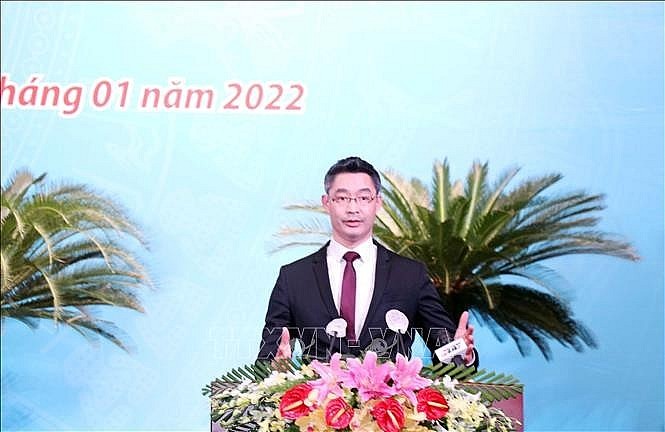 Vietnamese-German Philipp Roesler, former politician who served as the Minister of Health, the Minister of Economics and Technology, the Vice-Chancellor of Germany, speaks at the event. Photo: VNA
Vietnamese-German Philipp Roesler, a former politician who served as the Minister of Health, the Minister of Economics and Technology, the Vice-Chancellor of Germany from 2011 to 2013, and Nguyen Ngoc Luan, an Australian expatriate also expressed their joy, honor, and gratitude for being invited to the meeting.
They also shared the joy of the city's successful containment of the virus, stressing that they are always willing to join hands for the development of the city and Vietnam at large.
"For us overseas Vietnamese, the most important thing is the love for our home country and the solidarity. Hopefully, I and other overseas Vietnamese will contribute more to the homeland in the coming years," Roesler spoke at the event.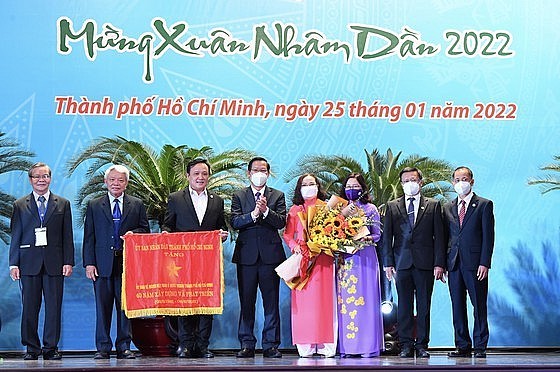 Photo: SGGP
At the meeting, the organizers presented 5 gift packages to 5 outstanding repatriates. The municipal People's Committee also gave the National Flag to the Overseas Vietnamese Committee in HCMC, granted Certificates of Merits to 15 collectives and 29 individuals with remarkable achievements in overseas Vietnamese activities and great contributions to the city's development.
Earlier on the same day, the overseas Vietnamese delegation paid tribute to President Ho Chi Minh at Ho Chi Minh monument square, visited some historical sites in the city, and participated in the talk show "Lunar New Year Greeting of overseas Vietnamese community in HCMC".