Vietnamese Bookstore for People Far From Home
Happy Bookstore has branches in Germany, Canada and the US after less than two years of operation, aiming to bring Vietnamese books to people living far from home.
A bookstore of the Happy Bookstore chain in Germany. Photo: Phuong Linh
Nguyen Thuy Phuong Linh is a book lover. After researching the Vietnamese book market in Germany and Europe in early 2020, Linh noticed that there were few Vietnamese bookstores here.
"For that reason, I decided to open Happy Bookstore. My purpose is to bring Vietnamese books to readers, especially overseas Vietnamese. I also want to bring joy to people when reading my favorite books," Linh said.
Bringing books to overseas Vietnamese community
Nguyen Thuy Phuong Linh opened Happy Bookstore in April 2020. The head office is located in Germany, where Linh is living and working.
After that, Linh invited her close friend in the US to open a chain of Happy Bookstore in the US (July 2020). She shared the idea with her cousin in Canada. Since then, Happy Bookstore branch in Canada came into operation (April 2021).
The bookstore representative also informed about the upcoming orientation to open an official headquarter in Vietnam and branches in other countries around the world.
According to the founder of the Happy Bookstore chain, books are a means of supporting parents in cultivating language, vocabulary and developing Vietnamese language for children.
Happy Bookstore operates with the desire to bring Vietnamese books to overseas readers. In particular, the main target is children living and growing up abroad, having little opportunity to come into contact with their mother tongue.
This bookstore also aims at other audiences (young people, parents) who want to learn about the topics they are interested in through Vietnamese books.
A reader with an account named Cam Tho Stock (Germany) said: "I love reading books. However, since settling abroad, I can only read books in foreign languages. I miss the feeling of reading books in Vietnamese. Thanks to Happy Bookstore, I can buy my favorite books and also limited editions signed by the author."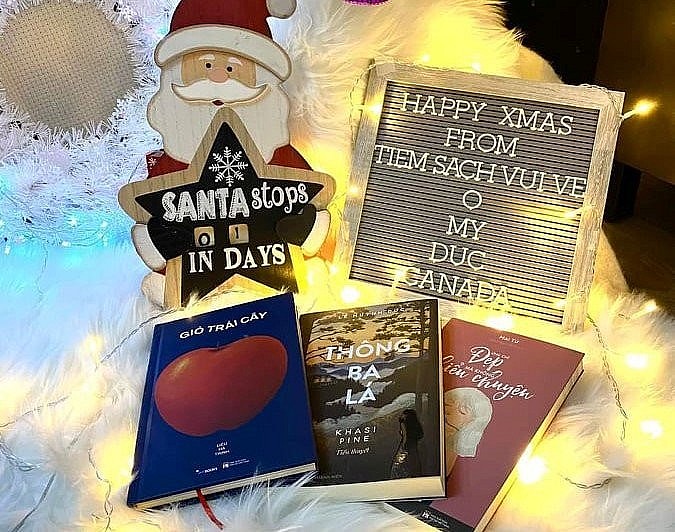 Some books distributed by Happy Bookstore in the German, Canadian and American markets. Photo: Phuong Linh
Cooperation to bring Vietnamese books to the world
After nearly two years of operation, Happy Bookstore has distributed Vietnamese books to the world through cooperation with domestic book companies such as Lionbooks, Nha Nam, and Kim Dong Publishing House.
Nguyen Thuy Phuong Linh said that the problem of fake books and pirated books is attracting the attention of the Vietnamese community. Therefore, Happy Bookstore has sought out reputable domestic publishers, book companies and major e-commerce platforms such as Tiki and Fahasa to purchase quality books.
Since its establishment, the bookstore has focused on selecting books for children aged 0-6 and parenting skills books. After operating for a while, the demand for book topics is more diverse. Readers in those countries also find information about the book they need, and send it to Happy Bookstore to express their desire to buy.
Pham Thuy, Thai Ha Books (one of the units cooperating with Happy Bookstore) said that bringing Vietnamese books to the international market is the goal that her unit has always strived to accomplish over the years, through various activities such as book fairs, international cooperation programs, copyright sales.
A special feature at Happy Bookstore is that it has cooperated with authors to get their signatures directly. "That's also how we set ourselves apart from other bookstores overseas. The key point is to create a connection between the author, the work, and the readers," said the founder of Happy Bookstore.
Happy Bookstore is operated through the Fanpage, website, Amazon. A number of small bookstores are also opened in public places, where many people pass by.
Mai Le Phuong Loan, representative of Happy Bookstore in the US, said that people here enjoyed quality Ehon book series in terms of content and images.
At the Canadian branch, the original purpose was towards children's books, but then leaned towards life skills books, novels, and short stories for young people.
"One of the reasons lies in the majority of customers in Canada are international students. I myself, when developing the Happy Bookstore system in Canada, was also an international student. Therefore, I clearly understand the joy of reading a Vietnamese novel in cold weather. The feeling of holding a book in your hand is better than reading on an e-reader," said Tran Thi Phuong Loan, owner of Happy Bookstore in Canada.