President Praises Contributions by Overseas Vietnamese
Vietnamese communities abroad have made valuable contributions to the country, including the initial success of the vaccine diplomacy, said President Nguyen Xuan Phuc at the "Xuan Que Huong" (Homeland Spring) programme 2022.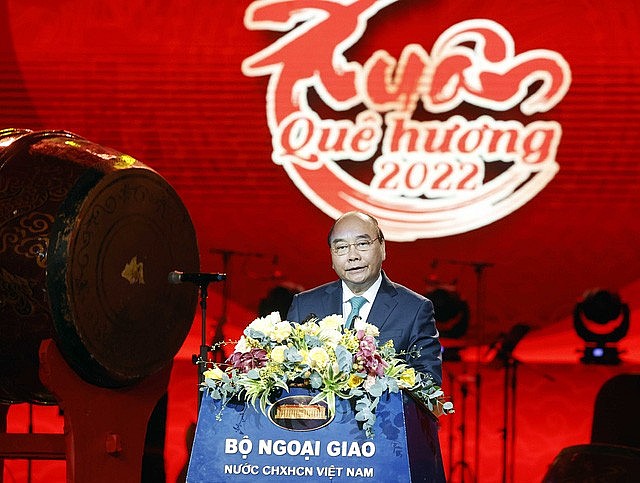 President Nguyen Xuan Phuc speaks at " Homeland Spring" programme. Photo: VTV
As many as 300 overseas Vietnamese returning home to welcome the Lunar New Year festival 2022 were treated to an art programme " Homeland Spring" in Hanoi's Opera House on January 22.
The programme, organised by the Ministry of Foreign Affairs' State Committee for Overseas Vietnamese Affairs, was attended by President Nguyen Xuan Phuc, his wife, and many Party and Government leaders, VOV reported.
President Phuc sent his sincere greetings and best New Year wishes to Vietnamese people, including those living, working and studying abroad, saying overseas Vietnamese affairs always receive special attention from the Party and State through decision making.
The President praised the Vietnamese expat communities for their unity, mutual support, and quick adaptation to the pandemic, which he said have beautified the Vietnamese community's image.
Many intellectuals, especially the successful, young generation of overseas Vietnamese, have returned home to start business and engage in effective cooperation.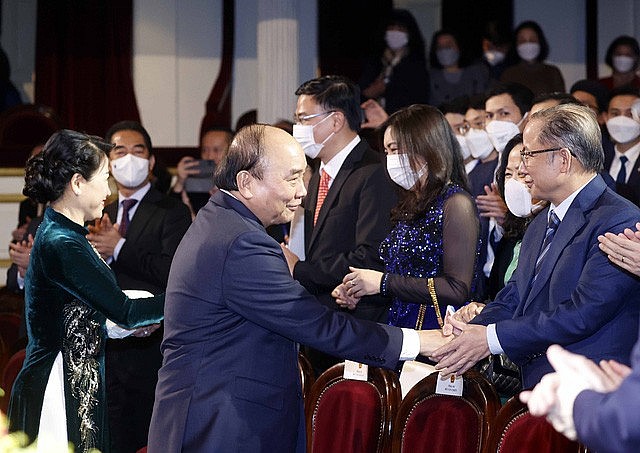 President Nguyen Xuan Phuc praises the valuable contributions made by overseas Vietnamese. Photo: VTV
Overcoming difficulties, overseas Vietnamese have made valuable contributions to the country, the initial success of vaccine diplomacy, and the network of expatriate intellectuals with their useful advices and initiatives.
Remittances sent home by Overseas Vietnamese in 2021 continued to increase, totaling nearly 14 billion USD.
As Vietnam enters the new year 2022 with both opportunities and challenges, President Phuc said he hopes that compatriots abroad, in any circumstances, will always uphold the Vietnamese spirit, stay optimistic, strong, flexible, united, and creative, and firmly believe that a new better destiny will definitely arrive in the year of the Tiger.
The art programme featured traditional dances and songs in praise of the unity tradition of Vietnamese people, as well as the new spring. Last year, this annual programme was cancelled due to the Covid-19 pandemic.
President welcomes Honorary Consul of Vietnam in Switzerland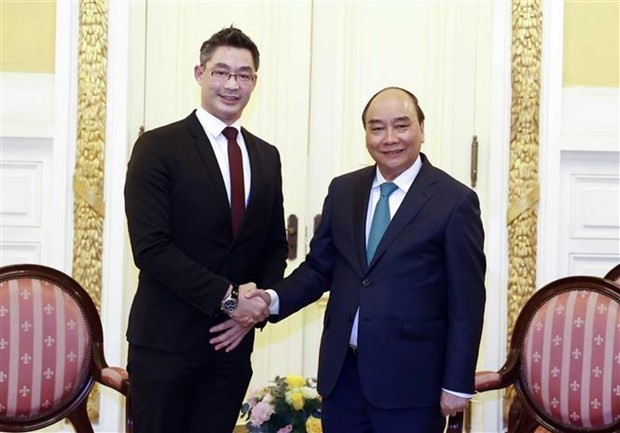 President Nguyen Xuan Phuc (R) and Dr. Philipp Rosler, Honorary Consul of Vietnam in Switzerland, at the meeting in Hanoi on January 22. Photo: VNA
The same day, President received Dr. Philipp Rosler, the first Honorary Consul of Vietnam in Switzerland, in Hanoi, VietnamPlus said.
The State leader appreciated enormous contributions to the Vietnam - Switzerland ties by Rosler, who is also former Vice Chancellor of Germany and a Vietnamese-origin person returning to attend the Homeland Spring programme.
President Phuc also noted that Vietnam wishes to enhance the strategic partnership with Germany, especially in information technology, infrastructure, renewable energy, digital transformation, and green economy. He asked the former Vice Chancellor of Germany to continue supporting bilateral relations, especially as the European country recently had a new government.
He called on Rosler, as the Honorary Consul of Vietnam in Switzerland, to actively popularise Vietnam and its economic potential and persuade Swiss businesses with modern and green technology to invest in the Southeast Asian nation.
At the meeting, the host leader also repeated the appeal to Rosler and Swiss enterprises for supporting and promoting the early signing of a free trade agreement between Vietnam and the European Free Trade Association, as agreed by the Vietnamese and Swiss Presidents in early December 2021.
OVs play a role in homeland's pandemic combat
Vietnamese abroad who have made great contributions to Vietnam's Covid-19 fight and development were honoured at a meeting within the framework of Homeland Spring programme 2022.
Addressing the event, Deputy Foreign Minister Pham Quang Hieu, who is head of the Foreign Ministry's State Committee for OV Affairs, said that this is a special and meaningful occasion to look back on a challenging 2021, and express gratitude to individuals and organisations who have supported and accompanied the country to overcome difficulties in recent years.
OVs in many countries have engaged in practical activities to help the homeland. They have donated up to VND80 billion (over $3.5 million) to the fight against the Covid-19 pandemic in general and the Covid-19 vaccine fund in particular, along with large amounts of medical equipment and supplies.
Many Vietnamese expatriates in Singapore, Australia, Japan, Germany, the US, and the Republic of Korea have actively worked with Vietnamese representative agencies abroad in calling for assistance from their host countries' governments, opening up many opportunities for Vietnam to access vaccines, medicines and medical equipment and supplies for Covid-19 prevention.
Besides active contributions to Vietnam's vaccine diplomacy, overseas Vietnamese organisations and networks of entrepreneurs, intellectuals, youth and students had kept effective connections with the homeland, contributing to the nation's socio-economic development, Hieu said as cited by Viet Nam News./.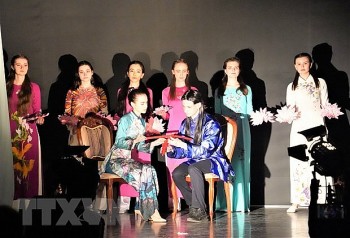 Overseas Vietnamese
Two exchange programmes were held in Russia, attracting manyemany and students of Vietnamese studies from leading universities in Russia.