Overseas Vietnamese Experience a Joyful Oktoberfest Reunion
Every fall, tens of millions of people from across the globe congregate in Munich, Germany for "Oktoberfest," a unique folk event that has been held there for more than 200 years. It's a wonderful opportunity for the Vietnamese community in Germany to get together and indulge in the celebration.
When people talk about Munich, the wealthiest and busiest city in Germany, they don't just mention the well-known BMW car company, the legendary football matches played at the Allianz Arena stadium of the host team Bayern Munich, or the magnificent churches built in the style of sophisticated Gothic architecture. Millions of people from all over the world congregate here each fall for "Oktober fest," a unique folk event that has been held here for more than 200 years.
More than 60 Vietnamese expatriates gathered
"Come join us if you wish to visit Munich for a beer," the kind invitation of Tran Thuy's schoolmates at Hanoi High School, the year 1991–1994, who were living in Munich sent out. In response to that, more than 60 friends and family members from countries such as Germany, France, Poland, the Czech Republic, Slovakia, Hungary, the United Kingdom, and Ireland eagerly participated.
Due to the high cost and constant occupancy, it is difficult to locate a hotel to rent in the city center at this time. Thuy's Munich-based pals have done their best to provide accommodations for those who reside far away from their families. The remainder can affordably hire wooden tents close to the event area. All at the most affordable price and ease.
They met at a Vietnamese restaurant on Saturday night to enjoy the warm ambiance of the motherland while dining on delectable authentic Vietnamese cuisine including hot pot, phở, goat meat, etc. They all sing exuberant tunes while holding hands and joining in. An evening packed with friendship-related feelings and indelible memories of our homeland in the hearts of every expat child.
Thuy and her companions arrived at the festival hub the following morning at precisely nine o'clock. It is a sizable piece of land that is situated in Munich's city center. The beer festival 2022 returns from September 17 to October 3 for the 187th after a two-year break brought on by the COVID-19 pandemic.
More than 6 million people, consume millions of liters of beer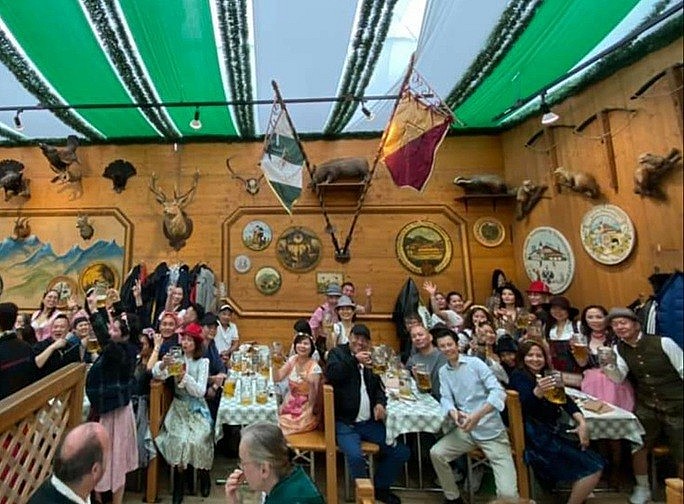 More than 60 Vietnamese expatriates gathered at the corner of a tent. Photo: NLĐ
Tran Thuy recalls that she was in front of a broad street lined on either side with eateries and shops selling trinkets and beer big tents. The total number of large and small beer tents in this area is around 38. About three months in advance, the tents were erected. A few thousand to more than 10,000 people can fit inside and outside most tents, which have been around for a very long time.
The most well-known is the Schottenhamel tent, where the festival's opening bell is rung by the city's mayor. The Hofbräu-festhalle tent, which can accommodate up to about 11,000 people, is the largest.
The tents all serve their own, very concentrated, tasty, and mellow-tasting beer that is distinctive of Bavaria and includes brands like Paulaner, Augustiner Bräu, and Löwenbräu. For this celebration, which draws more than 6 million visitors annually, the organizers must brew millions of gallons of beer.
The Armbrust schützenzelt tent, which was built by the Peter family in 1895 and can hold more than 7,000 people both inside and out, served as the gathering place for the Vietnamese expatriates. You can see a picture of a hunter and a bow right at the entrance since here is the archery club's tent. Two large floors make up the inside, which is embellished with numerous deer horns, chamois heads, furs, buzzards, and pictures of mountains, hunting, and collecting from the past.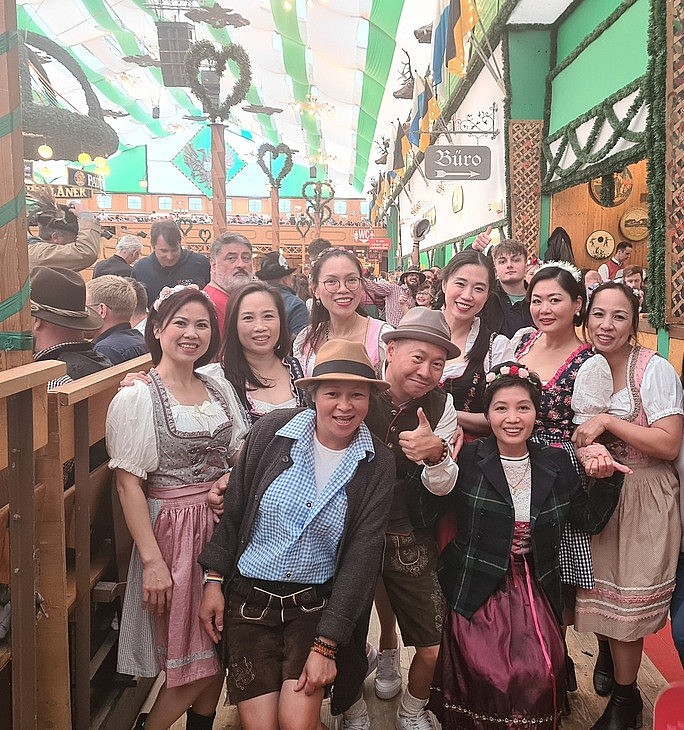 Vietnamese gathered at the event in Munich. Photo: NLĐ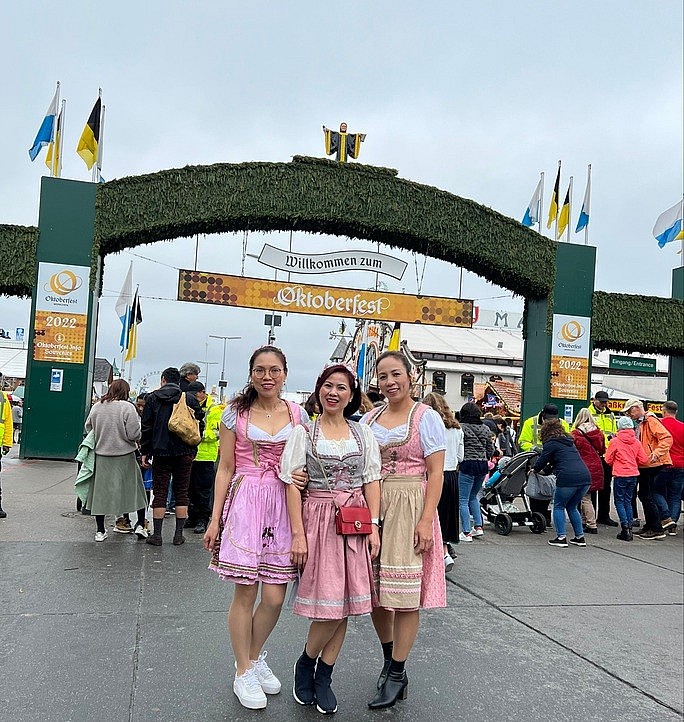 The girls are incredibly attractive and endearing at Oktober Fest. Photo: NLĐ
The group of Vietnamese classmates had to make reservations in advance in order to have a comfortable meeting site. In their classic, form-fitting Dirndl costumes, the girls are incredibly attractive and endearing. Strong males wearing plaid shirts in various colors and strapped leather shorts. From the time they enter the tent, everyone exudes joy and a desire to engage in the raucous joyous mood. The sound of toasting could be heard. One-liter Paulaner beer bottles with supple white froth were displayed.
The sound of beer pints clinking together and laughing made the setting more alive. Beverages made just for the city's beer festival should be consumed. They were brewed using unique barley and hops and fermented using a family recipe. The taste of the high-quality beer made the experience worth every minute. Sweet beer makes soft lips unaware of intoxication. Simple grilled chicken, stewed hog leg, white sausage, pickled vegetables, and mashed or deep-fried potatoes make up the meal.
Leisurely sipping a Brezel twist bread in the shape of a man with his hands clasped in front of his chest in prayer is how delicious it is. The crust is golden brown, the top is sprinkled with salt, the place where the rope is twisted is very crispy and the place that expands is soft and chewy.
Time flies when you enjoy yourself
In addition to the beer tents, there are approximately 200 thrilling and daring activities for all ages, including the longest roller coaster in the world, Olympia Looping, with five twists that are roughly 1,300 meters long. Players may also be gently raised 50 meters at the enormous wheel to observe the entire panorama of the 31-hectare event and the city of Munich.
There are businesses around that specialize in savory foods like duck, veal, sausage, or desserts that have enticing fragrances.
Time flies by so quickly when you are just drinking and conversing with friends you haven't seen in a while, sharing updates about your families and jobs. The trumpet team's performances of traditional folk music are the most enjoyable. The tent's two floors sprang to life. Along the sound waves, they whistled, clapped their hands, and applauded. Once more, beer was lifted and consumed as if it had only been for one day.
Everyone seemed kind and amiable. Despite not knowing one another, they are eager to swoop in to snap photographs with you. When a female friend still has a bow on her left arm, it indicates that she is not married and happily toasting a friend or making an effort to get to know them. Nobody accused it of being groping, despite the fact that all of these behaviors are characteristic of a folk festival, whose main goal is to provide participants great joy and refreshment after a lot of arduous life work.
Around 4 pm, Thuy and her friends had to part. They had to depart somewhere far away from each other and continue with their daily routines. But surely the joys of this traditional folk festival will forever be imprinted in each of the members of the group's hearts as Thuy and everyone promised, "Let's meet at Oktoberfest next year".
Người Lao Động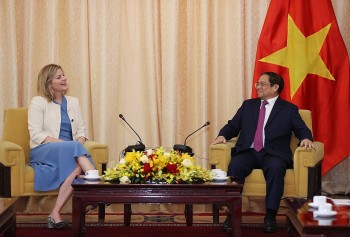 National
The Netherlands committed to cooperate with Vietnam, and together find innovative and sustainable solutions to accelerate green economy transformation.