Overseas Vietnamese in the US raise funds to support Da Nang in COVID-19 fight
Nguyen Ha and her friends, Vietnamese in America has launched the campaign of raising funds named "Joining hands for Vietnam" to donate Da Nang, Vietnam's COVID-19 epicenter.
Although some members are busy with their work and family, they have made efforts to raise funds within one week to send to Vietnam.
"We want to do something in the fastest time to help our home country. Thanks to the experience in organizing many community activities, we think one week is the optimal time to spread the campaign. We consider it as the week of joining hands for Vietnam", Trieu Thuy Lan, one of the team members, shared with VnExpress.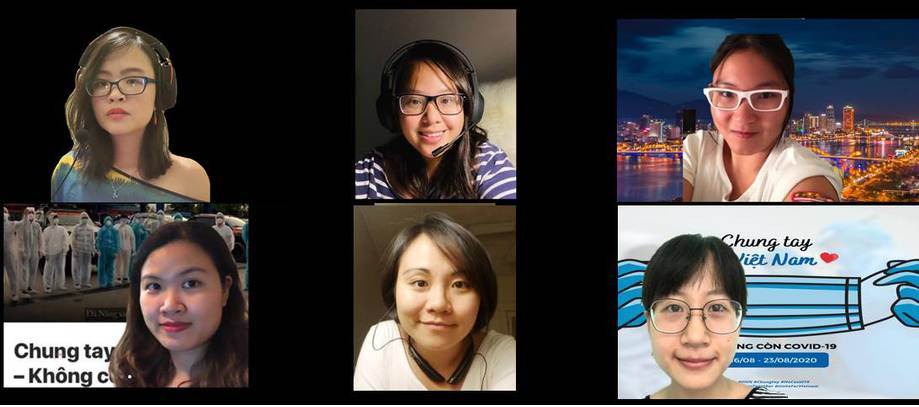 Their daily online meeting to discuss the campaign Photo: VNExpress
Thuy Lan, living in Southern California is in charge of media and managing funding site Gofundme. Nguyen Ha, the initiator, attending Harvard University while taking care of two children is responsible for the accountant and promoter of the campaign.
Doan Thi Minh Phuong living in Saint Louis City, Missouri, is in charge of foreign affairs and communication. As the founder and operator of many organizations of students and experts in the US, Phuong connected the fund-raising campaign with more than 20 professional organizations, students, and the Vietnamese community in America, Japan, and Korea.
Bui Ngoc Thi, studying at Massachusetts University is responsible for translating Vietnamese contents into English.
Truong Phan Ngoc My, a Da Nang girl working in Boston, Massachusetts, became a bridge between the group and the volunteering units in Vietnam to identify people who need to be helped.
Besides, the team receives assistance from Ngo Ngoc Linh, a former student at Foreign Trade University. Linh works full time and has to stay awake until midnight to discuss the campaign.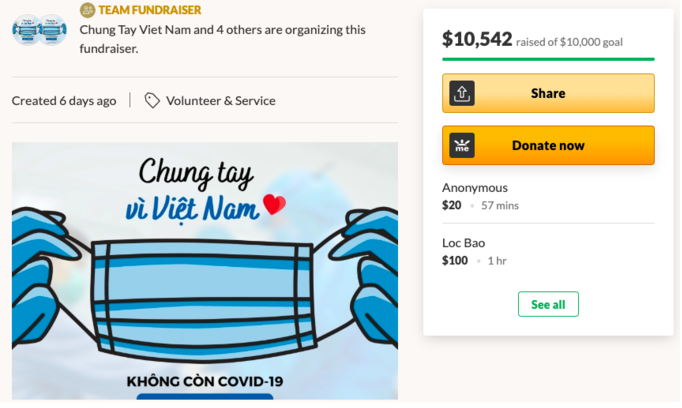 The campaign has received over US$10.000 on the fundraising site GoFundMe. Photo: GoFundMe
The campaign officially kicked off on the evening of August 16 and has been well-received since its circulation on the Internet. As of August 21, the total fund has amounted to US$10.000.
"There is an 11-year-old boy in California donating US$ 5 from his savings, or a person in Los Angeles despite being unemployed also donates US$50. We would like to express our gratitude towards the repatriates although they are severely affected by COVID-19 pandemic", said Thuy Lan.
On August 21, US$ 5,000 (VND115 million) was transferred to Da Nang and Quang Nam to support medical facilities and jobless people. The remaining will be allocated to help the other localities. The team mulls over launching the prolonged fund-raising projects so that it can be ready to help Vietnam at any time.