Citizens brought home from Taiwan; Singapore reports new coronavirus case imported from Vietnam
About 290 Vietnamese citizens in Taiwan (China) were flown home on a flight of Vietnam Airlines on August 19. Meanwhile, Singapore reported 93 new COVID-19 cases, included a student from Vietnam.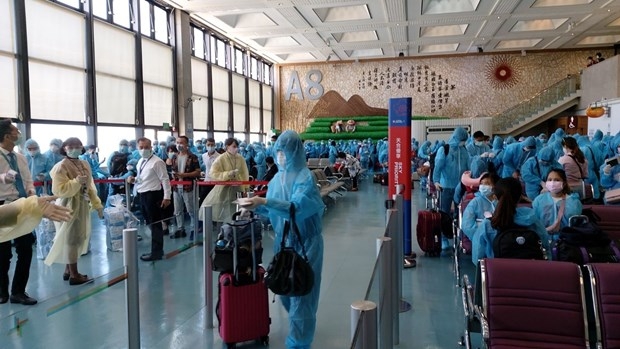 Vietnamese citizens wait for boarding procedures to be handled at the airport in Taiwan. Photo: VNA
Over the past few months relevant agencies have arranged many flights to bring Vietnamese citizens home.
Most recently, about 290 Vietnamese citizens from Taiwan were brought home safe and sound on August 19.
The flight was arranged by Vietnamese authorities, the Vietnam Economic and Cultural Office in Taipei, the national flag carrier, and relevant agencies of Taiwan.
Passengers were those with special disadvantages, including the elderly, students under 18, workers with expired labour contracts, pregnant women, ill persons, and stranded tourists.
The Vietnam Economic and Cultural Office in Taipei sent staff to assist the citizens to handle boarding procedures at the airport.
Security, safety and hygiene measures were carried out throughout the flight to protect their health and prevent the spread of COVID-19.
Upon landing at Cam Ranh International Airport in the central province of Khanh Hoa, those on board received health check-ups and sent to concentrated quarantine facilities.
More flights are set to be conducted in the time ahead to repatriate Vietnamese citizens with disadvantaged circumstances.
August 19 also saw more than 230 Vietnamese citizens from the Republic of Korea were brought home.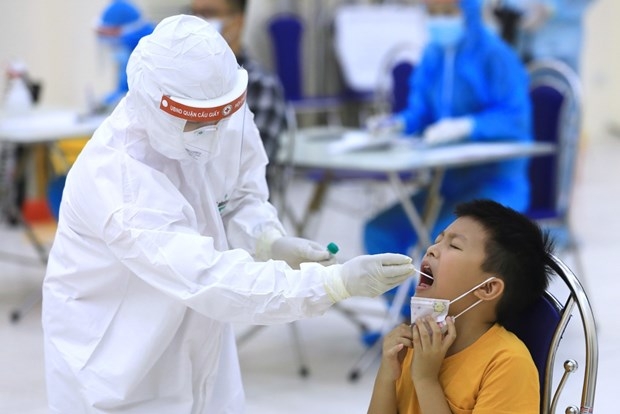 A health worker of Hanoi's Cau Giay district takes a throat swab from a boy recently returning from Da Nang for COVID-19 testing. Photo: VNA
Vietnam reported four new locally infected cases of the coronavirus on August 19 evening, raising the total to 993, according to the national steering committee for COVID-19 prevention and control.
Of all COVID-19 cases, 653 are local infections, including 513 related to Da Nang since the latest outbreak began there on July 25.
The new outbreak has spread to 15 cities and provinces since the SARS-CoV-2 virus recurred in Da Nang three weeks ago. Da Nang is the hardest hit locality, followed by Quang Nam, Hai Duong, Ho Chi Minh City, and Hanoi.
The growing number of new cases showing no signs of stopping in Vietnam and among the latest imported cases in Singapore was a 23-year-old student's pass holder who arrived from Vietnam on August 7, reported CNA.
This brings the country's total number of cases to 56,031.
All six imported cases were placed on stay-home notices upon their arrival in Singapore, said the Ministry of Health.
All the imported cases were tested while serving their stay-home notices, it added.
The detail of the Vietnamese citizen's information will be updated further as more information becomes available./.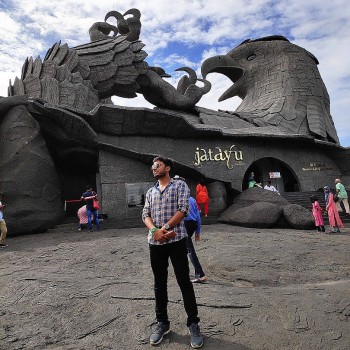 World
The world's largest bird sculpture in India took artists 10 years to complete