Overseas Vietnamese Support Viet's Books to Be Introduced to Asian Market
In addition to the sale of copyright for Vietnamese books to the Asian market, domestic publishers have cooperated with Vietnamese bookstores of overseas Vietnamese.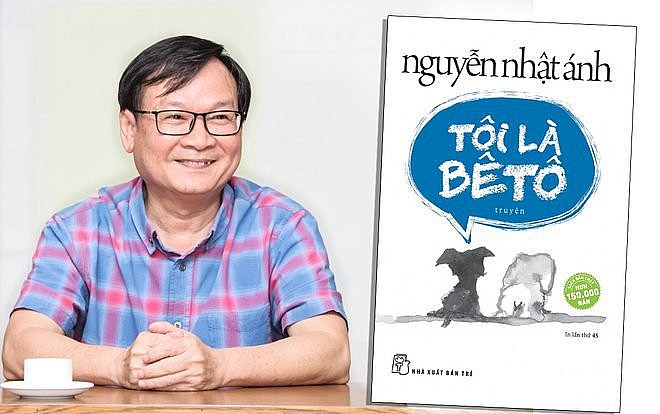 The work I am Beto by writer Nguyen Nhat Anh was copyrighted to Korea. Photo: Tre Publishing House.
Bringing Vietnamese books to the world is one of the key goals of the publishing industry.
In recent years, this direction had certain achievements. Some books have been successfully copyrighted to Asia such as: I Am Beto, Crossroads and Lampposts, Saving Sorya: Chang and the Sun Bear (sold to Korea); Friends (sold to Japan).
Some domestic units have also coordinated with overseas Vietnamese bookstores to distribute books in the Asian market.
Selling book copyrights
Recently, the book "How did I learn English?" by young author Do Nhat Nam (published by Thai Ha Books) was selected as one of the Vietnamese books to be translated into Thai, in the cultural program of ASEAN countries by the Ministry of Culture of Thailand.
Many books of Kim Dong Publishing House are also available on the Asian market such as: A Brief History of Vietnam, which are copyrighted to Taiwan (China) and Korea.
Recently, this unit also brought the comic book Friends to Japanese readers. Previously, the copyright of the book Saving Sorya: Chang and the Sun Bear was successfully sold to a publishing unit in the UK, then, franchised to 5 other publishing units, including Korea and China.
Nguyen Nhat Anh is a writer whose books have been copyrighted to the Asian book market. Last September, his publication I am Beto (published by Tre Publishing House) was copyrighted by a Korean publishing company.
The novel "Crossroads and lampposts" by author Tran Dan also attracted attention when, after more than 5 decades of publication, the copyright was sold to IWBOOK Publishing House (Korea).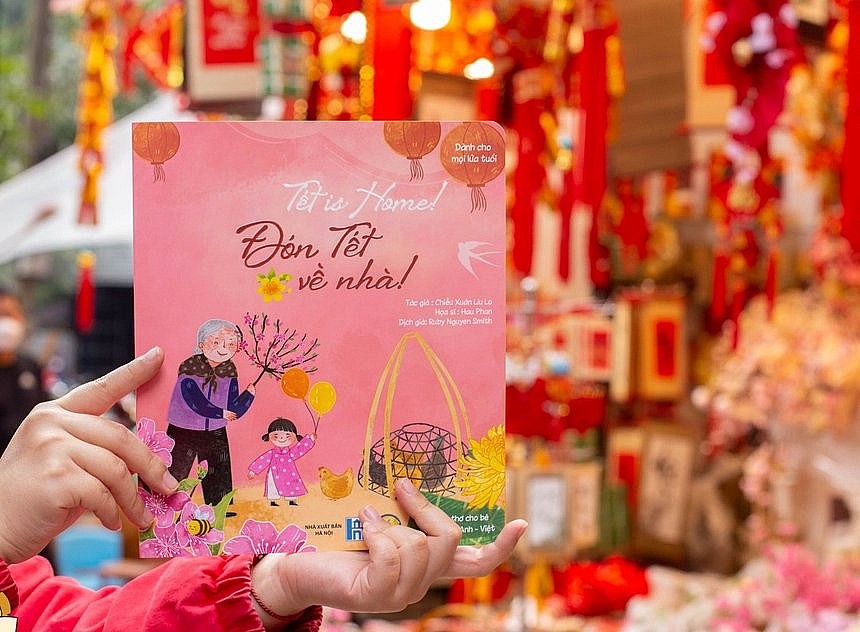 Books on Tet holiday are widely distributed in foreign markets. Photo: Lionbooks
Distributing Vietnamese books to Asian market
Nguyen Chieu Xuan, CEO of Lionbooks, said that the Asian market has similarities with Vietnam. Therefore, the sale of copyright and distribution of Vietnamese books has many advantages.
Bringing Vietnamese books to the world has prospered partly thanks to the fact that domestic publishing units cooperate with overseas Vietnamese bookstores to distribute books to Vietnamese people far from their hometown.
Tuyet Nhung currently lives and works in Japan. She shared her desire to preserve Vietnamese for her children while living here: "In the past, every time I returned to Vietnam, I would bring a suitcase of books for my children to read. I hope to maintain my child's Vietnamese language."
As a book lover, the dream of opening a bookstore since childhood prompted her to set up a group of Children's Books in Japan. The bookstore officially went into operation in 2019.
"The books distributed in Japan are mainly stories for baby, Vietnamese language learning books and parenting skills books, from major domestic publishers such as Kim Dong, Dinh Ti, Nha Nam." Nhung said.
Fanpage of Good Books for Children in Taiwan was also set up, led by Nguyen Thi Hang Nga and Trinh Xuan Quynh.
They said it is not easy to find Vietnamese books abroad. Books are often very heavy, so it is not possible to carry many books on the flight. Moreover, as children grow up at different ages, their reading needs change, and old books are no longer relevant.
One of the difficulties of distributing books abroad is the high cost of shipping, which makes the selling price much higher than the original price.
A representative of Lionbooks - a unit that regularly cooperates with bookstores abroad, said that the books that are popular with Vietnamese readers in Asia are Tet books and children's books.
"I think the overseas Vietnamese always have their hearts towards the homeland. In the coming time, we will plan to introduce more Vietnamese-style books on family, people, culture, and landscape. We wish to contribute a small part in realizing the industry-wide goal: Bringing Vietnamese books to the world," said Chieu Xuan.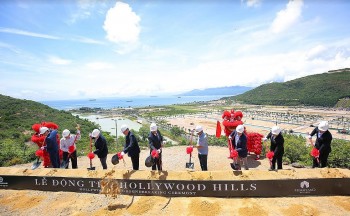 Economy
On October 2, at Hai Giang peninsula (Quy Nhon city, Binh Dinh), Hung Thinh Corporation held the groundbreaking ceremony of Hollywood Hills by YOO Inspired by Starck – a subdivision at MerryLand Quy Nhon. The event marks the first time that the world's No.1 ranked design and branded residence company YOO Inspired by Starck is officially present in Vietnam, with a collection of villas designed by creative director, Philippe Starck.