Overseas Vietnamese Return to Celebrate Tet after Covid-19
After only 2 years away from home due to Covid-19, many overseas Vietnamese are feeling surprised by the changes in Vietnam. Those who have not yet returned are eager to do so.
Ho Chi Minh City is organizing overseas gatherings. In particular, Vietnamese expatriates who return to the city can visit major projects, agencies, and enterprises applying high technology, and historical and cultural relics. Through these activities, they have the opportunity to meet their fellow countrymen and share their feelings with everyone.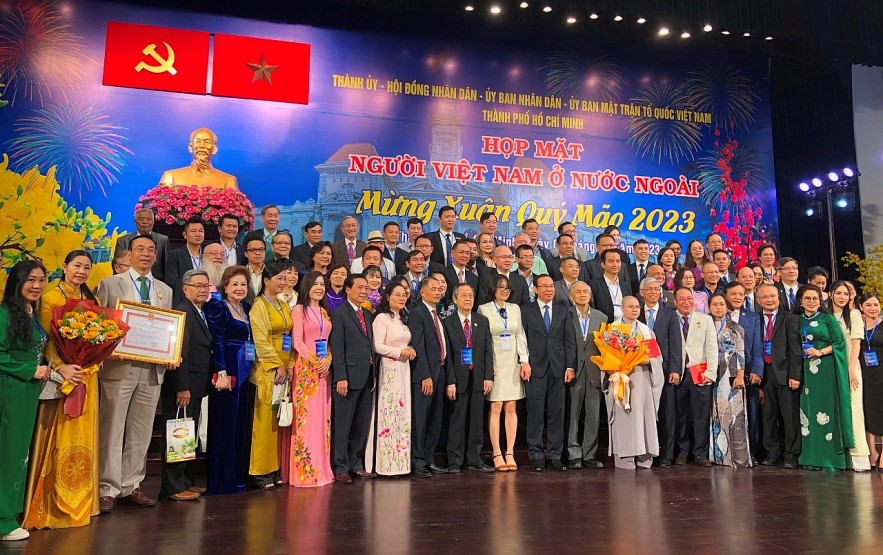 More than 1000 overseas Vietnamese attended the Meeting of Overseas Vietnamese to celebrate the Lunar New Year. Photo: Vietnamtimes
Jahn Kim Lien, who lives in Germany, is happy to be back in the fatherland.
"During the two years of the Covid-19 epidemic, I was unable to return to Vietnam to celebrate Tet. I had the feeling my life was missing something very important. That was my family who is living in Vietnam. I wanted a warm reunion with them in the Tet atmosphere. The pandemic has made me understand that I need to cherish every moment with my loved ones, and try to visit my hometown whenever possible."
After only 2 years of not returning to the city, she was surprised to see that it has undergone development in many areas, especially urban infrastructure, transportation, and tourism.
The familiar places she used to pass every time she returned to Saigon, now have a new look such as Thu Thiem 2 bridge connecting District 1 and Thu Thiem's new urban area in District 2. It was inaugurated in 2022 and built across the Saigon River. This bridge not only contributes to reducing traffic volume at the intersection of many arterial roads, but it also makes the city landscape more beautiful and attractive to visitors.
Not far from Thu Thiem 2 bridge is Bach Dang wharf, which is also beautifully decorated. Bach Dang Wharf Park has green lawns, rows of stone benches, and colorful flowers. This place is very suitable for visitors who like to walk along the riverside or enjoy the view of the city from the Saigon River. Lien believes that her city's landscape is not inferior to that of the modern and civilized countries that she has had the opportunity to visit.
Jahn Kim Lien, an overseas Vietnamese and her husband returned to Vietnam to celebrate Tet after a two-year hiatus due to the COVID-19 epidemic. Photo: Vietnamtimes
Phan Thi Sach, who lives in Southern California, still occasionally returns to Vietnam to visit relatives and do charity work in her homeland. She is a member of the founding board of the Overseas Vietnamese Group to build rural roads.
After nearly 20 years of establishment, the group has built nearly 300 friendship bridges across the Mekong Delta, and Central and Northern provinces, with a total length of more than 7,500 meters.
She said that Tet in the US, everyone goes to work no different from normal days. Only when she returned to Vietnam did she experience the very unique Tet atmosphere of her homeland. Since the outbreak of the COVID-19 pandemic, for the past two years, she has celebrated Tet in the US.
This year, during the trip to Ho Chi Minh City to celebrate Tet, she was accompanied by a delegation of overseas Vietnamese in the city within the framework of the program "Meeting overseas Vietnamese to celebrate the Lunar New Year 2023".
She was very impressed and interested in the relics of the Saigon commandos. She said: "Although I often visit Ho Chi Minh City, this is the first time I know about this relic. I think the program is very good, it helps expatriates have the opportunity to interact with each other, and helps us understand more about historical culture through each historical place."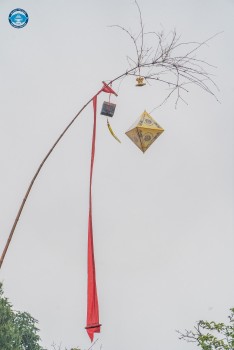 Viet's Home
In the past, the Neu pole (a tall bamboo pole with red garment strips used to ward off evil spirits during the lunar New Year) lowering ceremony at the royal palace of the Nguyen Dynasty was performed to mark the end of the New Year holiday and prepare to enter a new working year.