Overseas Vietnamese Struggle to Stay Afloat During Historic Rain in Seoul
The tremendous rain that fell on August 8 and 9 has devastated the Korean people in general and the nation's capital Seoul in particular. Many regions in Seoul (Korea) were seriously flooded after the record rain on August 8 in the evening, according to Vietnamese residents who claimed to have even had to "swim in the flood" to get home.
The central region of the nation, including the capital Seoul, had up to 170 mm of rain on August 8, according to the Korean weather agency. This has damaged people's lives, especially many Vietnamese expatriates, and has consumed several parts of the metropolis.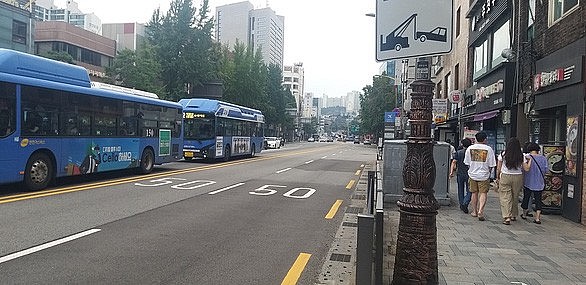 The streets of Seoul on August 10 were clean and clear again after the record rain that the media called "a once in a lifetime" here - Photo: TRAN TUNG NGOC
Quoc Duy, a Vietnamese resident of Seoul for more than three years, told Zing on August 8 that this was the first time she had seen such severe rain since moving to Korea. He currently employed in a restaurant in the Gangnam neighborhood, reported that it began to rain intensely and experienced flooding around 7 o'clock (local time).
"Swim in the flood" to Get Home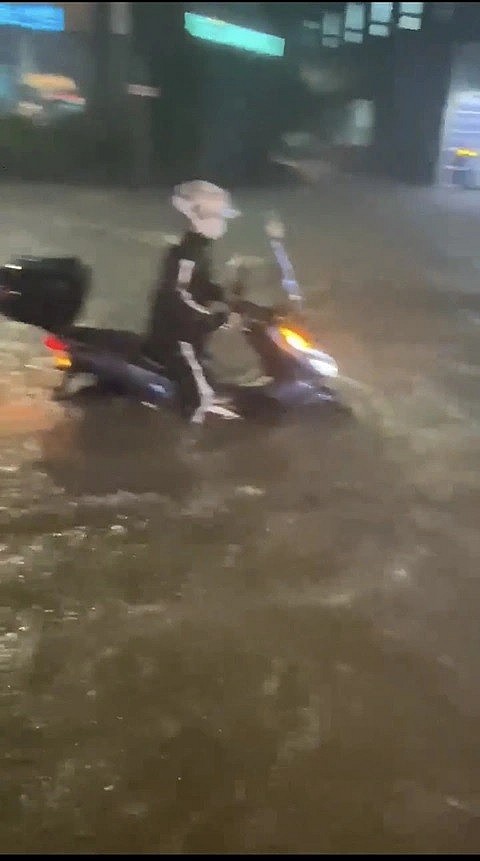 Flood situation in front of the shop where Duy is working on the evening of 8/8.
"Around 8 o'clock, the water began to rise, and we were unable to escape. My current job's restaurant had to close early to swiftly drain the water because it had also flooded, Duy described.
He claimed that by the evening of August 8, the water level on several stretches of the road had risen to 60 to 80 cm. When the water became too deep for my body to wade through, Duy added, "I had to swim after wading for a while."
Duy pointed out that many of the stores in the basement were even worse off. He said, "Today, they have started to restore them. The businesses in the basement were all flooded."
Duy witnessed the first power outage in Seoul on August 8th, in addition to the "never before seen" rain since his arrival to arriving in Korea.
"I have never experienced a power outage since coming to this nation. Nevertheless, that ultimately occurred last evening. Many individuals did not have enough time to go back."
After doing a bit of research, Duy realized that the rain that happened in Seoul was the most intense one in the last 80 years.
"Many stores' glass doors are broken, and water entering the home has ruined a lot of items," said Duy.
This downpour would most likely become an everlasting experience for Tran Tung Ngoc and many Vietnamese students and employees residing in Seoul
Ngoc works part-time at a restaurant in Gangnam district's basement B2. What shocked him was how calm the local Korean and Vietnamese acquaintances were prior to the event. Almost everyone has faith in the power of the government to solve issues.
Tran Tung Ngoc told Tuoi Tre, "We were informed on the evening of 8/8 that the shop would have to close due to heavy rain and that we would have one day off the following day. Everyone was surprised since all of a sudden they were "rewarded" for a day off without paying."
"Fortunately, we were in a bustling metro region, so we could still get home. Many subway trains on lines 1, 7, 9, etc. had to stop entirely or partially that night in order to concentrate on overcoming the effects of the rain and water. Many employees are unable to leave their jobs because of traffic jams, bus and subway delays, or flooding."
Paralyzed traffic
In reference to the traffic, Duy stated that numerous automobiles had been stuck on the major route and that the ambulance did not arrive to pick them up until the next morning. Many train stations were also inundated, he claimed, primarily in the Gangnam district.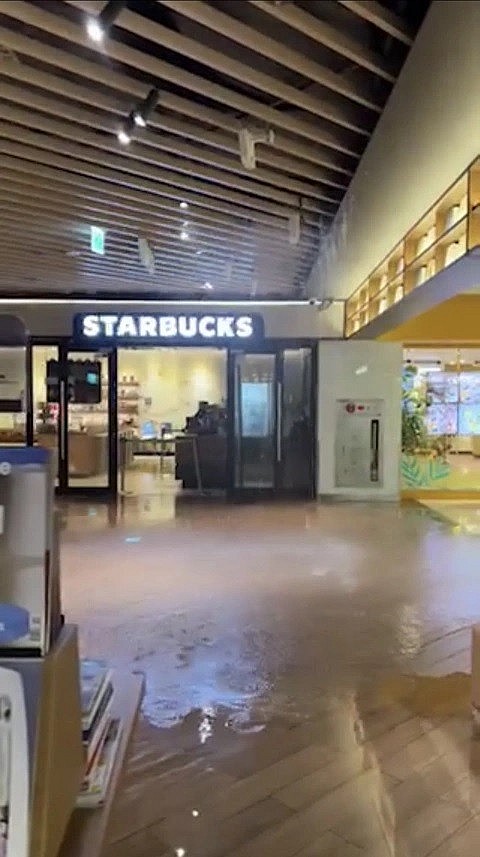 Rainwater seeped into the underground mall on the evening of 8/8.
In this regard, Tran Xuan Tien, who is now on a business trip in Seoul, claimed that on the evening of August 8, the subway's early shutdown due to the flooding prevented some people from going back to their houses. head home. He claimed that at the time, cabs refused to pick up passengers when they had to travel through some flooded roads, regardless of how much they were paid.
According to Tien, the rain continued all day on August 8. While the sky was gloomy and the rain was not very strong or accompanied by thunder or lightning, Tien described it to Zing.
He claimed that the South Korean authorities also telephoned people with cautionary messages and alerts about severely flooded highways.
Some underground shopping malls were in a state of flooding. It appears that this is also an uncommon occurrence in Korea since I saw numerous Koreans filming this image "said Tien.
He also claims that the greatest effect of the record rain on travel.
"For example, I'm participating in the world's leading blockchain event, bringing together many big names. This event also has many side activities to attract tourists, but they are almost unable to participate due to flooding on the street. And according to the notion of the Korean government and the media, the flood situation may also continue in the following days," said Tien.
Disaster recovery
People have offered encouraging comments on social media, posted photos of where they live and work, and advised one another to travel safely and keep healthy. Many folks also use the unwelcome day off to catch up with friends, go to the movies, along with other group activities.
On the 9th, it continued to rain fiercely for more than 40 hours but apparently, the flood crisis has been less of a hazard. The Korea Central Disaster Prevention and Control Department has changed the mode from "attention" to "warning," and at the same time, it has deployed the most resources to concentrate on disaster recovery.
All activities in Seoul swiftly resumed normalcy by the morning of August 10, when the weather started to clear. Tran Tung Ngoc told Tuoi Tre, "we returned to work and carried on with the daily commotion of living in one of the world's most crowded cities."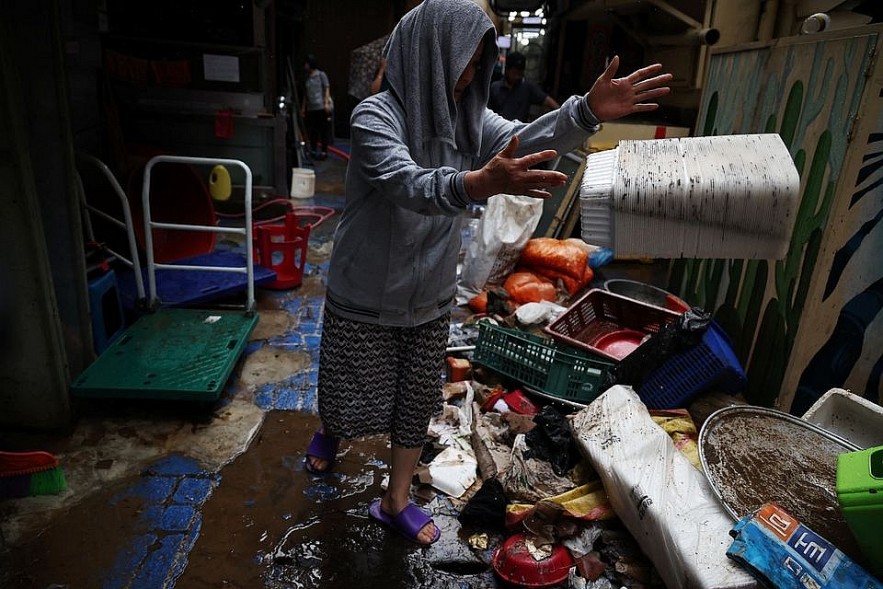 Kim Sun-ok cleans up debris from her restaurant damaged by flood after torrential rain at a traditional market in Seoul, South Korea, August 9, 2022. Photo: REUTERS/Kim Hong-Ji
"However, even after the rain has ceased and the flood has subsided, for Vietnamese students and employees who live in Korea, like us, there is still some fear. Because of the sudden spike in the price of items following the torrential rain, particularly agricultural products like fruits and vegetables," he added.
Newspapers also noted health officials' cautions over the potential for outbreaks of certain disease symptoms, such as dermatitis, eye conditions, and infections brought on by sewage and floating hazardous garbage.