Owner gives up captive bears to sanctuary
Saying goodbye to your pets is not easy, but what if it will take them to a better place, beyond what you can offer?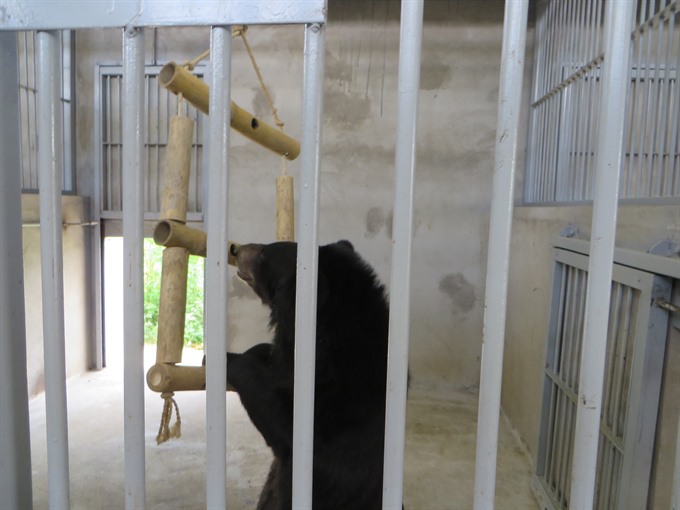 The bear house offers playful activities, and direct access to the semi-wildlife area
That's exactly the dilemma faced by Trần Văn Trách last week who has been keeping two bears as pets for a decade.
He was urged to give them up, do the right thing, and let the majestic creatures live out their twilight years in the best possible habitat.
Hidden away off the beaten track in the picturesque Ninh Binh province is a sanctuary for bears.
The Four Paws Viet centre offers the best possible option for these animals, many of whom have seen very little their entire lives other than the inside of a cage.

To convince Trách, from the mountainous province of Thái Nguyên, that he was doing the right thing, he was given a guided tour of the centre where staff explained in great detail why their option was far better for the bears.

He didn't need much convincing.

While the ultimately goal is to release wild animals back to where they belong, in the wild, the reality is they are far too domesticated to be able to live without guidance and supervision.

Many are also overweight, have dental and other health issues, and some even have limbs missing.

So instead of back to nature, these bears get the next best thing.
Their surroundings are green and almost jungle like, their food is hidden to challenge the animals to fend for themselves, and they are cared for by the dedicated team of animal welfare officers and vets working at the centre.

So for Trách, the decision was easy. After a joint effort by Four Paws, Education for Nature Việt Nam (ENV) and the Thái Nguyên Province Department of Forest Rangers, Trách had no doubt he was doing the right thing, for his family, and for his bears.

"Through those years, my family has considered them as pets and treated them carefully," said Trách.

"I decide to transfer these two bears to the sanctuary as my wife and I are getting old and I know that we are not as capable of taking good care of the bears as the staff here."

Right now, the sanctuary is home to just six bears, but has plans to expand and provide help and homes to the hundreds of bears still living as pets across the country.

Far from an ideal life, in the past the life of a bear in captivity in some cases was far more dire.

Many were used to extract bile for medicine leaving the animals in constant pain and physically drained.

That practice was outlawed in 1992 although because it is not illegal to keep a bear as a pet, many believe bile farming still goes on today.

According to a report issued by ENV, the number of bears in captivity has witnessed a sharp decrease, from about 4,300 units in 2005 to fewer than 1,000 in 2017.

Thái Nguyên Province is among several localities taking initiatives to end bear bile farming. There are five captive bears in the province, two of which belonged to Trạch.

"The mission of EVN is to ignite conversation around the topic of bear bile farming, while Four Paws Việt is an animal welfare charity," said Deputy Director of ENV Bùi Thị Hà.

"These overlapped values foster us to collaborate with the Thái Nguyên Province Department of Forest Rangers to stimulate the voluntarily transfer of bears to sanctuaries.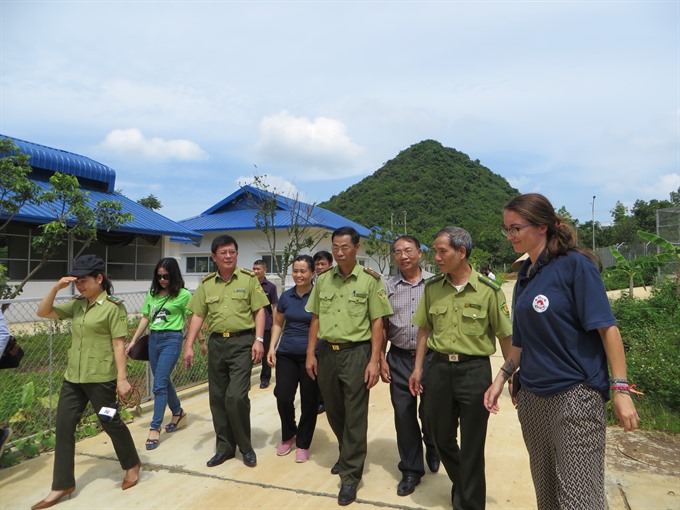 Trần Văn Trách (third from right) and representatives of the Thái Nguyên Province Department of Forest Rangers take a tour around the sanctuary.
Persuading owners to transfer their bears to sanctuary has been an enormous challenge, she added, as they usually consider bears as pets or even property, not inpidual animals which deserve lives in nature.

She hopes that a number of programmes that started to raise awareness of the problems with keeping bears will convince those who do to give them up.

And places like Four Paws Viet is offering a sanctuary where the bears will have a better life.

The first phase of the project was completed on an area of 3.6ha, with two bear houses and four semi-wildlife zones, enabling them to host 50 bears at maximum capacity.

According to Emily Lloyd, Four Paws Viet's Animal Manager, since being kept in small cages for a long time, bears usually suffer from many physical and dental issues.

The bears will receive an initial health check before being moved to a quarantine area for three weeks, where they follow an adequate diet and receive treatment before being transferred to the bear house and the semi-wildlife area.

"All the bears have different personalities. Some are really playful, some are lazy and sleep a lot," said Emily.

Their diet and recreation are designed based on these distinct characteristics.

A kitchen with a cold storage of 17sq.m is where food for bears is prepared. Fresh vegetables and fruits are brought in from local farms or even grown by the sanctuary's workers.

Food is wrapped in leaves or bamboo tubes and is then hidden around the semi-wildlife area. This activity aims to stimulate natural behaviours such as foraging.

A tour at the sanctuary under the guidance of Four Paws Việt is a further step to help demonstrate what an appropriate home for bears should look like.

Ngô Thị Thanh Hương, Four Paws Viet's director, on the other hand, stressed upon empathy and compassion as the values that bear owners should embrace.

"If you can give them a better life, please do it for them. We need to treat them in the way humans treat each other because they are our friends," she said.

Sharing the same opinion, Trách said that transferring bears to the sanctuary was the best thing owners can do for them.

"Your families cannot treat the bears better than the staff here can, it is better that you send them to the sanctuary to help preserve the species," he added.

And no matter how tough the decision he just made, Trách only had a little demand.

"As my family have had them for such a long time, we hope that in the future the tie between us and the sanctuary will be tightly kept by sharing photos and videos of the bears so that we can know how they are being cared for," he said.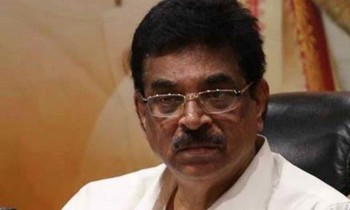 Economy
Mizoram Governor Hari Babu Kambhampati on Thursday said that a Super-Speciality Cancer Hospital and Research Centre would be set up in Aizawl