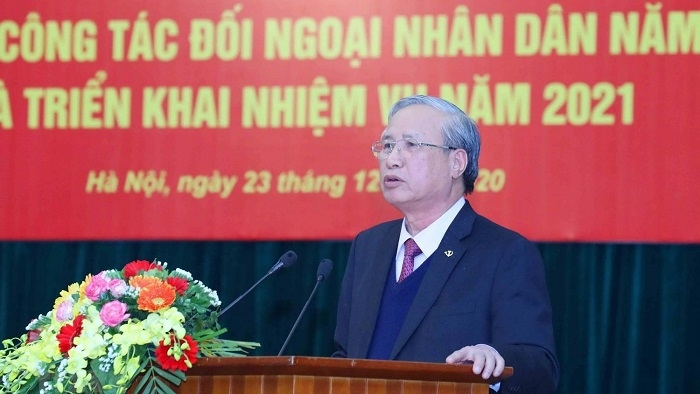 Politburo member and permanent member of the Party Central Committee's Secretariat Tran Quoc Vuong speaks at the event. (Photo: VNA)
Vuong made the appeal when attending a conference held by the Party Central Committee's Commission for External Relations in Hanoi on December 23 to review people-to-people diplomacy in 2020 and put forth tasks for 2021.
He applauded the contributions of people involved in people-to-people diplomacy in protecting national independence, sovereignty, and integrity, as well as in promoting the country's sustainable development.
They were asked to actively study how to broadly expand Vietnam's relations with partners in each region and propose initiatives that benefit the community and the country in both bilateral and multilateral cooperation mechanisms.
It is also important to introduce Vietnam to more international friends and promptly fight false allegations and sabotage activities by hostile forces, especially in the fields of democracy and human rights, he stressed.
The official also highlighted the need to pay attention to increasing the quality of personnel training to meet requirements in the new circumstances.
Bright spots in Vietnam's people-to-people diplomacy this year were the friendship and cooperation activities to fight COVID-19, overcome the consequences of natural disasters, effectively carry out external activities amid the pandemic, and respond to the ASEAN Chairmanship Year.
Amid the pandemic, the country promptly adjusted the operational method of people-to-people diplomacy, thus contributing to boosting socio-economic development and protecting national interests.
nhandan