In summer, 'pho' or rice noodle soup is not suitable with the stuffy weather, 'pho cuon' (fresh rice noodle rolls) becomes the favorite dish of people in Hanoi. Also a Hanoi traditional food, 'pho cuon 'satisfies the diner with the insatiable appetite despite its late appearance.
'Pho cuon' was born in a small street surrounding Truc Bach Lake. Ngu Xa Street has been well-known thanks to the new dish which brings traditional features. Cuisine lovers cannot forget to try this dish whenever they go on a food tour in Hanoi. 'Pho cuon' is both Hanoi street food and the food served in luxury restaurants.
The ingredients of this dish is simple and the same as those to make rice noodles soup. They are also rice noodles, beef and coriander. Coriander lessen the greasy taste of beef. The processing is not sophisticated. To make 'Pho cuon', noodles are not sliced into small strings as commonly seen but instead are cut into square sheets. The seller stir-fries beef on a big fire until just undercooked. Beef does not need to be cooked too long or else it will be tough. The noodles and coriander are plain, so the beef have to be spiced highly to make the dish flavorful. Then they spread a noodle sheet on the plate, place some raw vegetables into the sheet, top with the stir-fried beef (or pork) and wrap it all into a roll.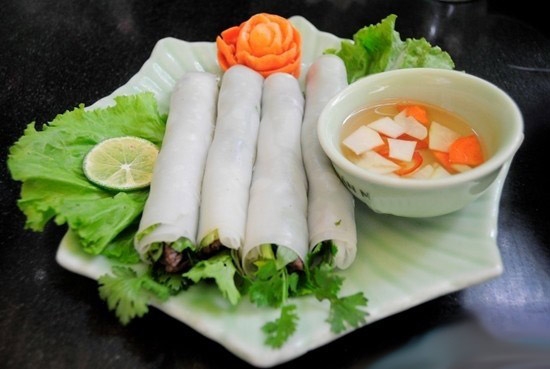 To create a delicious roll, besides rolling it evenly, the meat and vegetables must be peaking out slightly from the wrap to attract diners. The noodle sheet should be a little chewy, the beef hot and sweet and the fresh vegetables blended with the sour, spicy and salty sauce. The rolls are eaten with the sweet and sour sauce added chili, garlic and small dishes of salted papaya or cucumber. The scent of the dish is the perfect match of the aromas of rice noodles, beef and herbs. When tasting this dish, you will see that not only the hot bowl of 'pho' but the cool 'pho rolls' also fascinate your sense of smell.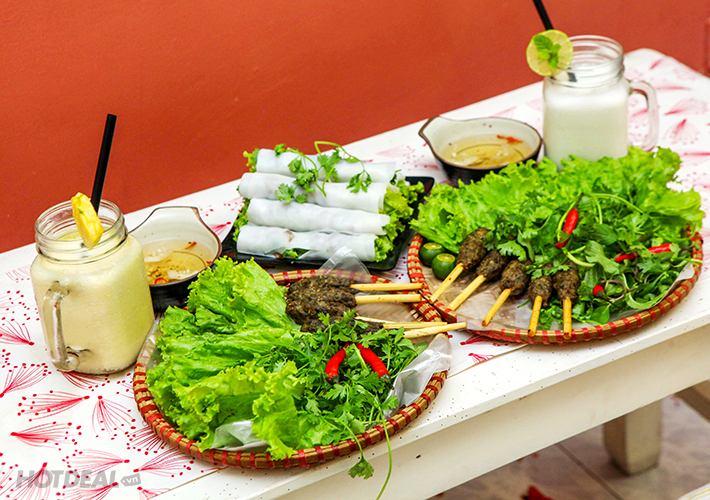 Pho cuon in a small popular dainty dishes will make your mouth water
Almost all Vietnamese dishes have harmonious color which is attached great attention by the cook. So does 'pho cuon'. If the rolls look so cool with the white color of rice noodles and green herbs, the bowl of sauce is so hot with the yellow coat dotted with red chili rings. 'Pho cuon' always give the diners the profound impression thanks to the three main factors: taste, smell and color.
Candy Lee
Vietnam Tourism/Hanoi Local Food Tours