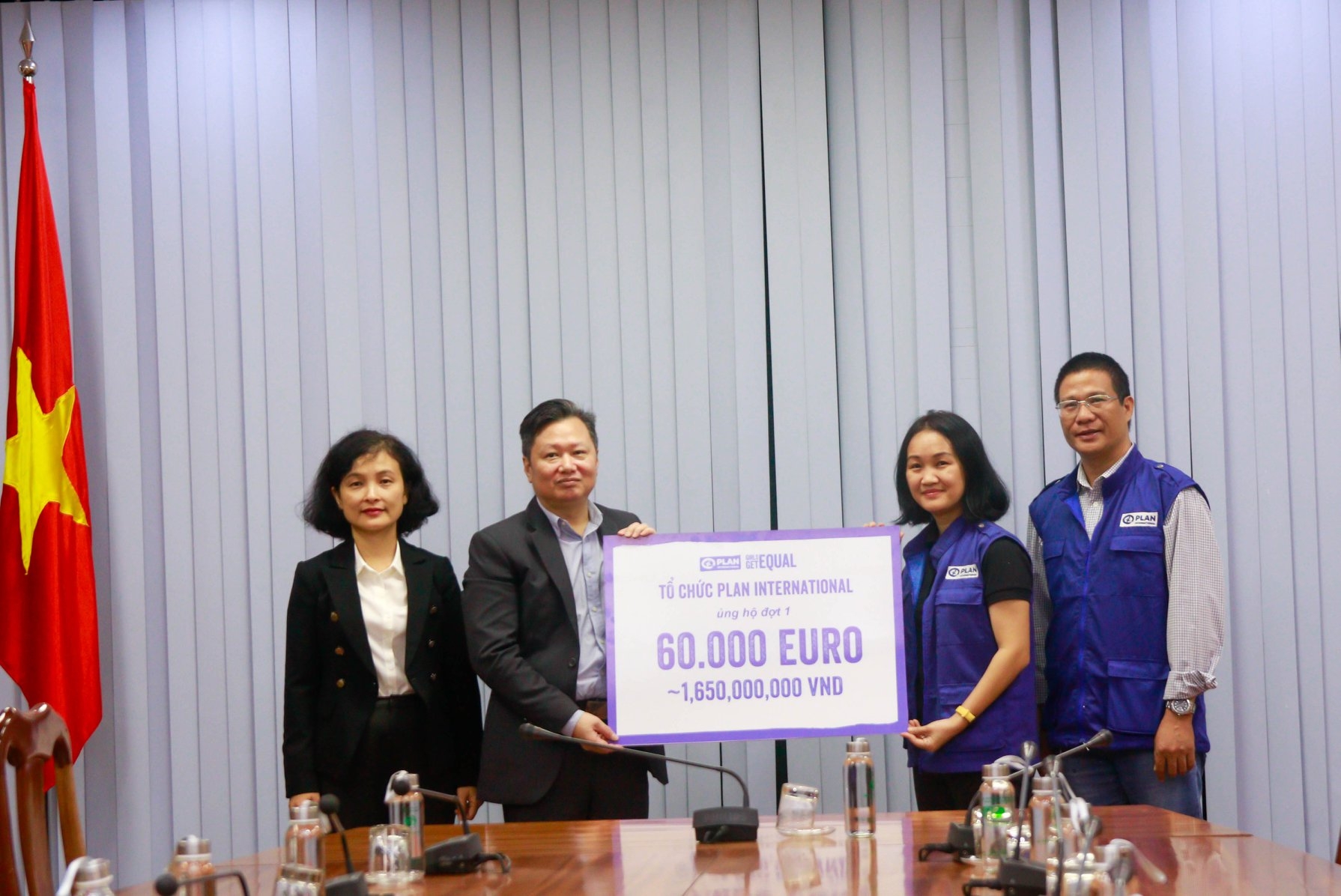 Plan International Vietnam provides aid for flood-hit residents in two districts of Quang Ninh and Le Thuy of Quang Binh province. Photo courtesy of the organization
On the morning of October 27, Plan International Vietnam - represented by Pham Thu Ba and Le Duc Ha had a meeting with the Vice Chairman of Quang Binh People's Committee, Nguyen Tien Hoang along with representative of Department of Foreign Affairs and Provincial Fatherland Front Committee to discussed country strategic plan of the organization in the period from 2020 to 2025 as well as the plan to deploy emergency assistance and reconstruction activities after the historic flood in Quang Binh province.
On the side of the local government, Vice Chairman of Quang Binh People's Committee Nguyen Tien Hoang updated information regarding the largest flood in history in the province since 1979.
Hoang and his associates shared that the battle caused serious damage to the households in the area. Despite many efforts, up to now, there are still many places where the government has not had or has limited access. In addition, the province highly appreciated the efforts and activities of Plan in Quang Binh during the past 14 years and support in the relief and reconstruction of people's lives after this historic flood.
For their parts, representatives of Plan Vietnam discussed with the government about their country strategic plan in Vietnam in period from 2020 to 2025 with the goal "For two million girls to live, learn, decide and thrive". At the meeting, Plan's representatives also updated the relief plan for people in the severely affected districts of Quang Binh province. In the Plan's relief plan, there are three clear phases, including phase 1 - Emergency Relief, phase 2 - Early Recovery – Education and Safeguarding in emergency and phase 3 - Youth-led resilient early recovery/livelihoods.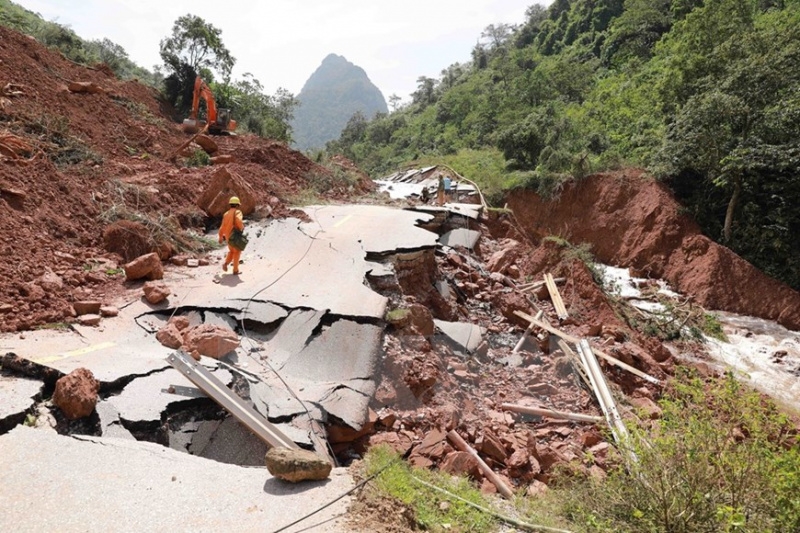 Continuous flooding in the past half month has caused huge damage to the transport system in the central province of Quang Binh . Many roads were eroded, seriously affecting transport in the central coastal locality. Photo: VNA
Phase 1 with the amount of 60,000 Euro, equivalent to VND 1.65 billion, focuses on food aid, personal and family hygiene kits for about 3,400 households in two districts of Quang Ninh and Le Thuy on October 29 and October 30 2020.
Phase 2 with an expected amount of between 250,000 and 500,000 Euro will continue to focus on food support, food, sanitation and education, and protection of children after natural disasters, especially girls in three districts of Quang Ninh, Le Thuy and Minh Hoa.
Phase 3 will focus on supporting farmers in cultivation and farming by various methods such as planting seedlings, veterinary services and capital support in the three districts of Quang Ninh, Le Thuy, and Minh Hoa.
All of Plan staff in Quang Binh with support from members of the Youth Advisory Committee in Quang Binh and staff mobilized from Plan office in Quang Tri province will participate in this relief work. Staff in other project areas will be mobilized as needed./.
Hannah Nguyen