Swedish Ambassador, Plan International kick off "Safety online for girls" campaign
To celebrate the International Day of the Girl (IDG 2020), in Hanoi, Swedish Ambassador to Vietnam Ann Måwe, just became the first person to sign the open sending to social media companies, initiated by Plan International, to call for building a safe online environment for children and youth, especially girls.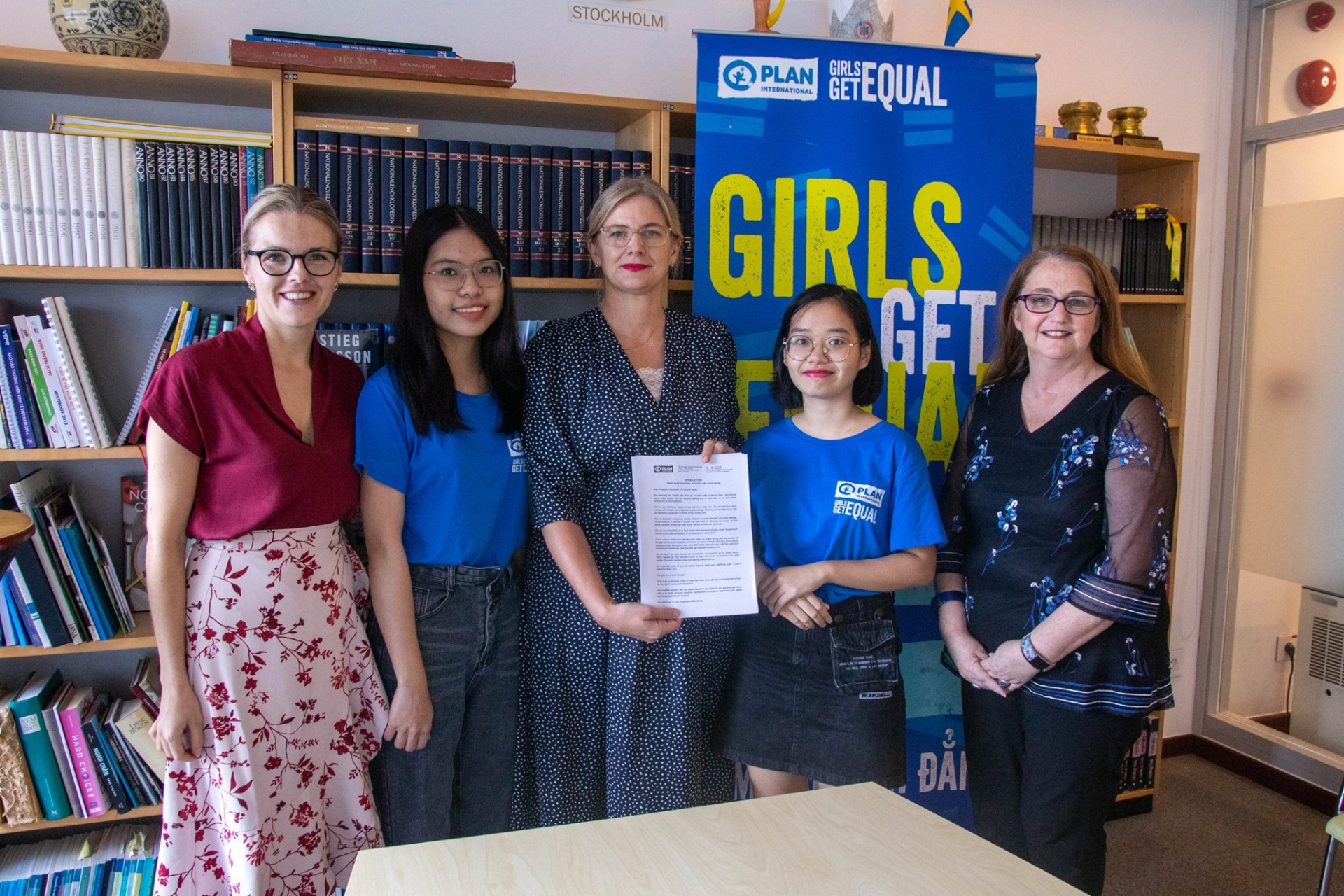 Ann Måwe, Swedish Ambassador to Vietnam (middle) meets Phuong Anh and Y Nhi along with Sharon Kane, Country Director of Plan International Vietnam. Photo: Plan International Vietnam
Internet access has been beneficial for kids, but at the same time, implies numerous risks.
More than half of the 14,000 girls and young women surveyed, from around the world, have been harassed and abused online.
A survey by Plan International also found that one in four girls abused online feels physically unsafe as a result and online abuse is silencing girls' voices.
Girls are targeted online just because they are young and female, and if they are politically outspoken, disabled, Black or identify as LGBTIQ+, it gets worse. Like street harassment it is unremitting, often psychologically damaging and can lead to actual physical harm.
Vietnam now has about 64 million Internet users, accounting for 66% of its population, among the highest rates of Internet penetration in the world. Of the figure, one third are at the age of 15 to 24.
The open letter, initiated by Plan International, represents the 14,000 girls from 22 countries send to Facebook, Twitter, Instagram và Tiktok with the message "The time to act is now so girls are #FreeToBeOnline."
During the meeting, the Swedish Ambassador met Phuong Anh, 21 years old, who was empowered by her to be the Ambassador in the series of Girls Takeover events in 2019, and Y Nhi, 18 years old, a member of Plan International's Youth Advisory Committee, accompanying Phuong Anh in this event.
Swedish Ambassador to Vietnam Ann Måwe, just became the first person to sign the open sending to social media companies, initiated by Plan International. Photo: Plan International Vietnam
The diplomat is enthusiastic about Y Nhi's sharing about the situation of cyber bullying.
"We love using social media, but girls just simply want to share their own images and opinions, but we often receive very negative criticisms. It is understandable to see many images are edited carefully with gorgeous filters, somewhat different from reality nowadays. Many can't put up with those criticisms, some fall into depression, some even worse: suicide," Nhi said.
After listening to the current situation of cyberbullying in Vietnam, Ambassador Ann Måwe also emphasized that the role of parents and teachers is to ensure the safety of children online, but still need to respect their privacy.
"Many people argued that when girls and women publish their information on the internet, they need to be prepared for judgments and criticisms. But why don't we turn this around, that social media is a welcoming platform for all. Women and girls have the right to express themselves and their own perspectives on it. They deserve to be listened to, instead of receiving non-constructive criticism," shared Måwe.
The Swedish Embassy in Vietnam and Plan International call for everyone's participation to create a safer online environment for everyone, especially women and girls./.
Seven issues we need supports

Ms. Pham Thu Ba - People and Culture Manager at Plan International Vietnam granted an interview to Vietnam Times newspaper during which she pointed out ...