PM: Vietnam clear of community transmission of COVID-19
Vietnam has recorded no new locally transmitted infections for almost 30 consecutive days. The Prime Minister has assigned the ministry to consider announcing that Vietnam is free of the SARS-CoV-2 virus.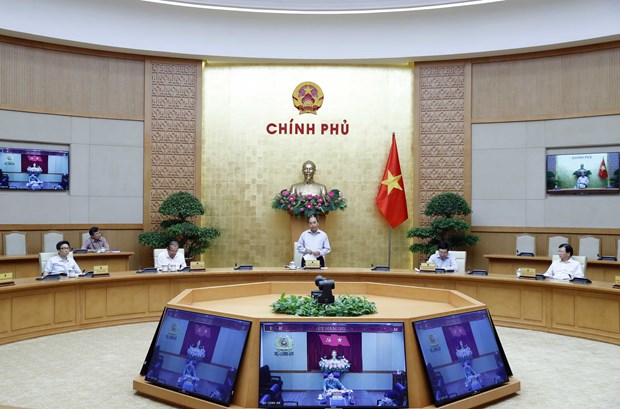 Prime Minister Nguyen Xuan Phuc (centre) addresses the meeting of permanent Government members on May 15 (Photo: VNA)
Vietnam is currently clear of any community transmission of COVID-19, Prime Minister Nguyen Xuan Phuc has affirmed, and this is an important condition for the country to attract investment and development resources.
He made the comment while chairing a meeting of permanent Government members on May 15 to look into the prevention and control of the pandemic.

The National Steering Committee for COVID-19 Prevention and Control reported that Vietnam hasn't seen any new community infections for 28 days and transmission risks in the community are "very low" yet still latent.

The pandemic remains unpredictable in many countries in the region and the world. The risk of transmission from elsewhere will grow as international flights gradually resume, more flights are conducted to repatriate Vietnamese from overseas, and investors and experts from COVID-19-hit countries come to Vietnam.

In particular, it is quite difficult to radically control travel over border crossings, so the risk of imported cases that may then cause community infections always exist, according to the committee.

Addressing the meeting, PM Phuc said that for the past month or so, measures to fight COVID-19 while promoting production, business, and social security have been carried out in an effective manner and prevented domestic economic disruption.

Applauding the efforts of the health sector and others and authorities at all levels in COVID-19 prevention, control, and treatment, the PM said the repatriation of Vietnamese people stranded overseas has led to an increase in coronavirus infections but relevant agencies have coordinated well to quarantine these people and prevent community transmission.

He also took the occasion to tell overseas Vietnamese to remain calm, comply with the host countries' health policies, and avoid rushing home, which may create an unsafe environment and difficulties for local anti-COVID-19 efforts.

Repeating the need to stay vigilant as there is still no vaccine, the PM said that to reach the dual targets of economic development and fighting the pandemic means measures must stay in place to prevent the disease from spreading from other countries, including maintaining the suspension of the entry of foreigners and requiring foreign experts and those arriving for official purposes be quarantined under the supervision of the health sector.

The Ministry of National Defence must further tighten the management of border residents' travel over border crossings, and the health sector and relevant agencies need to step up IT application in prevention and control and maintain rapid response teams to quickly detect infections and seal off affected areas.

Factories, businesses, and inpiduals should boost production, foreign trade, and domestic tourism while preparing to reopen the country to foreign tourists, initially those from countries that have controlled the pandemic well, the PM said.

It is also necessary to create the necessary conditions for foreign experts, skilled workers, and students to come to Vietnam, while fostering exports, especially of medical face masks and COVID-19 test kits made in Vietnam, and developing a vaccine and a treatment regimen.
Earlier, the Ministry of Health announced that over 20 passengers on board the flight VN0062 returning from Russia had contracted the virus.
According to regulations, all cases repatriated from overseas, especially epidemic-hit countries, are placed in quarantine for medical observation as soon as they land in Vietnam. Therefore, there is no possibility that they can spread the deadly virus among the community if acquired.
The newly detected case brought the total cumulative number of coronavirus infections in Vietnam to 314, of whom 174 people entered Vietnam from overseas.
Currently, 54 active cases are receiving treatment at health facilities, with more than 10 having tested negative once or twice.
More than 12,000 people who had close contact with COVID-19 patients or returned from coronavirus hit areas are being isolated at hospitals, concentrated quarantine camps and places of residence.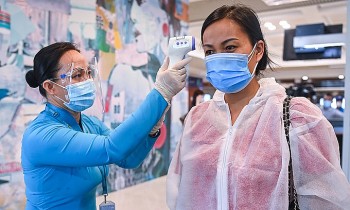 National
Vietnam News Today (October 20): Vietnam adds 3,034 Covid-19 cases to national infection tally; HCM City enhances cooperation with China's Shanghai; Thirty-two localities declare Covid-19 risk levels; Transport ministry mulls letting the unvaccinated fly.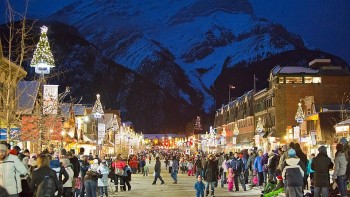 Travel
If you are looking to celebrate your Christmas somewhere else outside the country, then Canada can be the perfect choice for you with these 10 best and most idyllic places to have a wonderful Christmas holiday with your friends and families.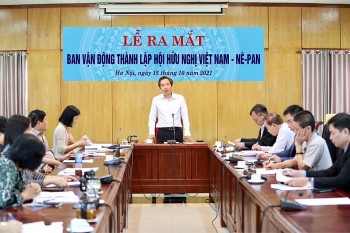 Friendship
The Advocacy Committee for the establishment of the Vietnam - Nepal Friendship Association was officially launched.