PM: Vietnam creates maximum conditions for Covid-19 vaccine production
Prime Minister Nguyen Xuan Phuc on December 21 requested relevant agencies to create maximum conditions for domestic units to carry out Covid-19 vaccine research and production.
Chairing a meeting of permanent Cabinet members, Prime Minister Nguyen Xuan Phuc asked relevant agencies to create maximum conditions for domestic units to conduct vaccine research. He assigned the Ministry of Health to coordinate with the Ministry of Science and Technology and authorized agencies in determining the vaccine production capacity of domestic enterprises to take appropriate and timely support measures, according to Vietnamplus.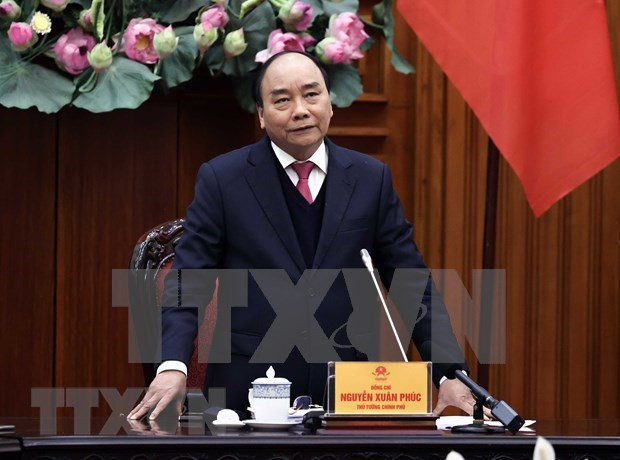 Prime Minister Nguyen Xuan Phuc chairs a meeting of permanent Cabinet members (Photo: VNA)
He also requested using the funds for clinical trials for the right purposes and in an effective way.
The Ministry of Health should learn the experience of countries around the world in conducting COVID-19 vaccine clinical trials to speed up the testing of NANOGEN's Nanocovax vaccine in order to soon put it into use while looking for foreign partners to cooperate in implementing the phase-three clinical trial of the domestically produced vaccine, the Government leader noted.
Under the direction and state management of the Ministry of Health, the Vietnam Military Medical University will coordinate with the Institute of Biotechnology under the Vietnam Academy of Science and Technology and relevant agencies to build a project to develop a vaccine research and development center for prevention and control of human infectious diseases, including a grade 3 or 4 biosafety laboratory.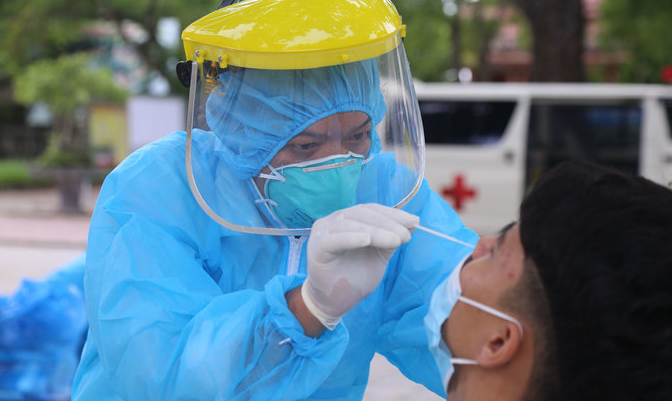 A medical staff collects a swab sample from a man to test for the novel coronavirus
Photo: VnExpress/Hoang Tao.
Regarding the purchase of COVID-19 vaccines from other countries, the PM affirmed that a certain volume of vaccines is needed to protect people's health. He asked the Ministry of Health to soon complete a project to determine the purchase of an appropriate country's vaccine, and search for more suppliers.
Amid the complicated developments of the pandemic in the world and the region, PM Phuc stressed that raising vigilance is still the most important measure to prevent and control the disease.
People nationwide should closely follow the message featuring 5K (in Vietnamese) Khau trang (facemask) - Khu khuan (disinfection) - Khoang cach (distance) - Khong tu tap (no gathering) – Khai bao y te (health declaration) in order to live safely with the novel coronavirus in 'new normal', he said.
Meanwhile, agencies at all levels must prevent violations of quarantine regulations from repeating, and localities, especially big cities, need to enhance inspections of pandemic prevention and control.
Earlier, on December 17, three first volunteers including one man and two women aged 20-25 got the Nanocovax vaccine.
After 72 hours of being vaccinated with the Nanocovax vaccine, all three volunteers are in good health conditions, with all indicators proving that the vaccine is safe for human. Experts hope that after finishing the second and third phases of human trials, the immunogenicity of the vaccine will be fully assessed and meet the requirements.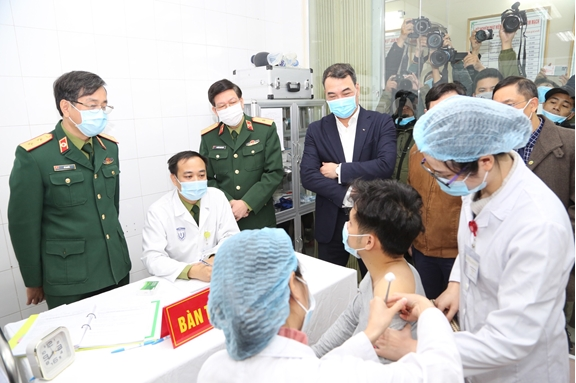 The first volunteer is injected with Nanocovax vaccine. Photo: VNA
On December 20, at a meeting with Deputy Prime Minister Vu Duc Dam, leaders of the Ministry of Health said that the human trials of Nanocovax will go through three phases. In the first phase, 60 volunteers are divided into three groups to receive three doses of 25 mcg, 50 mcg, and 75 mcg of the vaccine.
In the second phase, the vaccine will be injected into 400-600 volunteers aged from 12 to 75 to determine the optimal dose. The third phase will be carried out on at least 1,500 to 3,000 volunteers and even up to 10,000 to 30,000 volunteers. This phase aims to evaluate the safety, immunity, and efficacy of the vaccine.
Vietnam has reported 1, 414 COVID-19 infection cases. The country has so far successfully treated 1,269 COVID-19 patients and kept the fatalities at 35. Among the patients still under treatment, nine have tested negative for SARS-CoV-2 virus once, seven twice, and four thrice.
A total of 17,616 people who had close contact with COVID-19 patients or arrived from pandemic-hit areas are being quarantined nationwide, with 196 at hospitals, 16,302 at State-designated facilities, and 1,118 at home or their accommodations.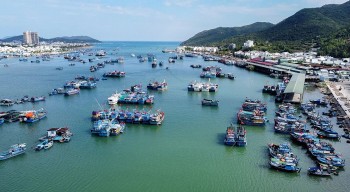 Economy
GDP growth quickened to 7.72% in the quarter ended June, beating the government's 6%-6.5% target.