Poor American teacher becomes Vietnamese internet sensation after treating students milk tea: "They saved my life"
"Teacher of everyone's dream" or "Greatest teacher in the world" is how many students call Nick (39 years old, American national) when the story of him treating his students milk teas spreads on social media.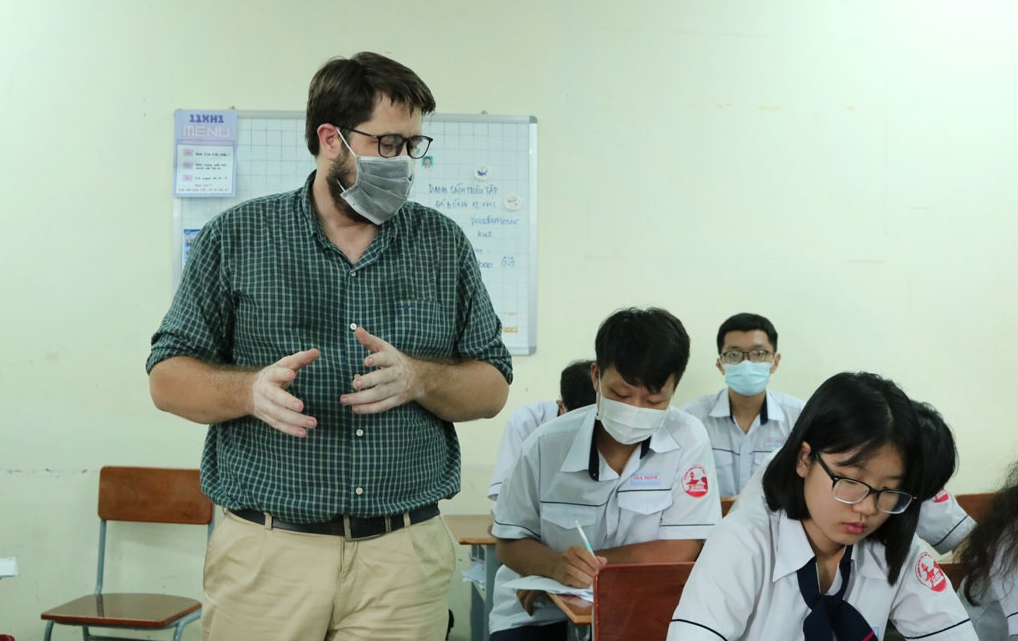 Nick (Nicholas Mckenna) is currently working as an English teacher at Gia Dinh High School. (Photo: Thanh Nien)
A little gift to bring students fun
Nick (Nicholas Mckenna) is currently working as an English teacher in Gia Dinh High School (HCMC).
Speaking with Thanh Nien reporters, Le Thuy Duong (16 years old, Binh Thanh District), the student who post Nick's story on social media, said that during a lesson break, when she and a friend of hers went outside the school campus to buy milk tea, they saw a foreign teacher who worked in the school getting near and giving VND 200.000 (USD 8,7) to the seller. "It took us a while to realize that he wanted to pay for all our milk tea. We were like, standing frozen for 5 seconds as it was such a surprise. He asked several times whether that amount of money was enough to pay for all of our milk tea, then he left."
Though happy for being gifted such much milk tea, Duong and her friends wondered why this teacher had so much affection for his students. Confiding about that action, Nick said he usually bought coffee and milk tea for the students, even though his income was not much. "I just think of that as a little gift to bring students fun. I feel happy when seeing them happy. It is just a way to express my affection to the children after strict and stressful lessons. Those students are kids and kids need to see good deeds every day to learn how to support each other." Nick added that he was "shy and embarrassed" when the story went viral. "I am just a humble person with nothing special. That action has nothing to be applauded because every other teacher also does what I do."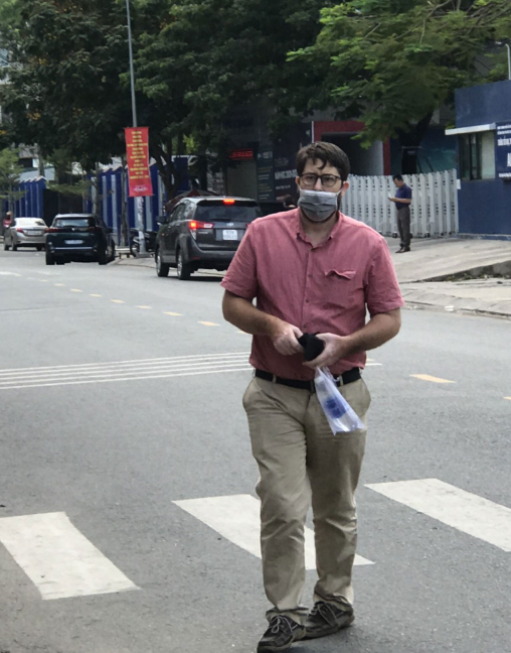 Before his first visit to Vietnam in 2015, Nick had never thought that he would fell in love with this country. (Photo: Thanh Nien)
"They saved my life"
Before his first visit to Vietnam in 2015, Nick had never thought that he would fell in love with this country. "I have traveled through a lot of Vietnam's localities to realize that I am a part of this country - a country of kind people. Though my family lives halfway around the earth, I never feel alone here. The school in which I'm teaching is my home, the students are my family."
To increase his income, Nick also worked for several companies. He uses some of his salary for charity. When the pandemic struck, he promised his students to stay in Vietnam and giving them lessons, as long as they still wanted to learn from him. "In the pandemic period, I bought hand sanitizer and 300 kg of soap and gave them to pagodas, hospitals or put them in public areas in HCMC. I would like to contribute to support Vietnam," he shared.
Just prior to the 2021 Lunar New Year, the man got a severe accident that badly injured his liver, kidney, and especially his arm, which could not fully recover. "Everyone helped me a lot and took good care of me. My students made a video saying that they loved me and hoped me get well soon, which brought me to tears. They saved my life and gave me the courage to rehabilitate after the incident".
According to Ms. Nguyen Ngoc Khanh Van, Gia Dinh High School Vice-principal, Nick teaches for an integration program issued by the Education Department. "Under this program, 2 to 3 classes in grade 10 are given 15 lessons of math, physics, chemistry, and biology in English. The school coordinates with an English center, which recommends Nick. Though not having a long contract with the school, Nick still works with responsibility. Everyone loves him for his friendliness".
When asked what brings him happiness, Nick smiled: "I don't need to be too rich or famous, I just want to help the students fulfill their dreams. I am happy to support the development of successful and useful members of society. "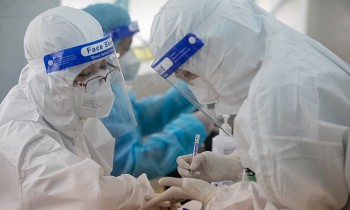 Focus
The fourth wave which hit the nation in late April has now seen over two million Covid-19 cases and more than 21.8 million recoveries from the disease.